As Election Day approaches, the voices of dissent against the President are reaching a fever pitch.
But few of them have criticized Trump as wittily and cleverly as actress Zoë Kravitz Kravitz. The High Fidelity star recently posted an epic troll of the President on her Instagram page.
Have you ever wondered how Kravitz keeps her skin so flawless?
According to Kravitz, good skin is all about politics.
Here's how to get Kravitz's gorgeous complexion in a few easy steps, according to her Instagram caption.
Step One:
"so. a lot of you have been asking me about my skin care routine: i start by voting as early as possible for #joebiden and #kamalaharris and all the other democratic candidates."
Shots fired!
But wait, there's more.
Step Two:

"then try some eye cream if you haven't been sleeping well because the president is a racist."
And there you have it.
Flawless skin can be yours for the low price of trolling the President by voting for Biden, no cleansers or moisturizers needed.
As of this writing, Kravitz's post has garnered nearly 450,000 likes, including one from actress and Real Housewives of Beverly Hills star Lisa Rinna. Rinna even interpolated Kravitz's caption into her own troll of President Trump, creating a pro-Biden post about diet and exercise.
Beneath a picture of herself in a bikini, Rinna wrote:
"So a lot of you have been asking about my diet and exercise routine: I start by voting as early as possible for #joebiden and #kamalaharris and all of the other democratic candidates."
"Then try @isaacboots Torch'd class which will tone dat a*s so then you can kick some white supremacists a*s cuz the president is racist. This was inspired by @zoeisabellakravitz 🙌🏻 #vote"
This isn't the first time Kravitz has taken to Instagram to speak out about the election.
She previously used her Instagram platform to urge followers to vote and to provide voting information for people in Florida.
But this particular post really struck a chord, and most of Kravitz's followers absolutely loved it.

@billsafi/Instagram

@nikkinelms/Instagram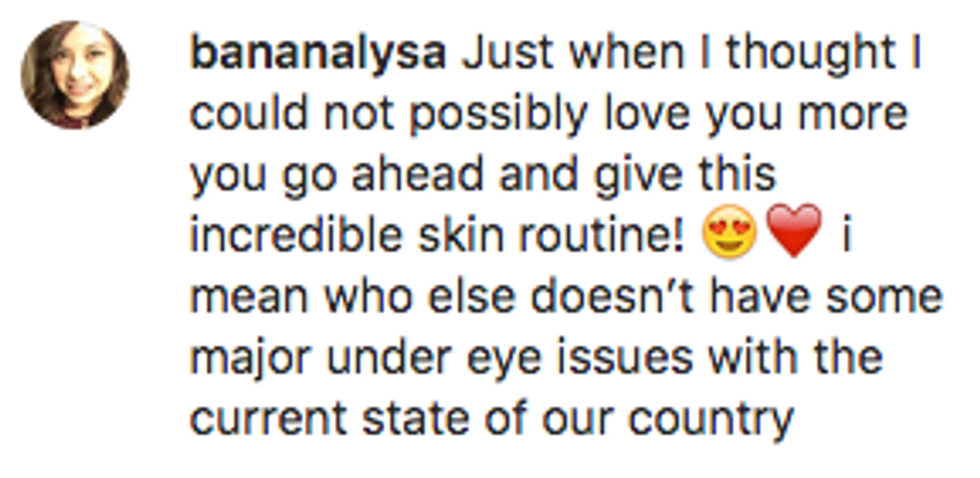 @bananalysa/Instagram

@lisarinna/Instagram

@abiandtherose/Instagram

@janellemonae/Instagram

@brittanydannielle/Instagram

@bellathorne/Instagram

@lookitsevan/Instagram

@cleowade/Instagram
Perfect skin, bikini bodies—who knew democracy could be so good for your health?