A bar in Wyoming hawked T-shirts suggesting the cure for AIDS was to shoot and kill homosexuals.
The pro-LGBTQ organization, Wyoming Equality, tried in vain to have the unnamed establishment pull the offensive merchandise from circulation.
The violent homophobic shirt reads, "In Wyoming, we have a cure for AIDS – We shoot [expletive] [gay epithet]."

An image of it was posted on the Wyoming Equality's Facebook page.
The shirt featured an illustration of a man wearing a biker jacket with a skull and crossbones on its lapel.

He is pointing a gun.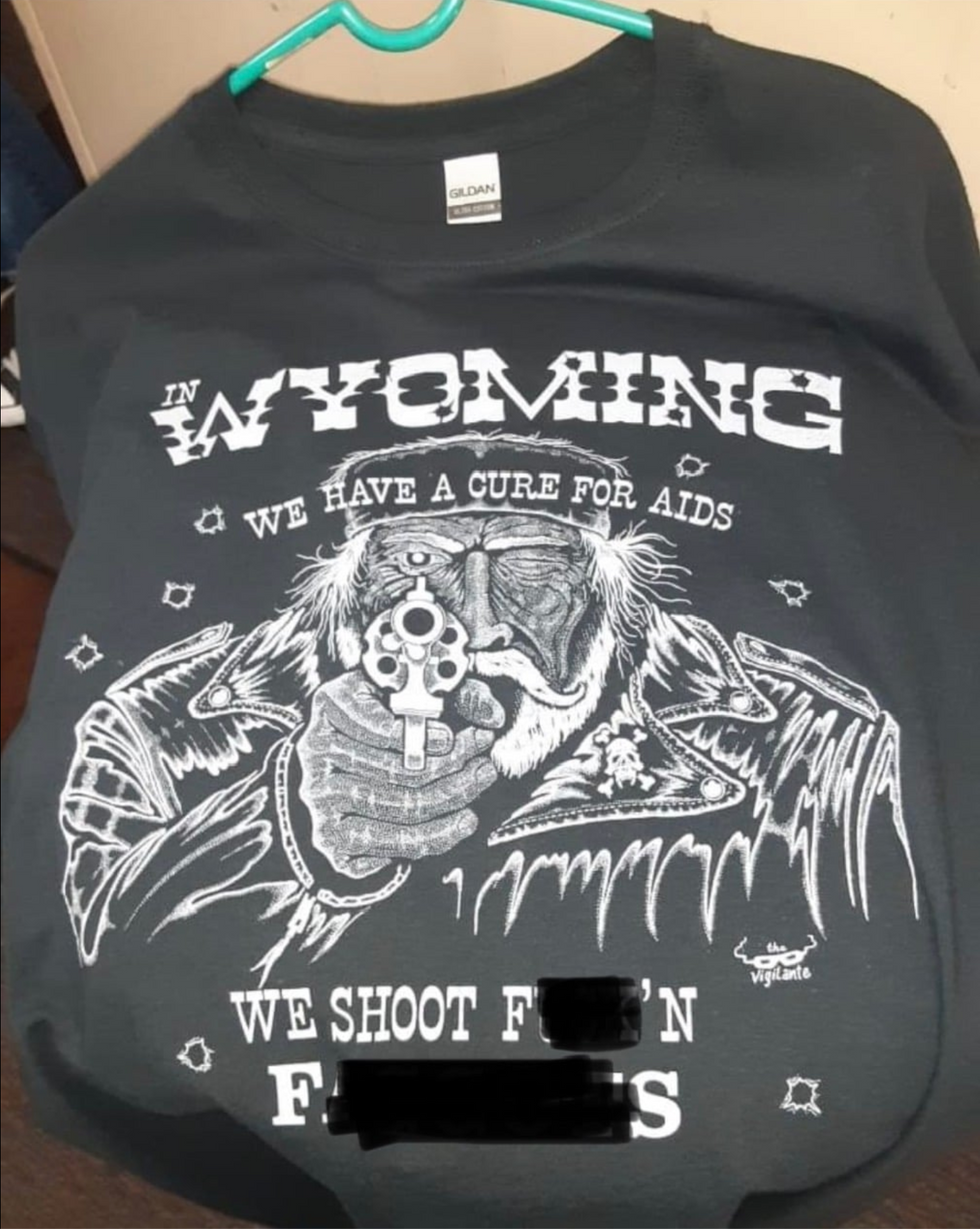 Wyoming Equality/Facebook
The bottom of the illustration says, "The Vigilante."
It is unclear if the words indicate either the shirt's graphic designer or screen-printer.

"We are sad to say that we failed to convince a local bar to pull these shirts from circulation," wrote Wyoming Equality.
"We hoped that they would choose to stop selling them when they realized the harm it did to the LGBTQ community and those living with AIDS."
"We are not sharing the name of the business because we do not want them to gain notoriety/ sell more shirts off the pain of our community. It is a sad day."
"Wyoming Equality understands that...this sucks. And we'd all rather spend our summer getting ready for Rendezvous, spending time with family and friends and recuperating from a hard year."
"But let's do what we do best and pull together. If you have the capacity we are asking folks to promote this message."
However, the organization asked not to name the establishment on social media because it could attract more business to the bar by gaining "notoriety."

Wyoming Equality also asked people not to protest the business and instead asked to channel the energy towards donating to their organization.

"This shirt is not who we are. Let's make that clear. Today and every day. Thanks, friends," concluded their post.
Wyoming Equality director Sara Burlingame took to her own social media accounts and suggested a number of options that would benefit the LGBTQ+ community.
"Want to make it unpopular to be a bigot? Donate to Wyoming Equality or Wyoming AIDS Assistance," wrote Burlingame.
"Put a pride flag up in your business or home. Wear one of our cool AF shirts. Pass a Hate Crime bill. Invest in queer joy and resilience."
"Let the haters hate in their own misery. Keep Wyoming queer and wild."
Antonio Serrano echoed the sentiment in the comments and wrote:
"To my friends who are angry and outraged as I am I feel and understand your rage. PLEASE don't hold back that rage and energy just please turn it into something that will have a positive outcome for the community."
"If the action you take unintentionally gives more power or financial support to hate then it could end up bringing more harm to the community."
"We DO need to organize against hate and we DO need to make it feel unwelcome in our city but we have to do it in a way that keeps the community safe and creates long-lasting changes."
People continued expressing their disgust over the anti-LGBTQ shirt in the thread.


Wyoming Equality/Facebook

Wyoming Equality/Facebook

Wyoming Equality/Facebook

Wyoming Equality/Facebook

Wyoming Equality/Facebook
Some people were entirely against the idea of keeping the name of the establishment anonymous.
Craig Sulser wrote:
"I'm really blown away by the non-confrontational mentality. Establishments selling garbage like this should be protested right out of business."
"People should be outside that bar daily. Get national media involved. Why do you suppose a bar in Wyoming would be comfortable selling a shirt with terroristic hate speech emblazoned across the chest?"
"Is it because they've been getting away with it for decades, and still in 2021 NO ONE is actually saying ENOUGH?"
And Emily Santacroce believed it might be more harmful by not exposing the business.
"No, I'm sorry; but not naming them, thereby denying safety to our LGBT+ family isn't helpful," she argued.
"This shirt does nothing but give a shock/fear reaction and you're not giving the members of the LGBT+ community the ability to shield themselves from that hatred. This is irresponsible at best."
"I don't understand how selling hatred of the already oppressed is somehow less of an issue than bringing notoriety to the hatred. This isn't a judicious decision it is a kindness they are not affording others."
"This is a quiet apathy that exists in activism that I've never met anywhere else. The idea seems to be not to step on anyone's toes while placating those who understand that their existence isn't supposed to make others comfortable."
"It is not our job to keep this business sage; it is your job to keep us safe and this is a failure of epic proportions. This is not a time for pacification."
"You're tired of hatred gaining notoriety; we're tired of our friends and family dying because this hatred is being met with the words rather than the actions of those whose very jobs are to make certain that we are seen as equal."
Wyoming Equality held firm in their stance and responded with:
"We're sorry you feel that way. All we can say is that we aren't motivated by apathy or protecting this business in any way."
"We are members of the lgbtq community and while not a monolith or speaking for everyone, we are just as affected by this as anyone else."
"There are no perfect solutions in this scenario. We respect that you see this differently."
According to the Cheyenne Post, the owner of the bar in question, Ray Bereziuk, said the shirts "sold out" and he planned on not reordering more.
He claimed he was "in the bar business, not the apparel business."

While Burlingame "was glad the owner made the right decision" by no longer selling the shirts, she added "Wyoming has a long way to go" towards inclusiveness.