Flight crews and passengers have definitely had their share of dealing with unruly passengers.
The usual suspects range from those who talk excessively at high decibels to those who treat the cabin like their home by propping their unshod feet up on the armrest.
Worst case scenarios involve physical altercations, but flight crews have seen it all.

However, a supposed confrontation on a recent Delta flight may be far more audacious than joining the mile-high club.

An unidentified woman was reportedly caught breastfeeding her cat while onboard Delta Flight 1360 from Syracuse, New York to Atlanta, Georgia.
You read that correctly.
The woman refused to comply when flight attendants repeatedly told her to stop.

Indy 100 is still waiting on further details, but the media outlet reported the origin of the circulating claim online was from a message that appeared on the Aircraft Communications Addressing and Reporting System (ACARS).
According to a screenshot taken from the ACARS message, the Delta crew in Atlanta was alerted to the supposed incident involving an insubordinate passenger seated in 13A who was:
"breastfeeding a cat and will not put cat back in its carrier when [flight attendant] requested."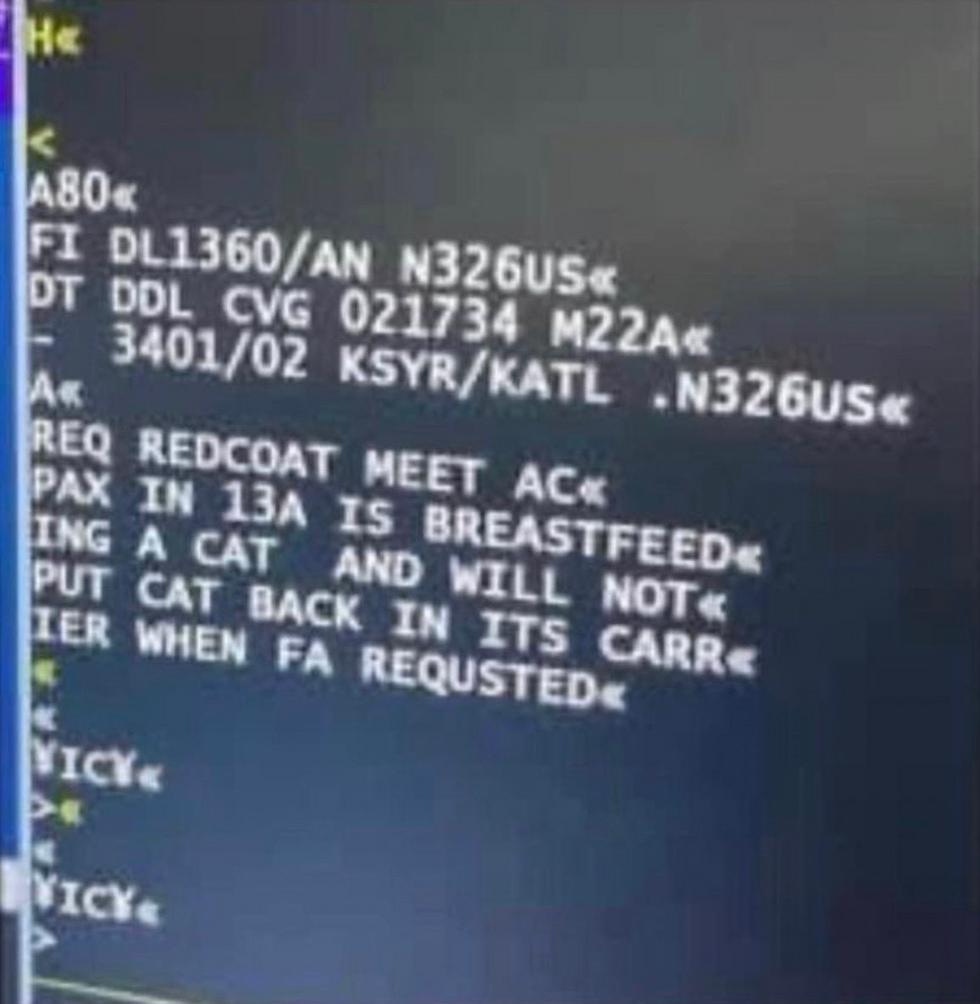 @TheRickWilson/Twitter
The flight attendant who sent the message asked for Delta's security team, known as the Red Coats, to look into the situation upon landing.
The Red Coats are described on Delta's website as:
"the elite airport customer service experts, identifiable by their bright red coats. They are specially trained to handle on-the-stop customer issues."
According to the article, Delta flight attendant Ainsley Elizabeth referred to the situation in a now-deleted TikTok video that was posted on November 2.
"This woman had one of those, like, hairless cats swaddled up in a blanket so it looked like a baby," said Elizabeth.
"Her shirt was up and she was trying to get the cat to latch and she wouldn't put the cat back in the carrier. And the cat was screaming for its life."
Some people were absolutely stupefied.

"What does she do at home if she's doing that in public?" she asked.
"And then security met the flight just to tell her that she couldn't do that again, cause it was weird and gross."
Some Twitter users officially declared they have peace'd out from this world after reading the headline.
There were lots of unanswered questions.

Many also expressed concerns about passengers sharing the flight who may have cat allergies.

The airline's pet policy says small, cats, dogs, and birds are allowed to travel in the cabin for a fee collected at check-in, and they "must be able to fit in a small, ventilated pet carrier that fits under the seat in front of you."
The policy additionally states the animals must "remain inside the kennel (with door secured) while in a Delta boarding area (during boarding and deplaning), a Delta airport lounge, and while onboard the aircraft."
Delta does not prohibit women from breastfeeding during flights, but it is unlikely the policy would extend to women breastfeeding animals, such as hairless cats.

"Delta fully supports a woman's right to breastfeed onboard Delta and Delta Connection aircraft and in Delta facilities," states the airline's policy, adding:
"Breast pumps are allowed on board. At the airport and if you prefer, many airports do offer private lactation rooms or spaces. Ask a Delta associate if you need assistance locating one at an airport."