Outrage from reproductive rights groups and others are flooding social media after a 21-year-old was sentenced to four years in prison after suffering a miscarriage.
Brittney Poolaw, who's from Oklahoma and a member of the Comanche Nation, had a miscarriage while using methamphetamine.
The court found her guilty of first-degree manslaughter on October 6 and her attorney filed a notice of intent to appeal on October 15.
An autopsy of the fetus was done and methamphetamine was found in the brain and liver, however that was not determined to be the cause of death.
Lynn Paltrow, executive director of the National Advocates for Pregnant Women, said the cause of death could have been a congenital abnormality and placental abruption.
Prosecutors argued that Poolaw's use of meth fell under Oklahoma's manslaughter statute.
National Advocates for Pregnant Women (NAPW) released a statement that contradicted prosecutor's claim:
"Oklahoma's murder and manslaughter laws do not apply to miscarriages, which are pregnancy losses that occur before 20 weeks, a point in pregnancy before a fetus is viable (able to survive outside of the womb)."
"And, even when applied to later losses, Oklahoma law prohibits prosecution of the 'mother of the unborn child' unless she committed 'a crime that caused the death of the unborn child.'"
USA TODAY reported that Poolaw sought medical attention when she miscarried between 15 and 17 weeks of pregnancy.
According to the American College of Obstetricians and Gynecologists, a fetus typically cannot survive outside of the womb before 24 weeks of gestation.
For people who can get pregnant under the age of 35, there's a 15% chance of a miscarriage.
Tyler Box, a partner at the Overman Legal Group in Oklahoma City unaffiliated with the case, said:
"Here, Assistant District Attorney Galbraith believed that but for Ms. Poolaw's methamphetamine consumption this unborn fetus would have been carried to term."
"The issue that jumps out to me initially is how the state was able to prove that it was in fact the meth usage that was the proximate cause of the death."
In Oklahoma, there isn't a law that makes it illegal to consume banned substances, which may assist Poolaw's appeal chances.
NAPW said:
"Ms. Poolaw's case is a tragedy."
"She has suffered the trauma of pregnancy loss, has been jailed for a year and a half during a pandemic, and was charged and convicted of a crime without basis in law or science."
Many are speaking up about Poolaw's case on social media.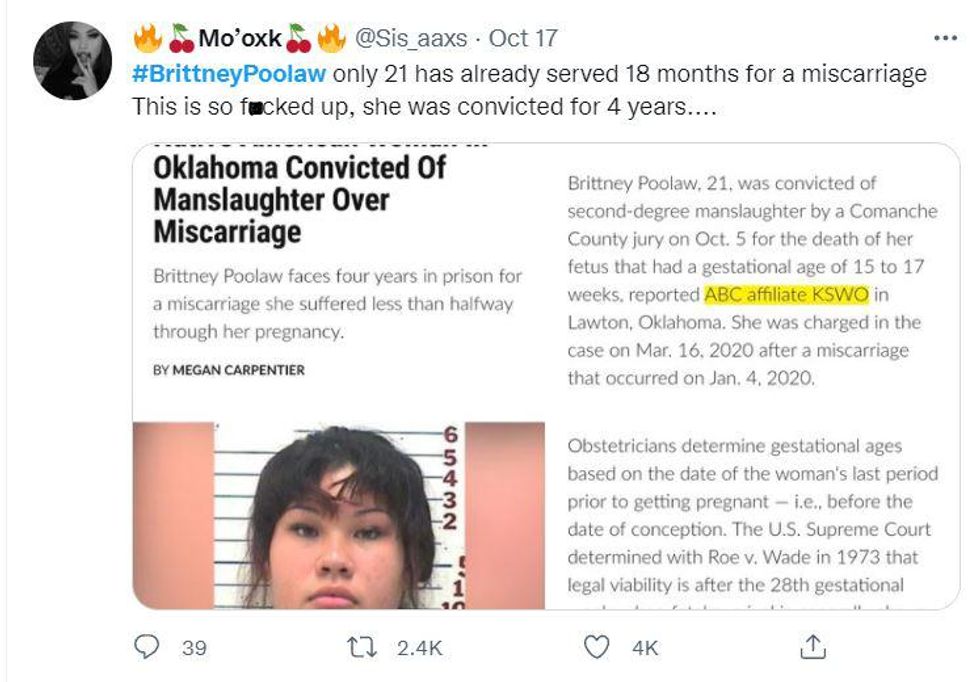 @Sis_aaxs/Twitter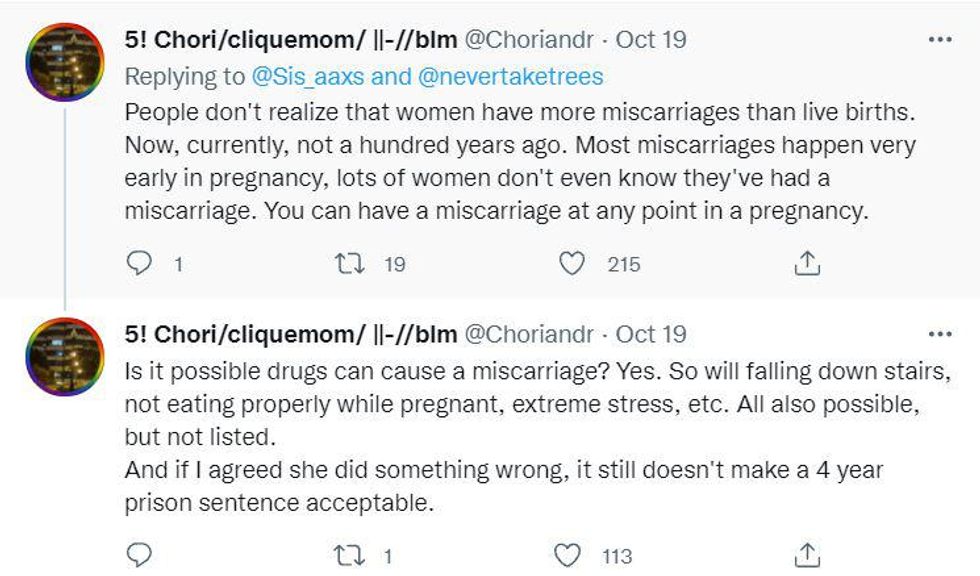 @Choriandr/Twitter

@delelise12/Twitter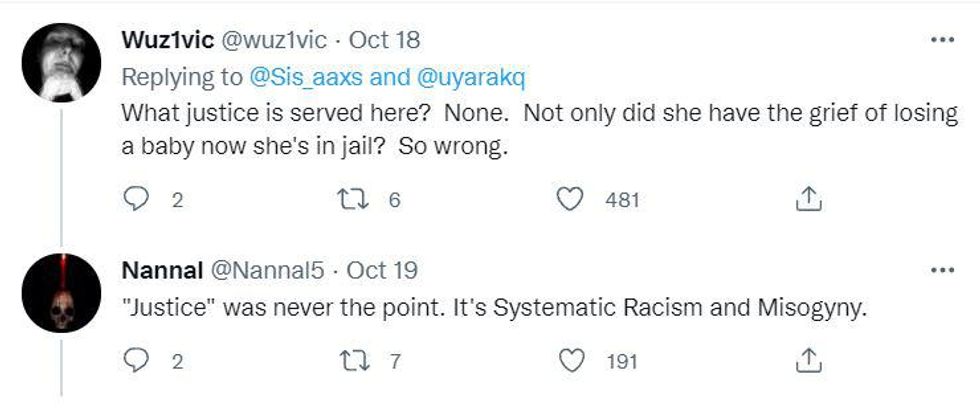 @wuz1vic/Twitter
NAPW says that these cases are actually on the rise.
Rewire News Groupreported:
"According to [NAPW's] analysis, from 1973 to 2005 there were at least 413 cases in which a woman's pregnancy or pregnancy outcome was a determinative factor in her loss of liberty."
"Since 2005 that number has tripled to over 1,200, indicating a rapid escalation of these types of arrests."
NAWP also tweeted:
"These cases include pregnant women who have been arrested for falling down stairs, drinking alcohol, giving birth at home, being in a 'dangerous' location, having HIV, experiencing a drug dependency problem, or attempting suicide."
"The majority of women subjected to pregnancy-based prosecutions are low-income women, drug-using women, and women of color."
The organization has shared several policy statements from health officials saying pregnant women who have drug dependencies or addictions should not be criminally penalized. They deserve care and treatment.