New York straphangers are very familiar with the notorious MTA subway that is anything but efficient. Endless hours of maintenance and unpredictable malfunctions plague the hundred-year-old mass transit system and frequent repairs seem futile.
What's the solution? One company suggested that private interests should save the MTA.
---
A new browser game called MTA Country from Everyday Arcade surfaced in which players would glide along New York's filthy subway tracks and collect tokens that would ultimately spell out the words: PRIVATIZE.

The endgame is anything but subtle.

It's been about as long as the last F train rolled in, but we're back with another game about the world's most reli… https://t.co/mDD0sW5kNw

— Everyday Arcade (@Everyday Arcade) 1527001960.0
omg, NYers our struggle is real, a real Video Game! complete with Pizza Rat. https://t.co/yGU9RikwWQ

— Keira Heu-Jwyn Chang (@Keira Heu-Jwyn Chang) 1527184210.0
Your avatar is the popular meme subject, Gregg T. – the NYPD lawyer who is known for having undermined the Black Lives Matter movement. He is joined by NY governor Andrew Cuomo, and mayer Bill De Blasio for your short, but bumpy, commute.

New video game 'MTA Country' lets players navigate the subways https://t.co/dzh3S2K3q8 https://t.co/IpwCVtsFAo

— PIX11 News (@PIX11 News) 1527185109.0
Similar to the MTA, watch for those track fires. You must guide your car safely by jumping over various obstacles as you collect the tokens. Keep your eyes peeled for a pizza rat cameo.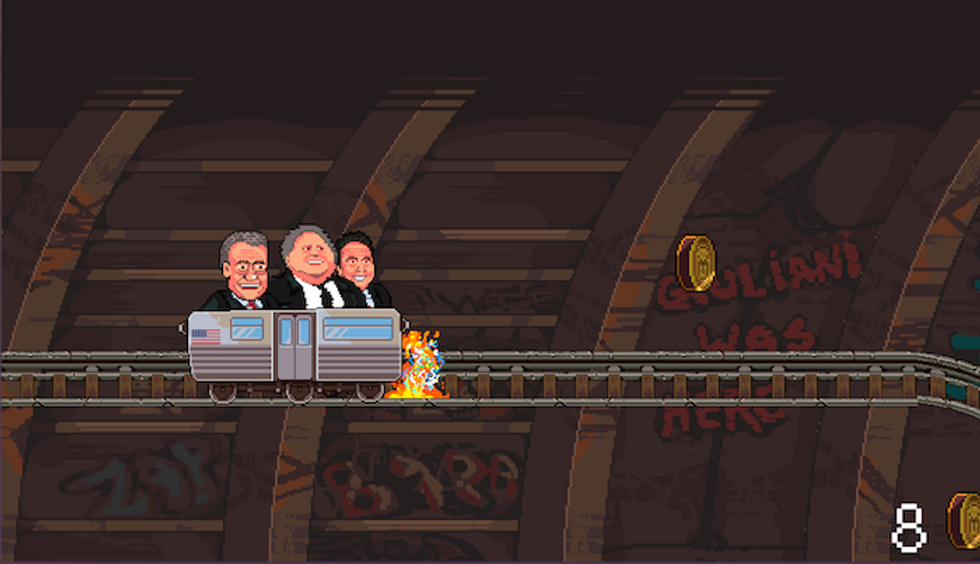 The scenic route is pretty accurate, and gross)(mtacountry.info)
Once you collect the final "E," a message appears: "HYPERLOOP UNLOCKED!" The Hyperloop is a futuristic subterranean transportation system cooked up by Elon Musk's Boring Company which plans to dig tunnels linking New York to Washington, D.C., that will allow passengers to travel between cities within 30 minutes.
Loop by The boring company | Elon musk | Hyperloop | Tesla #Loop is a high-speed underground public transportatio… https://t.co/S7QdjPnFzt

— FoxBuff 🐺 (@FoxBuff 🐺) 1527165371.0
While there are many logistical hurdles before the Hyperloop system comes to fruition, people are fascinated with the plans for an overhaul of outdated and poorly maintained subway systems like the MTA.
Elon Musk may or may not have had a hand in developing this mind-numbing game, but it does make an irreverent jab at the MTA. Maybe handing it over to private interest groups like the Boring Company could be New York City's salvation in the future.
One of the game's creators, Mike Lacher, was inspired to create the game with his friends after collectively spending many times stuck underground.

He explained the genesis for MTA Country in an email obtained by The Verge.
We're just three idiots who make topical video games, so we have no idea how to fix the subway. Everybody seems to propose a solution, so we thought it would be funny to play one out to the extreme. Collecting letters to spell out "RAISE FARES OVER FIVE YEARS TO FINANCE SIGNAL IMPROVEMENTS" would take too long, and be kind of a downer.
We've also been watching the intense debate and arguments around it, and we were amused by what an inescapable mess it seems to be and how no one can possibly take accountability for it. So we decided to poke some fun at the absurdity with an absurd game. We got excited about the connection between the abandoned mine level in Donkey Kong and the declining state of the subway.
If you have time to kill, you can play the game at MTAcountry.info.
Is art imitating life here?
@everydayarcade but Gregg takes the LIRR

— claudia (@claudia) 1527190739.0