A teetotal bodybuilding couple with a combined age of 114 have revealed how they have turned back time through their fitness regime and love showing off their super-toned bodies on their local nudist beach.
---
Doing everything from power walking to dog walking and eating together, Brits Ray Houghton, 61, and Pamela Coombs, 53 – who live in Cabo Roig in Alicante on Spain's Costa Blanca, where they met in 2011 in the gym Ray runs – have also spent over $10,000 between them on an impressive gallery of tattoos and nearly $15,000 on dazzling Hollywood-style teeth.
Describing themselves as "soul mates," the couple, who got engaged in 2012, say their devotion to fitness has been so successful that, according to a body age calculator, Pamela has the body of a 29-year-old, while Ray is so buff the machine cannot give him a reading.
And forget creaking bones – the agile couple also enjoy a more than healthy sex life.
Ray said: "When I try to measure my body age, the machine just flashes up 'error' which tells me I am off the scale and makes me very happy with the body I have.
"If you look the part, you're going to feel the part and that includes feeling confident and happy and having a good sex life."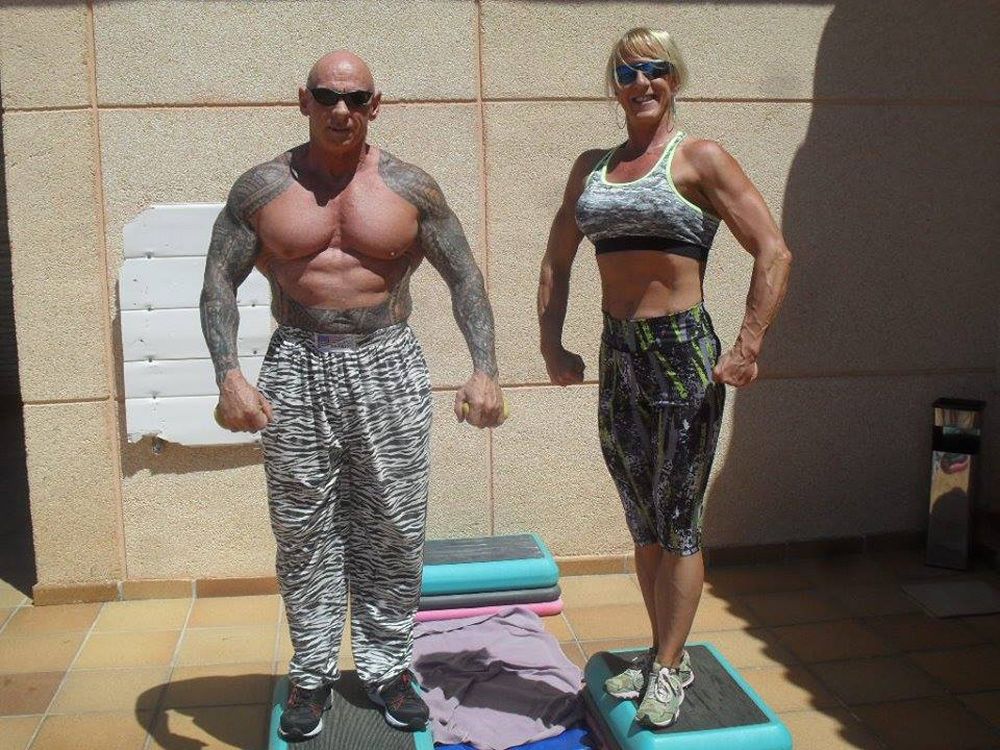 Ray and Pamela (PA Real Life/Collect)
Pamela, who hails from Suffolk, East Anglia, agrees, adding that meeting Manchester-born Ray – a former North West bodybuilding champion – was the most important moment of her life.
She said: "I felt like the luckiest person in the world. He is an absolute inspiration and so knowledgeable about the world of fitness, diet and bodybuilding.
"As for me, I've always been young at heart. I've never felt like I am in my 50s and still think of myself as in my 30s."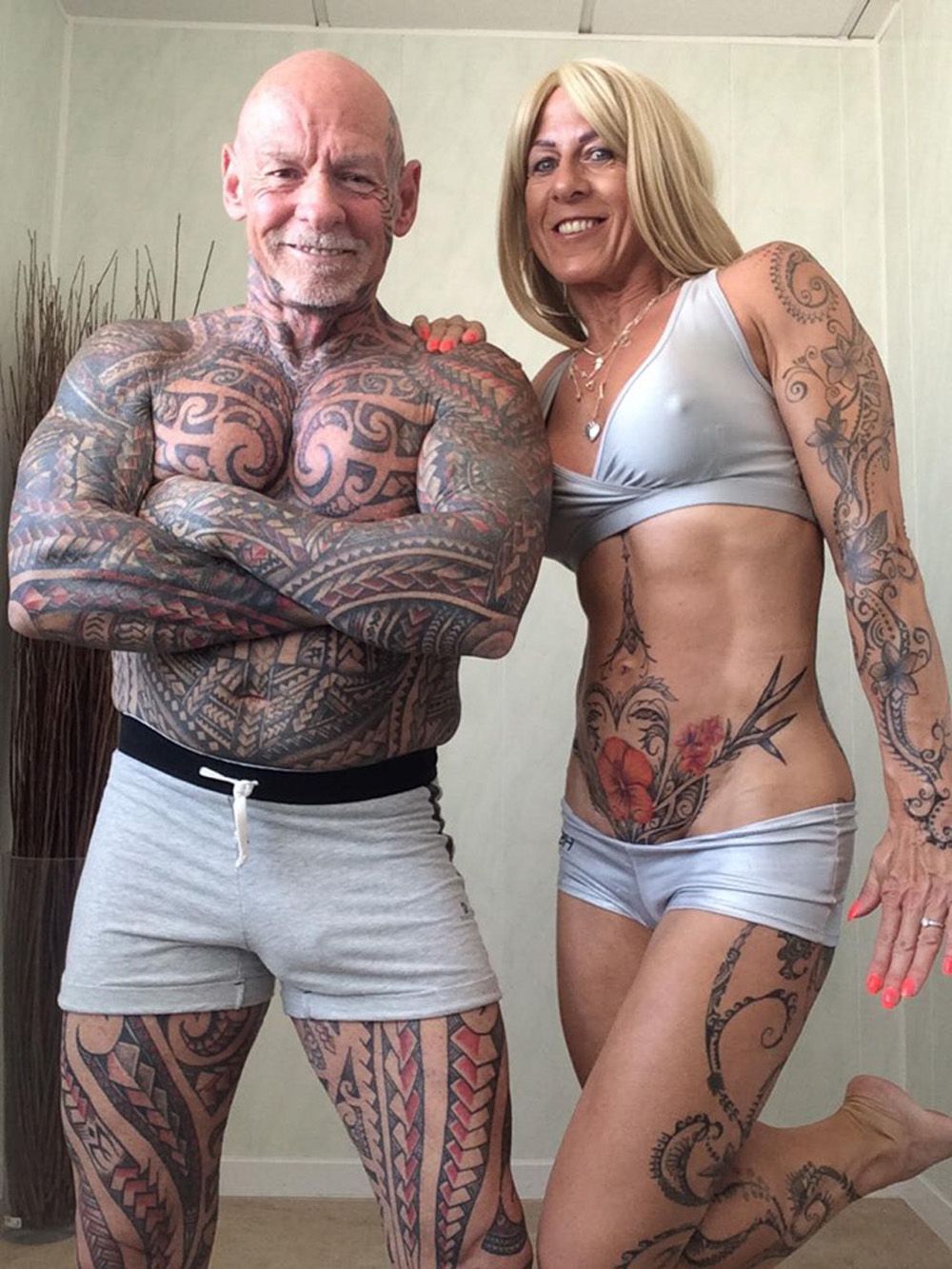 Ray and Pamela (PA Real Life/Collect)
Enjoying all the same pastimes, Pamela and Ray also work at the gym together and, big animal lovers, have five rescue Shar Pei dogs – Falcon, Bopper, Flex, Foxy and Bella – and three rescue cats called Felix, Franco and Freddy.
They even share the same indulgence – a once weekly blow-out English breakfast on a Saturday.
But, in the week, they stick to a rigid routine, starting the day at 7am with a 25g bowl of porridge oats and a detox juice made from beetroot, apple, lemon, ginger and linseeds, blended with water.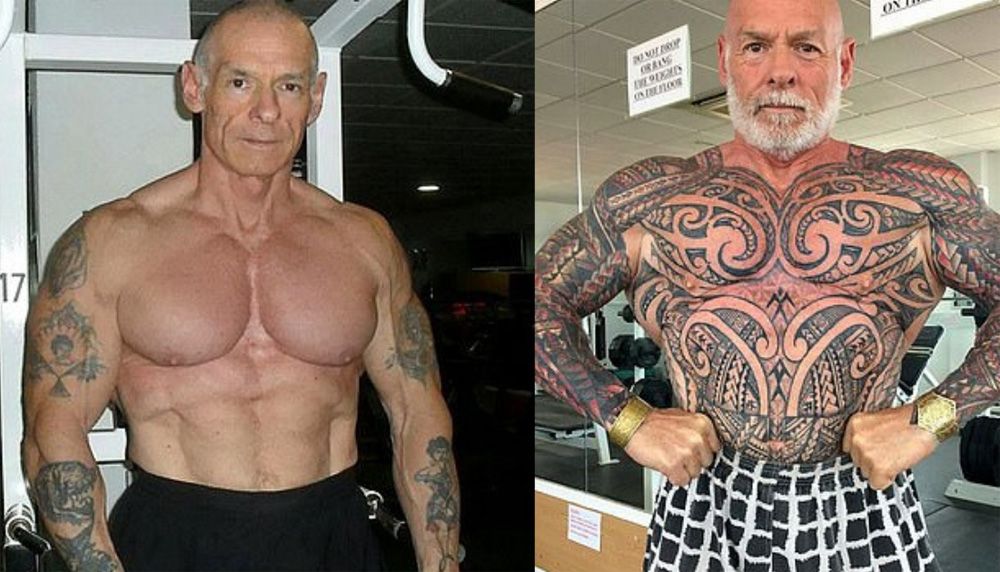 Ray before and after his tattoos (PA Real Life/Collect)
They train together for around 90 minutes every day and stick to a liquid diet during the week, consisting of chicken and vegetable soup and protein shakes made from pasteurized egg whites, all of which help burn fat and speed up their metabolisms.
"We don't socialize, and we don't have friends outside the gym," said Ray. "We avoid parties and alcohol, so we really do lead the bodybuilder lifestyle."
Claiming that ditching drink is crucial to changing your body shape for the better, the couple also avoid sugar – meaning no cakes or biscuits – and eat up to eight small meals a day, instead of the more conventional three big ones.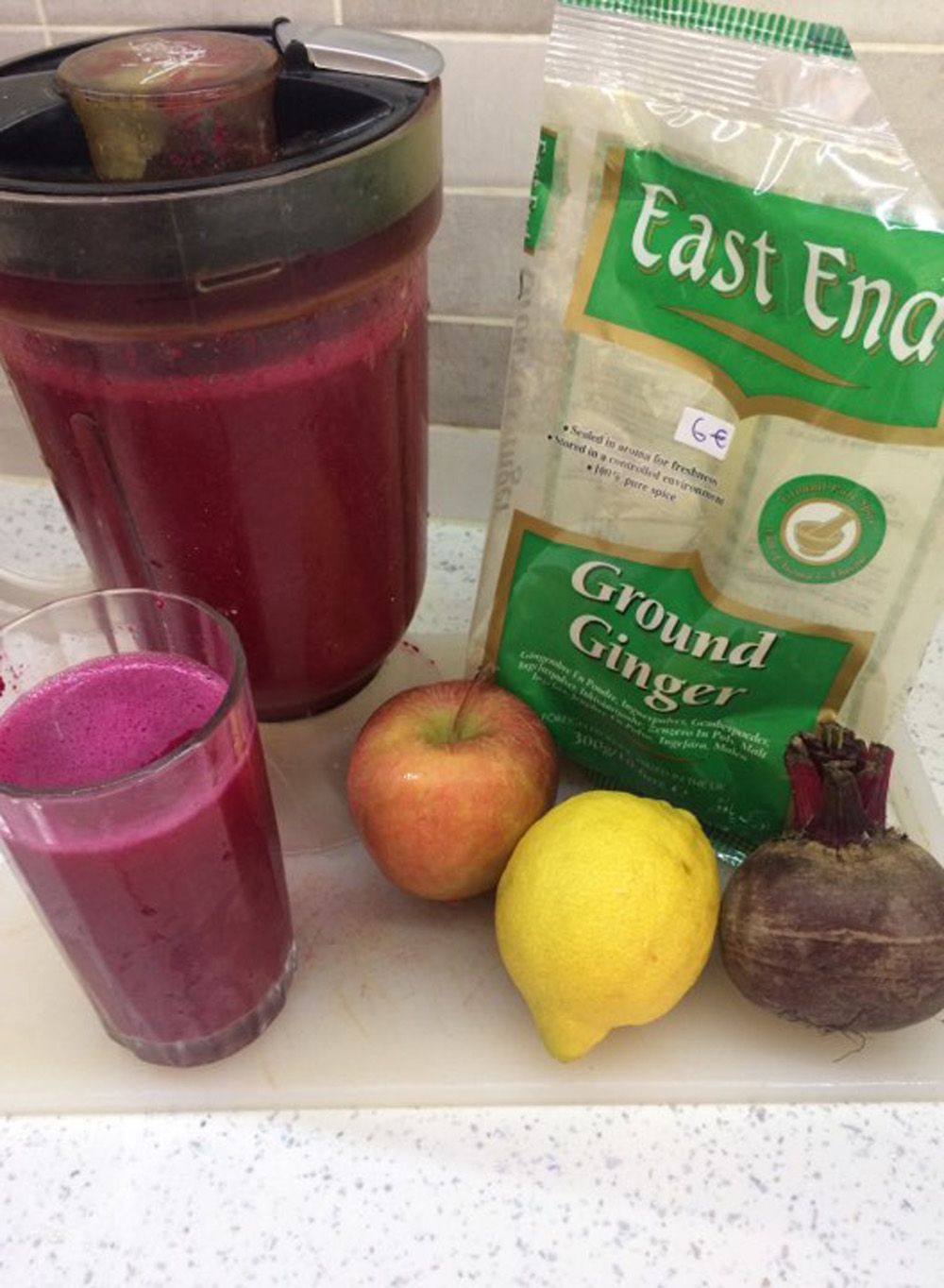 The couple's daily detox juice (PA Real Life/Collect)
"We drink a lot of protein shakes to build muscle and use pasteurized egg whites as the basis for those drinks," said Ray who consumes the equivalent of 60 eggs whites every day, while Pamela – also a model – eats 30.
"People might think we're boring but we have the life of a millionaire without needing the money," said Ray.
"We get stopped in the street and told how good we look and asked if people can take pictures of us."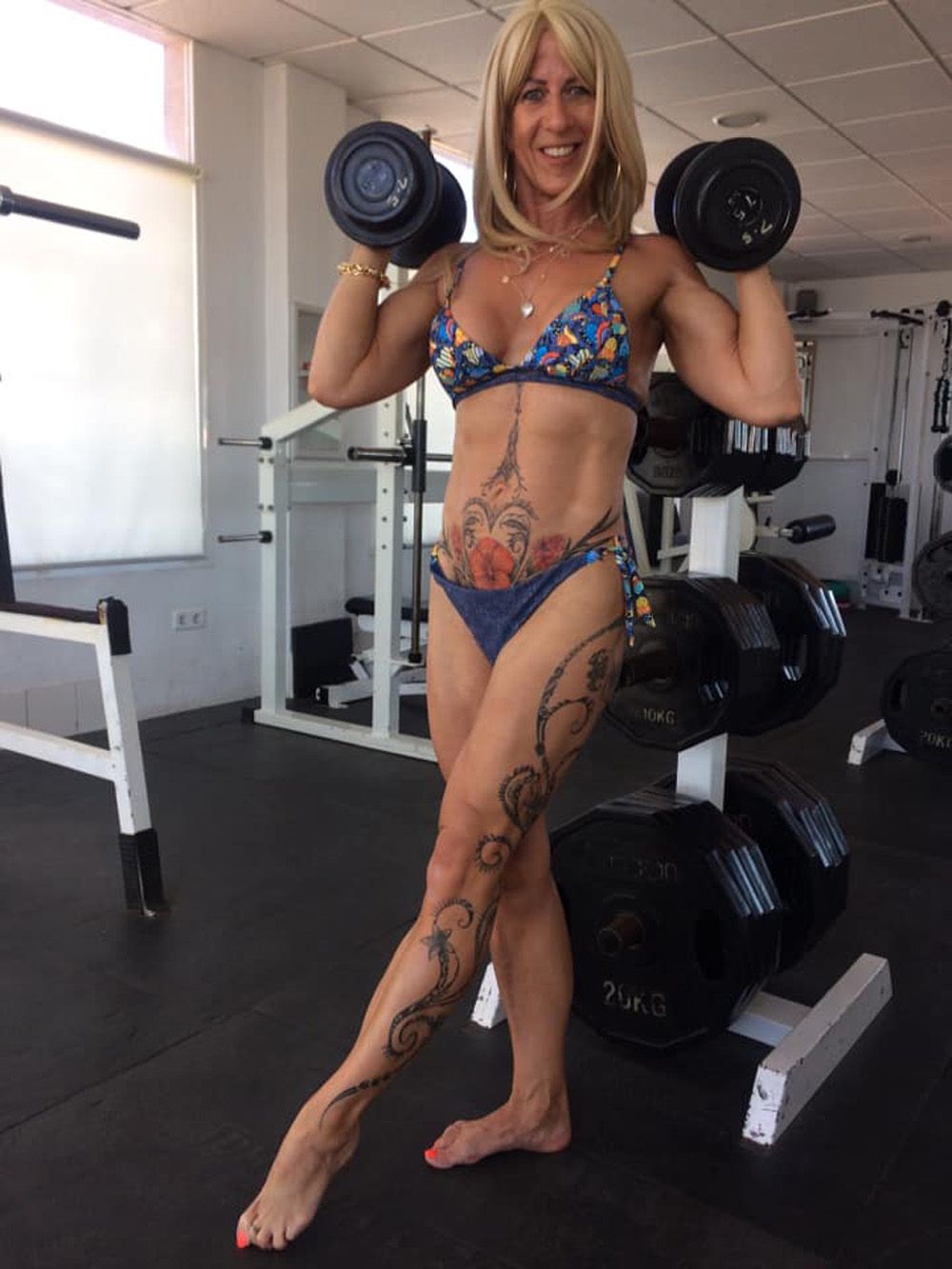 Pamela (PA Real Life/Collect)
And when Ray recently felt the long arm of the law – it was around his bicep.
Pamela laughed: "This officer stopped us saying he wanted to check we had the correct licenses for our dogs, but like everyone else, he just wanted to admire Ray's physique. He told him, 'Your body is amazing.'
"We live and breathe health and fitness, it's our shared passion."
Another shared passion is tattoos, although their first inkings came after Ray, a perfectionist, noticed he had varicose veins starting to appear on his ankles and had one in October 2015 to cover them up.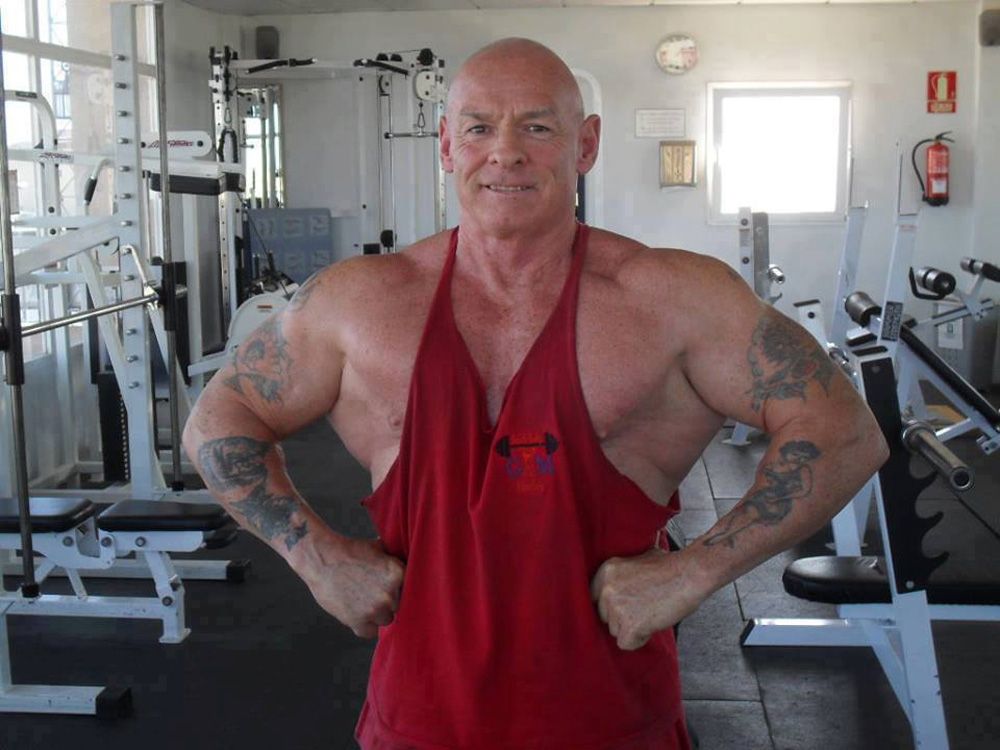 Ray (PA Real Life/Collect)
Watching Ray transform himself by spending nearly $10,000 over 14 months on 29 individual tattoo sessions, despite never having liked them before, Pamela wanted to share the experience and feel as good as they made her fiancé feel.
So, when a new tattoo studio opened at the end of their street in 2016, offering Pamela her first tattoo for free, she took the plunge and since then has spent nearly $1,400 on startling inkings down the left side of her body.
The couple, who never take a holiday as they say every day living in Spain already feels like one, also love spending time at the local nudist beach, where they get as much attention as they do walking around the neighborhood in their – admittedly skimpy – clothes.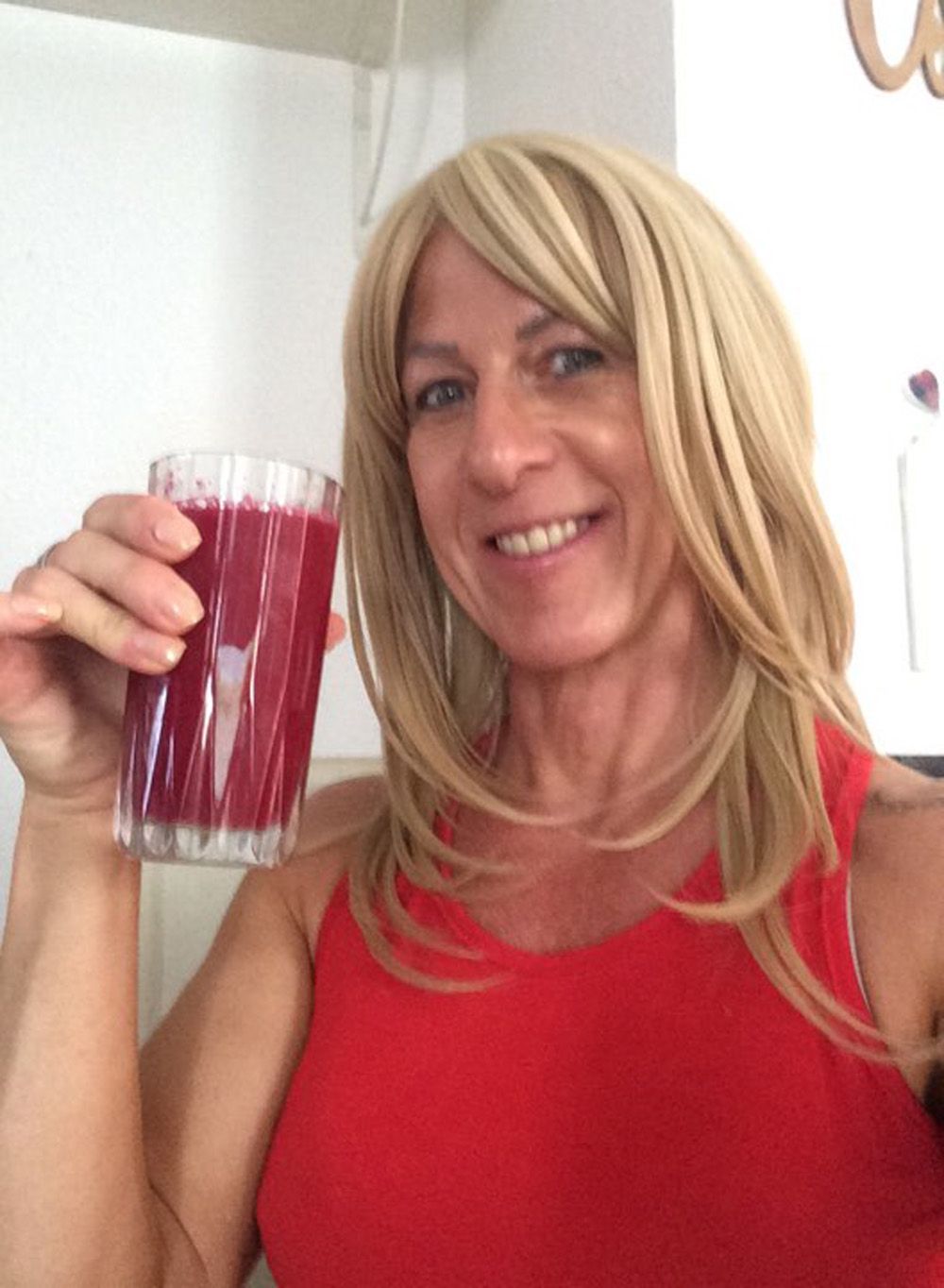 Pamela with a detox drink (PA Real Life/Collect)
"If you've got the body and you've worked hard for it then of course you want to show it off," said Ray, adding that he has just spent nearly £6,675 and Pamela has shelled out almost £4,880 on what they call his and hers "celebrity teeth."
Now the couple's joint ambition is to open a fitness retreat in a large villa in the Spanish mountains, where they can show other people how, by eating properly and with the right exercise they, too, can have a body like theirs.
"We just want to change everyone and show people how easy it is once you alter your mindset," said Ray. "We already do it at the gym where we both work as personal trainers, but having our own fitness centre is the big dream we share."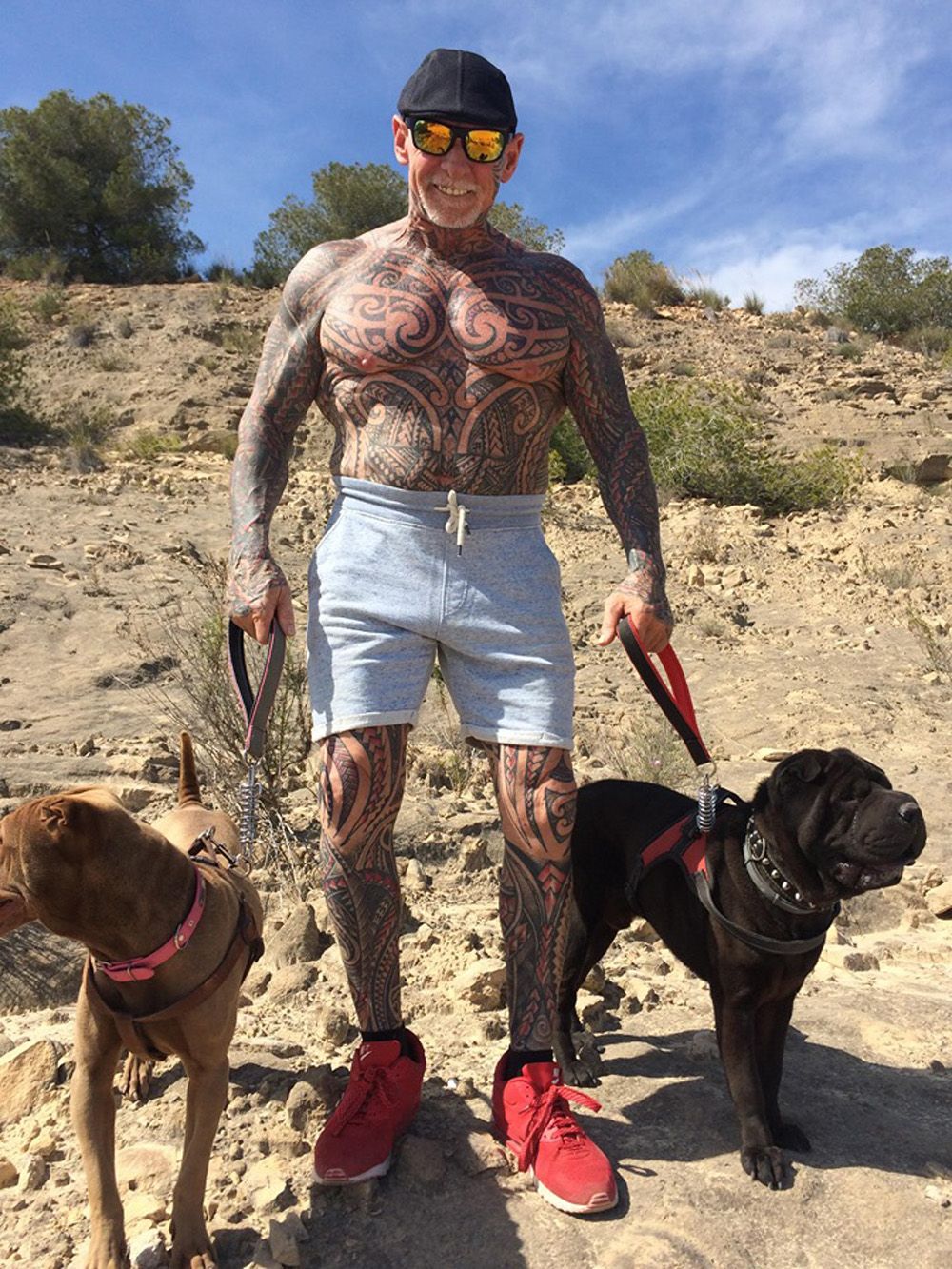 Ray with his dogs (PA Real Life/Collect)
He added: "Our message is very simple. It's not easy to commit to this lifestyle but once you do, there's nothing fancy about any of it.
"We eat the simplest food and when we do have a non-liquid meal, it is absolutely delicious. For us, this lifestyle is all about being real and showing everyone they, too, can have the body they dream of."