As our country continues to figure out what to do about the ongoing opioid epidemic, the Trump administration continues to write checks it can't cash in combating the growing addiction crisis. Early in his presidency, Trump declared the opioid crisis a "national health emergency," but despite the president's tough rhetoric regarding "being tough on crime" and promising to do something about opioid addiction, little progress is being made.
---
White House counselor Kellyanne Conway has taken control of the opioids agenda, quietly freezing out drug policy pr… https://t.co/7vEThtpsa6

— Citizens for Ethics (@Citizens for Ethics) 1517951979.0
A new Politico report highlights our government's hypocritical negligence as follows: "White House counselor Kellyanne Conway has taken control of the opioids agenda, quietly freezing out drug policy professionals and relying instead on political staff to address a lethal crisis claiming about 175 lives a day. The main response so far has been to call for a border wall and to promise a "just say no" campaign."
Drug policy experts are being shut out, and for months the opioid task force was spearheaded by an inexperienced 24-year-old Trump campaign staffer. "It's fair to say the Office of National Drug Control Policy (ONDCP) has pretty much been systematically excluded from key decisions about opioids and the strategy moving forward," a former Trump administration staffer said. Making matters worse, Trump's initial appointee to lead the ONDCP, Rich Baum, has been shut out of policy meetings.
And then there's this: Kellyanne Conway Ignoring Drug Experts as She Takes Over Opioid Crisis https://t.co/RUZ4hvrpgo

— Tom Boyle (@Tom Boyle) 1517955005.0
Currently, the top position in the ONDCP remains vacant. The president is also looking to make budget cuts to the very office that is supposed to be working to save countless thousands of lives.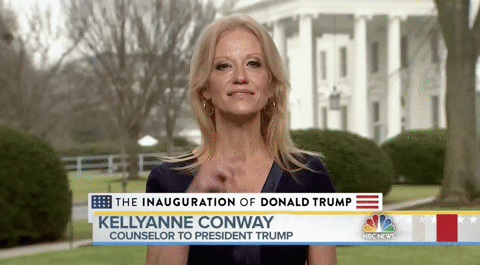 What exactly are you proud of, Kellyanne?
Over-prescribing and abuse of prescription narcotics, such as oxycodone, oxycontin and hydrocodone, can be highly addictive when improperly taken and often lead to heroin use. "I haven't talked to Kellyanne at all and I'm from the worst state for this," said Sen. Shelley Moore Capito (R-WV). West Virginia is suffering the most devastation from the opioid crisis, and if the Trump administration's recent behavior is any indication, relief isn't coming anytime soon.