If you were anywhere near the internet yesterday you likely heard Twitter approved a deal for Tesla CEO Elon Musk to buy the platform for $44 billion and do away with its supposed limitations on free speech.
If you're like many people, your first thought was:
"Oh God, this means Trump's coming back, doesn't it?"
But according to the former Republican President himself, that won't be happening.
In a Fox News interview in the wake of Musk's deal, Trump said he has no intention of rejoining Twitter and will instead stick with his own beleaguered Truth Social platform.
But given the former President isn't exactly known for being a man of his word, you can probably guess how most of the internet reacted.
Many have presumed Trump's account will be reinstated following Musk's purchase because the Tesla CEO has repeatedly joined right-wing voices in casting Twitter's content moderation moves as violations of free speech.
Musk nodded to this sentiment in his announcement of the purchase.
Twitter's policies have resulted in many right-wing accounts being banned for amplifying COVID-19 misinformation and right-wing extremism. Most notable among them is Trump's account, which was banned following the January 6 insurrection.
But Trump claims he isn't interested in having his account back.
He told Fox News:
"I am not going on Twitter, I am going to stay on Truth..."
"We're taking in millions of people, and what we're finding is that the response on Truth is much better than being on Twitter."
But there is absolutely no available data to back that claim up.
Truth Social's launch has been a disaster, plagued by data security breaches and steadily declining sign-ups. And its stock price has also cratered since Musk's purchase amid concerns Truth Social can't compete against a post-Musk Twitter that will surely draw the extremist voices that are Trump's bread-and-butter back to the platform.
Even Trump himself has only posted on Truth Social one time and issues all of his public statements via his spokesperson on—you guessed it—Twitter.
Take all that together and it should come as no surprise people's response to Trump's statement was a collective "yeah right."

Though some did take him at his word.
The consensus among them was similarly solid.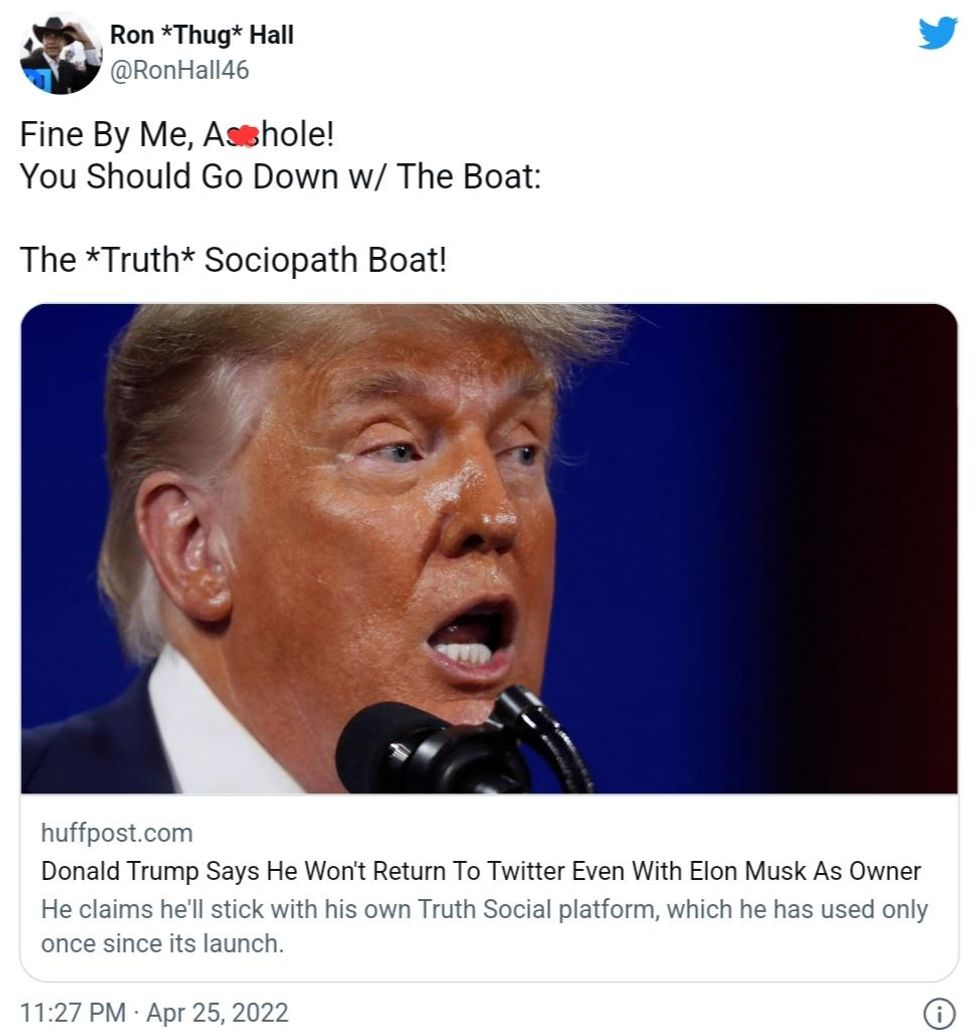 @RonHall46/Twitter
Trump's platform's stock price dropped 13% yesterday following news of Musk's Twitter purchase after having already cratered by 40% since Musk announced his mere interest in buying Twitter earlier this month.