Former President Donald Trump may have been banned from Twitter and Facebook–which suspended him after inciting the riot that led to the U.S. Capitol siege–but that didn't stop him from spewing his toxic rhetoric and pushing false claims and conspiracies elsewhere.
To challenge the social media platforms that silenced him, Trump created his own social media network, Truth Social, which launched on Monday.
But it appears the platform is already off to a bumpy start after a far-right radio personality claimed Trump's platform had censored him for "sensitive content."

Stew Peters, a prominent conspiracy theorist who pushed false claims about COVID-19 vaccinations, was outraged after Truth Social apparently restricted his post in which he called for the execution of U.S. government officials.
Peters–whose Truth Social description reads, "America First White Christian Alpha Male, Purveyor of Dangerous Truth"–complained on the messaging app, Telegram, after he was shown a "sensitive content" warning.
He wrote:

"I'm ALREADY being censored on Truth Social."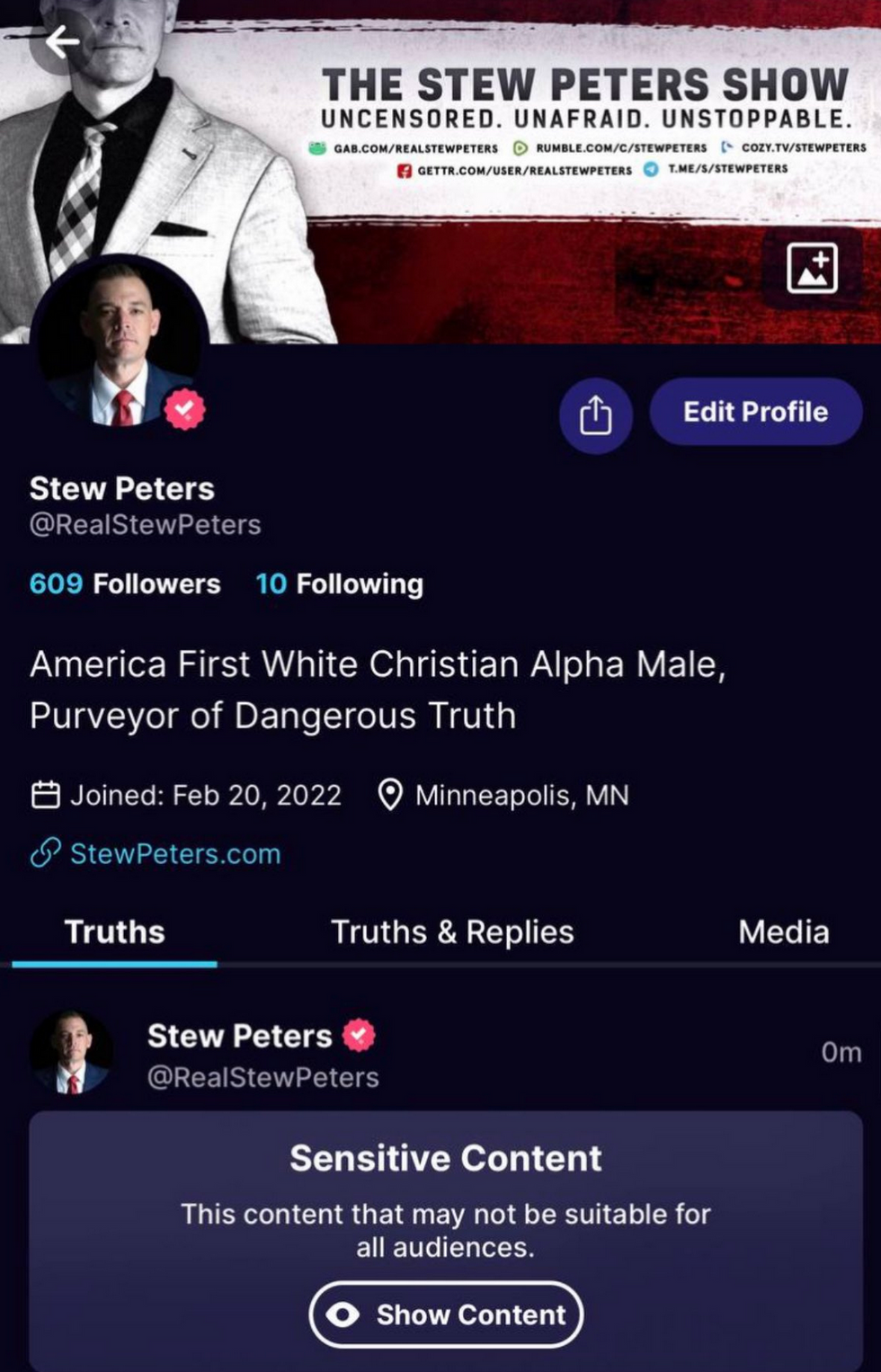 @ZTPetrizzo/Twitter
In his initial post, Peters stated that any member of the government that allowed "kids to be killed with these dangerous Covid shots, should be put on trial and executed. Free speech isn't free."
People had plenty to say about his character.
Here is a YouTube clip in which he discusses his point of view as a bounty hunter in Minneapolis.

POV - Bounty Hunter Stew Peterswww.youtube.com
In spite of Truth Social's rough beginnings beset with glitches–including numerous error messages, registration issues, and waitlists–the app became one of the top downloads on Apple's downloading charts.
People mocked the new platform, and they couldn't help but call them out for being a Twitter imposter.
BBC journalist James Clayton stated that Truth Social could surpass other alt-tech "free speech" media platforms like Parler and Gab.
Clayton added that the creation of Truth Social was an indication that Trump "clearly wants his megaphone back. He thinks this might be his ticket."
Although Truth Social touts itself to be an open and free platform, Rolling Stone noted the app's terms and conditions included a clause stating that users cannot disparage the site.
Mike Rhodes, the CEO of mobile app marketing consultancy firm ConsultMyApp, told the Daily Mail that the platform is set up for failure.
"This new platform is evidently geared up to promote content with a specific viewpoint, rather than harbor a wide range of views on multiple subjects."
"Echo chamber platforms like this already exist, however, they are by no means adopted by the masses. My best guess is that the platform will simply end life as a forum for people to reaffirm existing views, with a small but dedicated user base."
"Eventually, it is likely that Mr. Trump will find another media outlet to serve him better. He'll pack up his bags, and so too will the remaining platform users."