Donald Trump made big promises before building his golf resort in Scotland, but it appears those promises have fallen short. Before construction began, Trump vowed to boost the local economy and protect the environment. Neither promises were fulfilled.
---
Conservation agency, The Scottish Natural Heritage, that is tasked with monitoring special interest sites, claims the Trump golf resort near Aberdeenshire is negatively affecting the surrounding sand dunes. According to Bob Ward, the policy director of the Grantham Research Institute on Climate Change and the Environment at the London School of Economics:
Construction of the new golf course involved earthworks, planting of trees, greens and fairways, drainage, irrigation and grass planting. This has affected the natural morphology of the dunes and interfered with natural processes. Most of its important geomorphological features have been lost or reduced to fragments. Nearby marine terraces have also been reduced to fragments.
Since 2012, when the resort was built, Ward has requested the government investigate if environmental monitoring is being carried out by The Trump Organization. The Scottish government gave permission for Trump to build on the belief the environment would be protected and the local economy would receive a boost. It appears out of the two resorts, (Aberdeenshire & Turnberry) neither is a financial success.
Even with the environmental concerns, Donald Trump Jr. and his brother Eric, are planning on investing and expanding the Aberdeen resort with 500 residential homes, a sports center, retail, equestrian and commercial spaces.
People are not surprised.
Some folks weren't buying that "grass" could destroy an environment.
But Mom came in with some answers.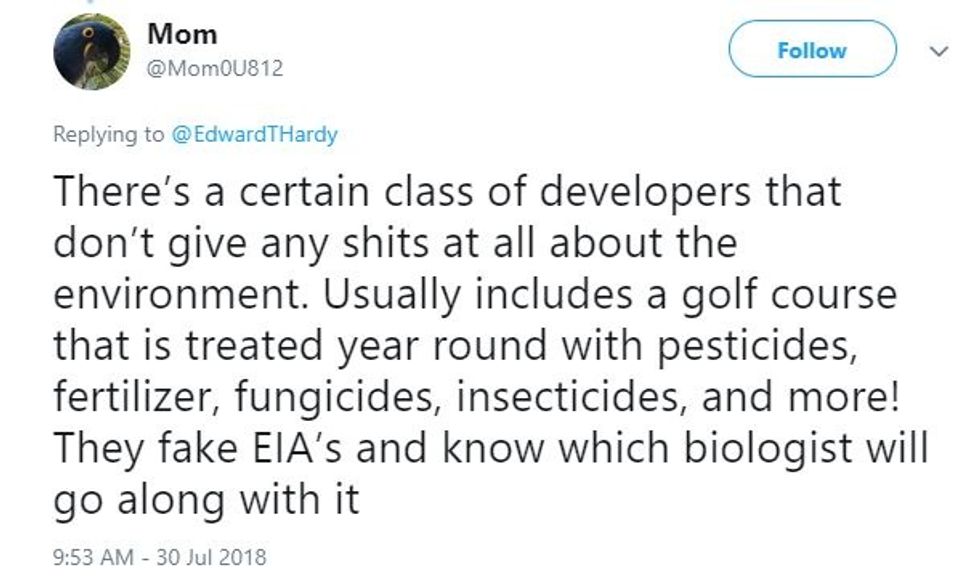 @Mom0U812/Twitter
Executive Vice President of Trump International, Sarah Malone, said:
As for the small portion that we do own, no other SSSI site in the land has seen more environmental care or investment.The site was ignored until Trump took ownership, and is now celebrated and enjoyed by many.
H/T: Huffington Post, AP