Trump's numerous failed endeavors are well-documented.
From Trump steaks to Trump Casinos, businesses emblazoned with Trump's name are anything but a safe bet.
Trump University is one of the most famous examples.
---
When founded in 2005, the business was in violation of New York law for operating without a license from the New York State Education Department. Former students found themselves in mountains of debt, feeling less intelligent than any graduate should.
The so-called university was plagued by lawsuits which Trump eventually settled with an out of court payoff.
Since the 2016 election, Trump University has been a subject of ridicule. It's been a punch line on Will & Grace.
Before Trump clinched the Republican nomination, now-Senator Mitt Romney (R-UT) called Trump's promises as "worthless as a degree from Trump University."
And now the internet's mocking it again, this time with fake classes that the university could teach.
Two plus two equals six bankruptcies. #TaughtAtTrumpUniversity

— Palmer Report (@Palmer Report)1566364503.0
Money Laundering #TaughtAtTrumpUniversity. https://t.co/APedGD9atr

— Buckeye Chris (@Buckeye Chris)1566351335.0
History of Mexican Countries #TaughtAtTrumpUniversity https://t.co/rxsDlmAQcz

— Mr. Bagels (@Mr. Bagels)1566347496.0
#TaughtAtTrumpUniversity Raking stops "Forrest" fires The moon is part of Mars England was called Great Britain You… https://t.co/sBXonM9rbB

— Howard (@Howard)1566353432.0
#TaughtAtTrumpUniversity Golfing at Taxpayer Expense 101 https://t.co/rIvZGHEDaf

— jhawk4life 🇺🇸 (@jhawk4life 🇺🇸)1566347480.0
#TaughtAtTrumpUniversity Hairdo's And Dont's https://t.co/yVmMwVs9mP

— Just Marie (@Just Marie)1566347579.0
All about solar eclipses. #TaughtAtTrumpUniversity https://t.co/A3R4qFY1Y4

— Les Nesman (@Les Nesman)1566351358.0
#TaughtAtTrumpUniversity How to wipe your a- oh never mind https://t.co/rHde2UA4KQ

— Felicia M Ruiz🎼Must've been❤️but it's over now (@Felicia M Ruiz🎼Must've been❤️but it's over now)1566350221.0
#TaughtAtTrumpUniversity Alternative History https://t.co/JIJ6q1V42R

— Dana (@Dana)1566347392.0
In 2018, Trump settled the lawsuits from spurned students to the tune of $25 million, or roughly 714 "Gold Elite Classes" at Trump University.
Did you miss your chance to enroll? No worries, you can still get the shirt, available here.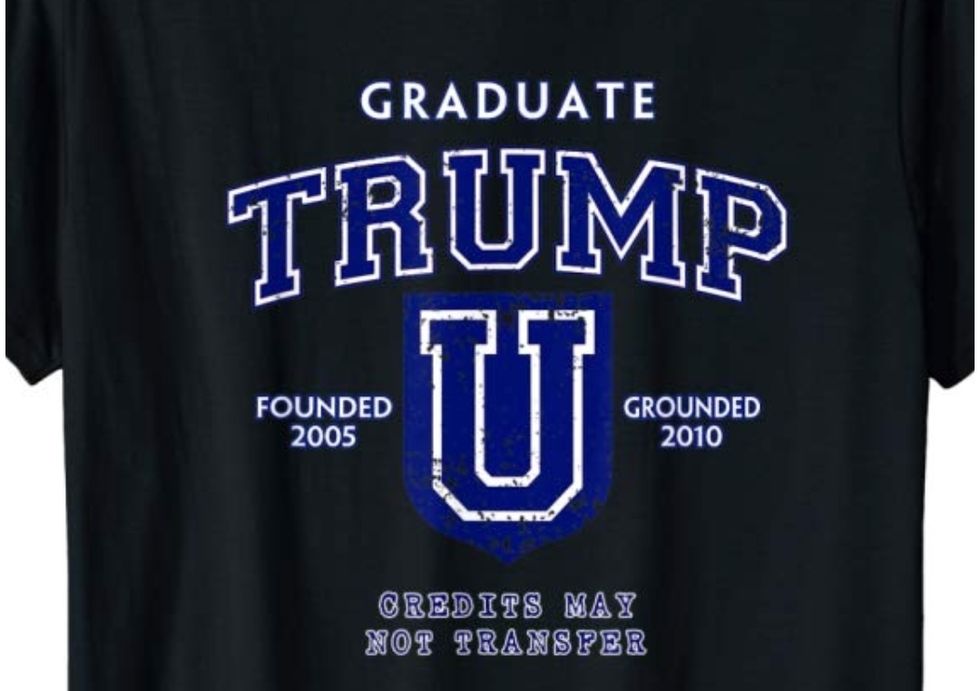 Amazon
**********