Where do all of these racists come from, and why do they insist on making actors so uncomfortable that they completely withdraw from social media? This is the second time something like this has happened this year, this time to Anna Diop, slated to star as Starfire in the upcoming show, 'Titans'.
---
Some facts to set the scene here: Starfire is an alien. She is often depicted as having golden or yellow-ish skin, not as a white woman.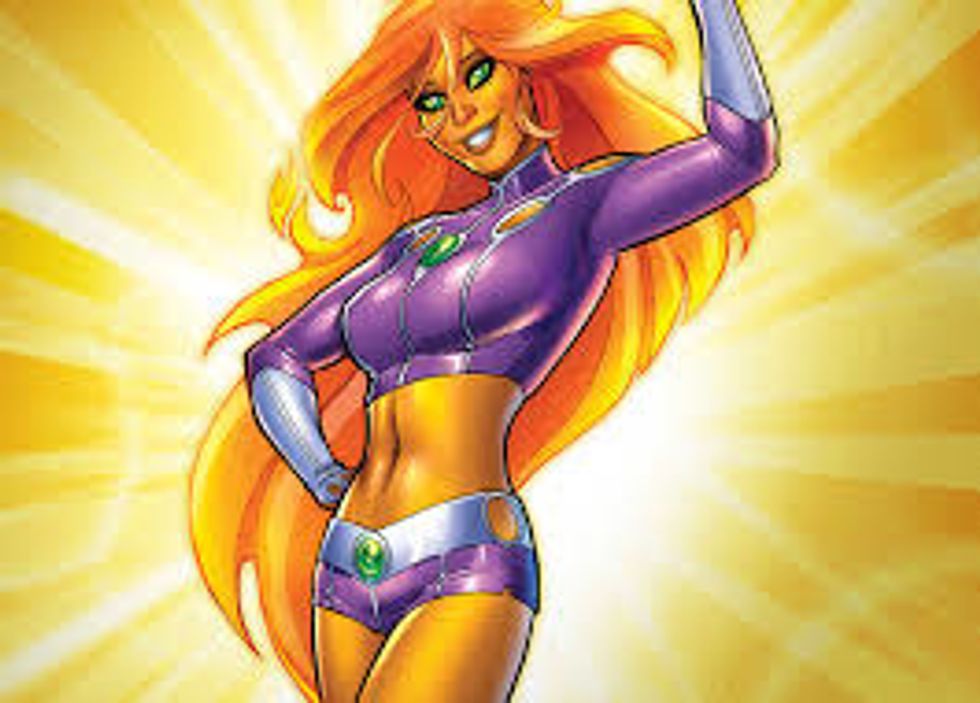 Starfire.Photo via DC Comics
So when Anna Diop was cast, it seemed like a perfect way to allow for a modicum of representation in the DC Universe, which has been struggling intensely to pull its own weight in the superhero movie craze. Wonder Woman, which starred Israeli actress Gal Godot seemed like a good way to start.
White fanboys and fangirls are TRASH. They hate Candice Patton for being Iris, they hate Anna Diop for being Starfi… https://t.co/xcUqOQEoCw

— Marc (@Marc) 1531967025.0
But some fans of the Universe, who have decided Starfire was somehow white, though an alien with golden skin, targeted Diop intensely via her Instagram and Twitter, dropping comments such as:
@badpostitans I also don't care for her skin color I just wish she was cast as a prettier person than Anna diop. St… https://t.co/kJ4fRYk5sl

— Comics,Soccer&HoodShit$$ (@Comics,Soccer&HoodShit$$) 1532105164.0

Instagram
When these attacks started back in April, ComicBook.com quoted Diop addressing them directly.
"I do want to use this as an opportunity to say that tearing people down is not something that I tolerate. For myself or anyone else."
"Too often social media is abused by some who find refuge in the anonymity and detachment it provides: misused as a tool to harass, abuse, and spew hatred at others. This is weak, sad, and a direct reflection of the abuser. Racist, derogatory, and/or cruel comments have nothing to do with the person on the receiving end of that abuse. And because I know this - I'm unfazed. But for anyone out there who may not - I am here to remind you that whatever ugly and negative thing anyone ever choose to say about you is always a reflection and revelation of themselves - it does NOT define you, and it certainly does NOT make you any less perfect than you are."
The level of colorism behind light-skin Starfire cosplayers posting pics for attention rn and people commenting tra… https://t.co/Hh8ikZtF1Z

— thicc duckie💗💛💙 (@thicc duckie💗💛💙) 1532049106.0
The fans harassing & bashing Anna Diop b/c she's playing Starfire are disgusting & pathetic, they're an example of… https://t.co/Hp2KX1T0ep

— Mark Hughes (@Mark Hughes) 1532473691.0
miss anna diop is still making her coins while y'all racists cry. I have to laugh

— ashton is a clown (@ashton is a clown) 1532014827.0
@TheRoot toxic fandom strikes again 😞

— Daphne Swarzinsky (@Daphne Swarzinsky) 1532451769.0
@TheRoot #SimplyGorgeous #SayitloudImBlackandProud✌🏿✌🏿✌🏿✌🏿👩🏿‍🏭👩🏿‍🏭👩🏿‍🏭👩🏿‍🏭👩🏿‍🏭👩🏿‍🏭 https://t.co/mUc7OSOIzA

— Tyrone Albert (@Tyrone Albert) 1532458052.0
Earlier this year, 'Star Wars' star Kelly Marie Tran, who portrayed Rose Tico, a possible love interest for the ex-Stormtrooper Finn, deleted her Instagram after continuous harassment from fans of the franchise. Toxic Fandom is invading the safety of our performers, and if we want these films to keep being made, we must take responsibility.
@TheRoot This honestly confuses me so much like Starfire isnt even white so why do people think that she has to be… https://t.co/5WSdH8z0xj

— dori✌ (@dori✌) 1532550139.0
@TheRoot I think she is a prefect Stafire. Toxic fans should be the ones that leave social media. I'm so sorry she… https://t.co/e5qePaQMUU

— Mariah Ramsey (@Mariah Ramsey) 1532550730.0
@TheRoot @JillPantozzi You know that #Starfire isn't white, she's orange!? #AnnaDiop #Titans 🙄https://t.co/vgLwrwLsRF

— Terrence Clay (@Terrence Clay) 1532480793.0
@TheRoot This is just sad. What is wrong w/ people? Starfire is an ORANGE alien. Last I checked, there's no such th… https://t.co/se5HCb0m1q

— Sheri 💖 (@Sheri 💖) 1532492761.0
Representation matters, and it need to start feuling acceptance, not hate.
H/T: Comicbook.com, The Root