A TikToker posted the intense swelling from her lip filler treatment and commenters thought she looked like the Grinch from the Dr. Seuss classic The Grinch Who Stole Christmas.
Briana Garabet, a 22-year-old in Los Angeles, California posted a short clip of her swollen lips.
The text over the video said:
"You guys I just got lip filler and it's so f*cking swollen."
"Is this bad?"
Her lips grew three sizes that day.
The video reached 1.7 million views and 31.7 thousand likes.
Many commenters were concerned for her wellbeing.

@amber.hxo0/TikTok

@celestialsav/TikTok

@msussygussy/TikTok

@thatblondegorllll/TikTok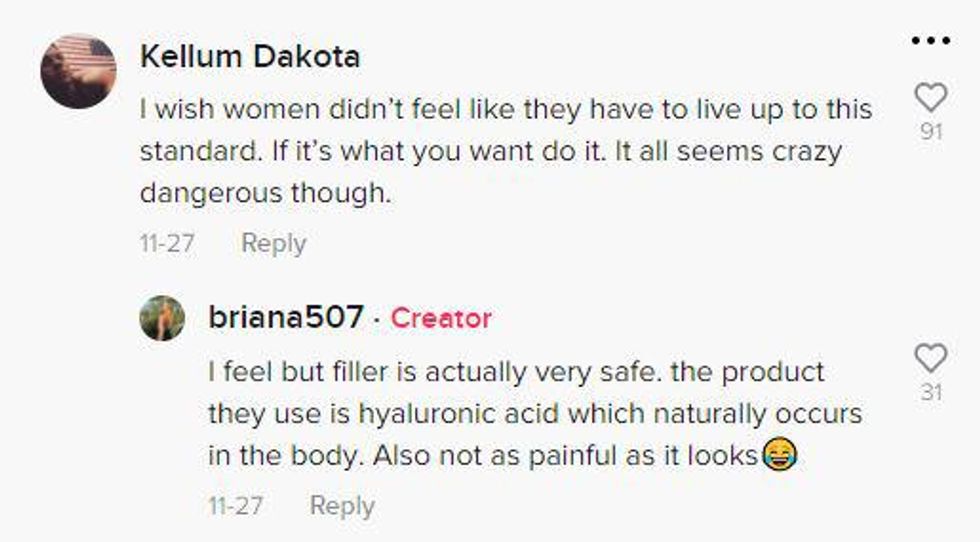 @yohdakota/TikTok
But other's were more focused on the hilarity of the situation.
@drofdoctoringinmedicine/TikTok

@allisonwonderland_1/TikTok

@soph.mayyyy/TikTok
Other commenters who have also had lip filler assured us this wasn't abnormal or cause for concern.

@sickcazh/TikTok
@theedoubled/TikTok
@sagarpatelaesthetics/TikTok
If Garabet was really concerned about her reaction to the filler, she probably wouldn't be making TikToks about it.

She even made a second one when the filler looked even worse than the first video.
Because so many people were concerned, Garabet did post an actual update where she explained everything was in fact okay.
In this video, her lips are far less swollen.
"I assure you guys I am A-Okay."
"This is the first day where it looks sort of normal."
"This has actually happened to me before."
"I talked to my doctor and he said it was fine."
"I wasn't having an allergic reaction or anything, I just get really swollen."
"I appreciate all the concern though. I'm fine."
"It's still honestly even a little swollen today but it's for the most part healed I would say."
"I just thought I'd look hilarious and thought I'd share with you guys."
Garabet also said she was a little embarrassed this was the reason she went viral on TikTok, but she's happy with the results of the lip filler.
Even if it meant momentarily looking like "The Grinch."