As a neighbor went after his puppy who got out of the house, a Mom in Texas began to shoot at the dog. Unfortunately, a bullet ricocheted and hit her son instead.
The mother, 24-year-old Angelia Mia Vargas, was outside while her five-year-old son and husband were riding bicycles in their neighborhood in Houston, Texas.
In an interview with local ABC affiliates, the dog owner spoke about what he saw:
"I came out of my house because Bruno was barking and barking. I thought my brother was coming."
"I thought my brother was coming, so I open the door just a little bit and he comes running out."
You can see news coverage here, including security camera footage of the incident.
Mom accidentally shoots her 5-year-old son while trying to target loose dog| ABC7youtu.be
You can see in the video from the Ring doorbell footage from ABC7 that the dog, Bruno, a 6-month-old boxer puppy, runs out behind the cars towards the street. In the top right corner of the screen you can see two people standing in the driveway across the street and several gun shots are heard followed by screams.

The dog owner immediately went back inside, still calling after his puppy. The Boxer puppy received only minor graze wounds on two legs.
But the five-year-old son of Vargas was hit in the abdomen by one of her stray bullets. No life-threatening injuries were reported, but the child was kept in the hospital.
You can see additional information about the charges filed from local news NBC2 here:
According to Detective J. Hasley with the HPD Major Assaults and Family Violence Division, the bullets came from a small caliber pistol shot by Mia Vargas in an attempt to hit the dog.

The most recent gun laws in Texas allows citizens to carry a gun without a permit.
As the news reached Twitter, many are unhappy with the gun laws in Texas and outraged Bruno's owner was given a Class C misdemeanor citation for not having the dog on a leash.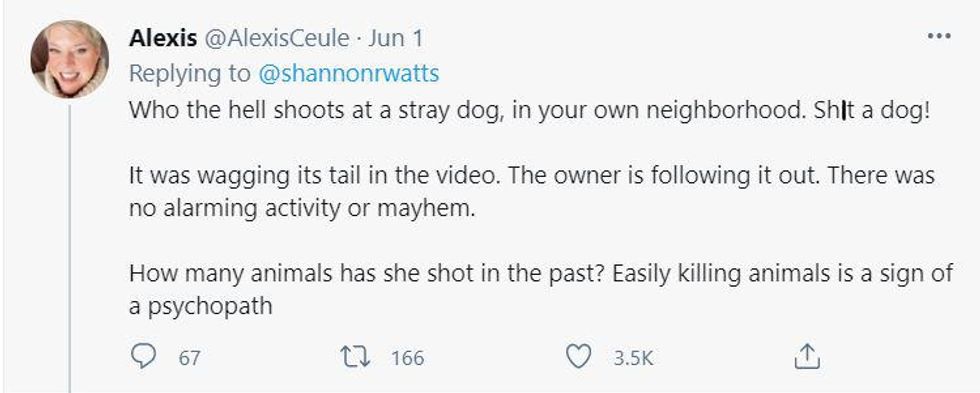 @AlexisCeule/Twitter
Bruno's owner continued in his interview:
"She could have handled it differently."
You know, she was there, her husband was there, I was there, nothing would have happened. Nothing bad like that."
Mia Vargas was charged with deadly conduct with a firearm.