Public school teachers often face a tremendous amount of stress trying to make ends meet while keeping their students needs met.
Some, like 21-year-old Brooke Goins from Tennessee, are driven to tears.
For Goins, however, her tears had nothing to do with misbehaving students or her antipathy towards being a teacher.
---
She explained the reason for her tears in a poignant Facebook post.
"Today I cried at work. Not because I hate my job, or that it is just too hard (it really is)."
"Today I cried for a child, a child who so innocently talked about food, and the lack of it."
Goins was thrown when one of her students asked when the "lady" would drop by again to put food inside his backpack.
The child was referring to the Jacksboro Elementary School's guidance counselor.
She continued:

"He asked when the lady that puts food in his backpack was coming. It caught me off guard because it is our guidance counselor and I wasn't sure what he needed."
"I told him I wasn't sure about this week since it is a short week. He told me he was out of it at home and needed more. Of course, I asked what was in the bag that he liked so much."
So Goins asked if it was the macaroni bowl or crackers.
He said it wasn't.
"I asked if it was the spaghetti o's, he laughed and told me no that they didn't have those."
"Then it happened... he looked at me and said, 'those little o's (as he made a small circle with his hand), we don't have those at my house, but when I do have them they give me a warm belly and help me sleep.'"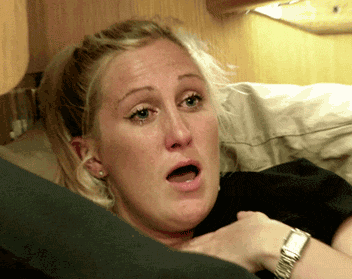 Giphy
"I lost it, I cried in front of 20 little people. No kid should ever be hungry, ever."
The interaction inspired her to reach out to her colleagues through a message group.
The teachers pooled their resources together to provide the hungry child with enough food to last for the next few weeks through the fall break.
"Remember, hearing people say that we spend all of our money in our classrooms? We spend it to make sure that our kids have what they need to succeed, and today we bought food."
"Yep, we put our money together and made sure that this sweet baby had some spaghetti o's!"
Brooke Goins/Facebook
Brooke Goins/Facebook

Brooke Goins/Facebook
Goins was not looking for recognition and instead continued her focus on the well-being of her students.
"I did not write this for anyone to get praise, nobody did it for the praise. I want people to know that teachers are humans, we love your kids and want the very best for them."
"Some days we get frustrated and feel overwhelmed, but today we did what was best for a child. Will it show on a test score? Nope! Do we care? Nope!"

Brooke Goins/Facebook
Goins admitted that being a teacher can be a "crazy roller coaster of emotions" but that every tear she shed was worth seeing the child light up with the offering of goodies in his backpack.

She encouraged other teachers to keep doing what they do.

"Teachers, keep your heads up YOU ARE making a difference! We are all exhausted, but we push forward each and every day."

Brooke Goins/Facebook

Brooke Goins/Facebook
Brooke Goins/Facebook
Brooke Goins/Facebook
And while the efforts of Goins and the other teachers are commendable, it is sadly not enough to address the bigger issue of poverty in America.

The US Department of Health and Human Services sets the federal poverty level, which is the minimum amount of money a family can survive on.
Poverty is defined by the Bureau as annual income below $25,283 for a family of four.

According to the poverty data released by the U.S. Census Bureau on September 12, 2018, 12.8 million America children lived in poverty in 2017.

There were 39.7 million poor people struggling to get by in America in the same year, and a third of them were children.
Nearly one in five children – or 17.5% – did not have enough to eat in 2017.
Extending their good will, Goins and her colleagues have now started a food pantry for their students.
If you would like to contribute, they are accepting food donations as well as hygiene products.
You can donate these items in care of FOOD PANTRY to:
164 Jacksboro Elementary School Road, Jacksboro, TN 37757.
Because like Goins said, no kid should ever be hungry.

The book A Place at the Table: The Crisis of 49 Million Hungry Americans and How to Solve It is available here to learn more.
******
Have you listened to the first season of George Takei's podcast, 'Oh Myyy Pod!'?
In season one we explored the racially charged videos that have taken the internet by storm.
We're hard at work on season two so be sure to subscribe here so you don't miss it when it goes live.
Here's one of our favorite episodes from season one. Enjoy!