Senator Ted Cruz (R-TX) submitted 209 questions to Facebook as a followup to CEO Mark Zuckerberg's April grilling by the United States Senate. Among them, Cruz included questions about Taylor Swift.
---
The Senate published thousands of questions and answers in full on Monday, including those asked by Cruz. His questions about Swift, however, were really weird.
Here's some background.
Swift recently released a cover of Earth, Wind, & Fire's "September," which drew harsh reviews from Nathaniel Friedman, a critic at GQ, who said her cover should qualify as hate speech. Monique Judge, a writer for The Root, said that Swift "needs to have her *** whooped."

Cruz wanted to know if Facebook agreed that Swift's performance should qualify as hate speech. He also asked if Facebook viewed Judge's comments as hate speech.

senate.gov
Facebook declined to offer an opinion on either statement, instead reiterating the company's policies regarding hate speech.
"We define hate speech as a direct attack on people based on what we call protected characteristics—race, ethnicity, national origin, religious affiliation, sexual orientation, sex, gender, gender identity, and serious disability or disease."
But wait, it gets better.
Cruz also asked Facebook to share its thoughts on Twitter CEO Jack Dorsey's political opinions. Facebook shut it down, responding: "we are not in a position to comment on the decisions of another company or on another company's executive's statements about a new article."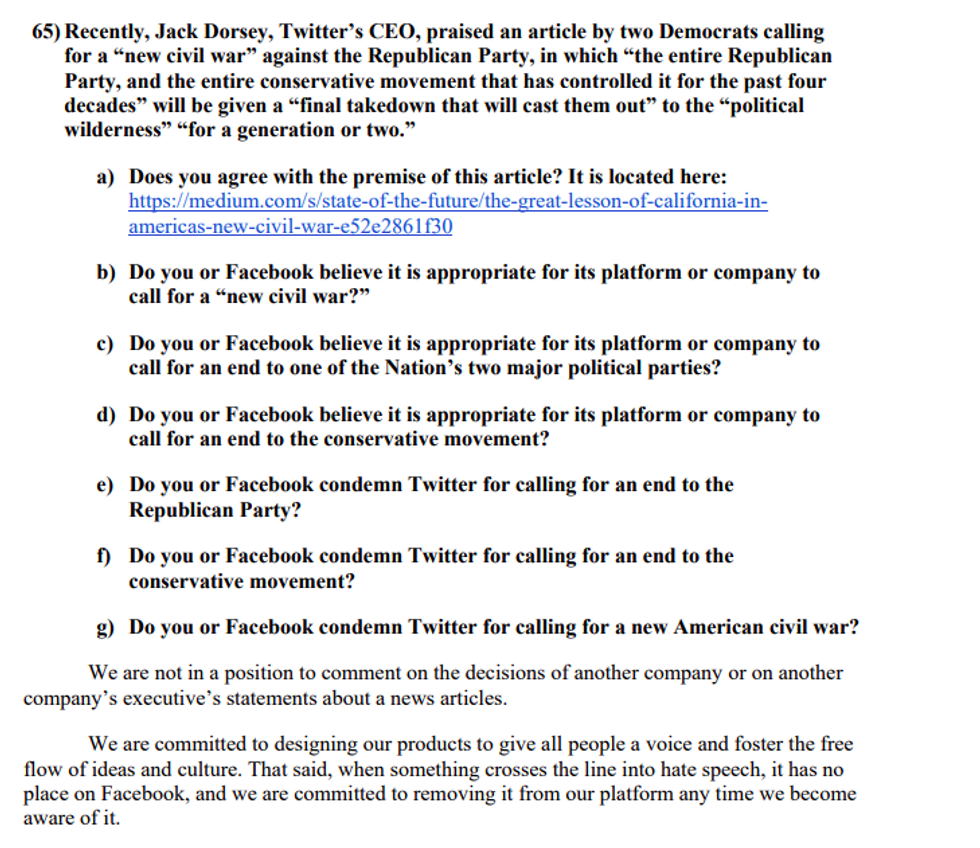 senate.gov
Cruz, who is facing a tough reelection battle against Texas State Senator Beto O'Rourke (D), seems to be attempting to goad Facebook into providing him with fodder for his right-wing base, which often bemoans an alleged bias against conservatives by social media companies.
Amid the blizzard of questions Cruz asked were demands that Facebook take a position on 28 statements that Cruz presumably views as hateful. Facebook brushed them off as well.
In which Ted Cruz asks Facebook to .weigh in on whether *28 different statements* qualify as hate speech and FB ref… https://t.co/WaIgO54bJb

— Karissa Bell (@Karissa Bell) 1528761118.0
Nevertheless, he persisted, annoying Facebook to the point of getting back "see previous answers" as answers.
Facebook gets tired of answering Ted Cruz's questions and just refers him back to a standardized answer for a while. https://t.co/AwL1Dbi9VN

— Ryan Mac (@Ryan Mac) 1528753496.0
Both sets of the aforementioned questions were preceded by instructions from Cruz on how Facebook should answer them.
Legit can't tell if Ted Cruz was just trolling Facebook, in total he submitted 209 questions to Facebook, along wit… https://t.co/6TxwxyYpMu

— Karissa Bell (@Karissa Bell) 1528759625.0
Ted Cruz, everybody.