Listen, this whole Political Activist Taylor Swift thing may have come out of nowhere but I, for one, am here for it.
---
It seems more and more apparent that when it finally comes time to storm whatever America's version of the Bastille is, Taylor Swift will be our leader, pitchfork aloft, yelling slogans into a bullhorn.
After finally, in early October, breaking nearly a decade of total silence about anything political--including the literal Nazis who considered her the ideal woman and a secret leader of their movement--Swift has taken to her Instagram account once again to agitate for progressive causes. For those who've been a bit, let's say, skeptical of Taylor over the years, it's yet another refreshing departure from what often felt like a distasteful silence on political issues, particularly for an artist with a large LGBTQ fanbase.
The newest post features Swift and her mother on either side of a banner for Democratic Tennessee Senate candidate Phil Bredesen, who Swift previously endorsed in early October. "These two Tennessee women voted for the candidate who has proven himself to be reasonable and trustworthy," Swift wrote in the post. In a presumed reference to Donald Trump's decision to send 5,000 US troops to defend the US/Mexico border from the migrant caravan currently making its way north--which Trump has asserted, without evidence, contains ISIS members within its ranks--Swift also wrote, "We want leadership, not fear-based extremism." She closed the post with a call to action for Tennesseans to get out the vote.
Swift, who is currently touring Australia, has also been posting photos that her fans have submitted of themselves voting to her Instagram story, in an effort to inspire more of her followers to head to the voting booth.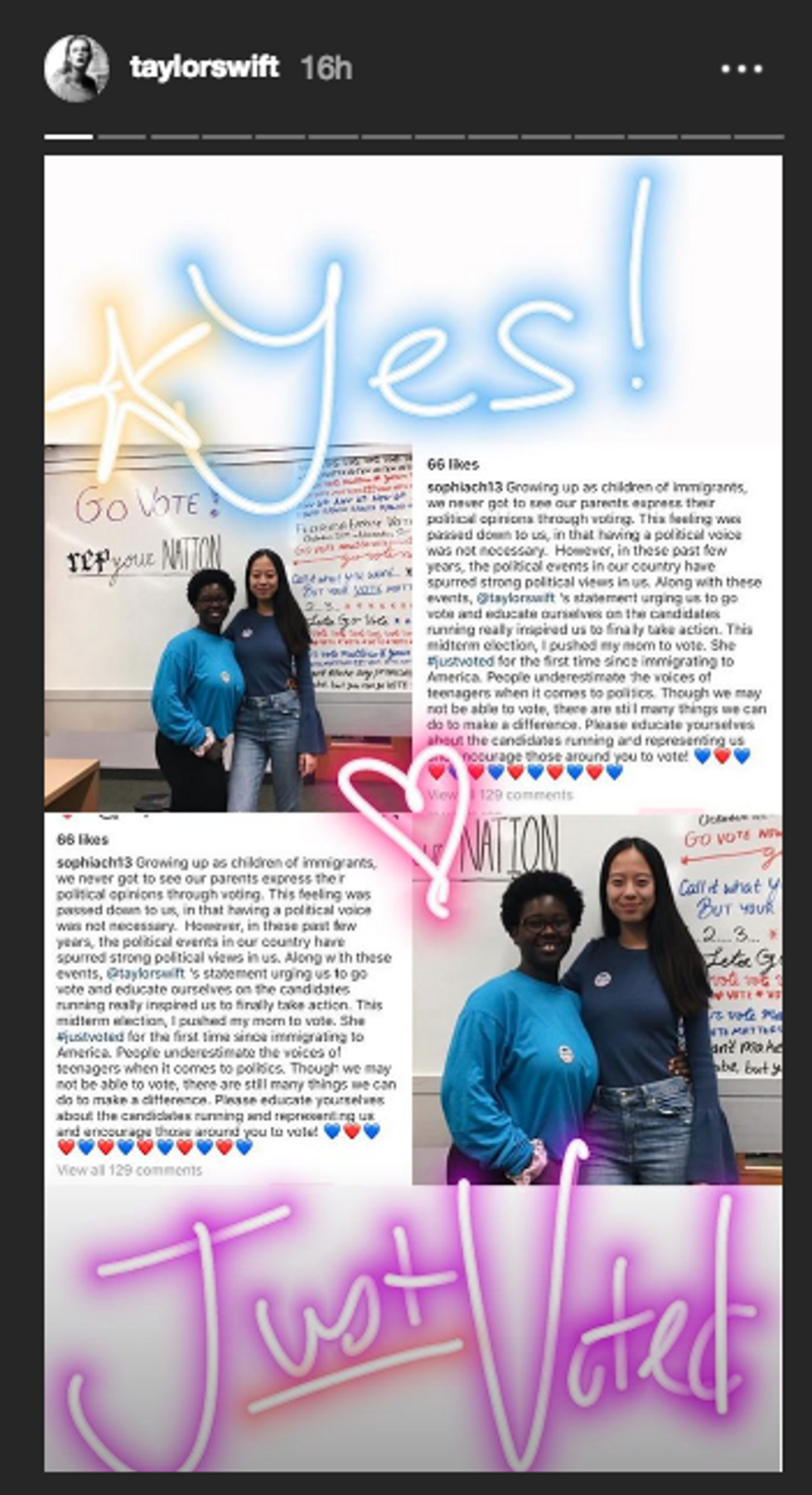 Instagram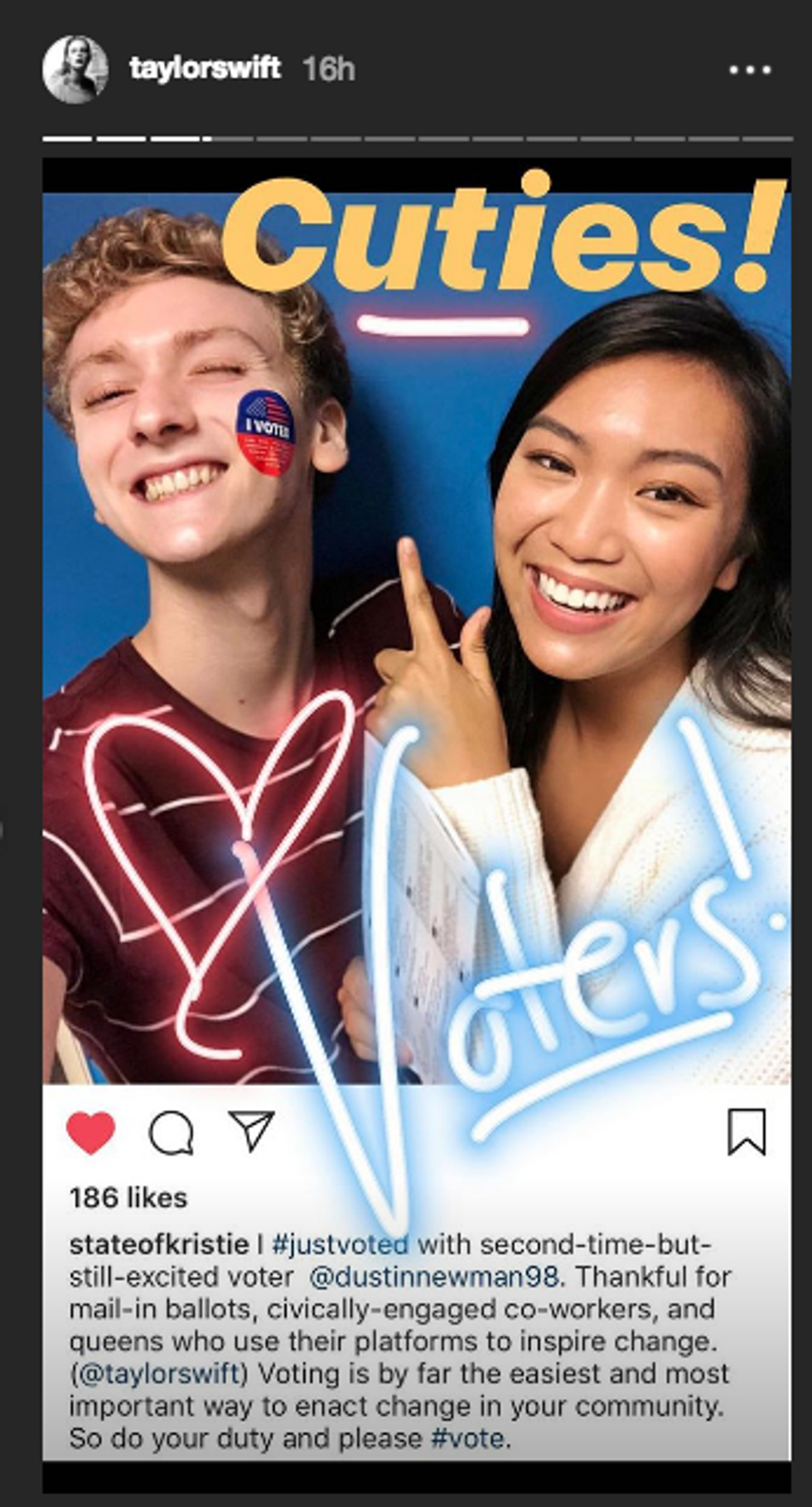 Instagram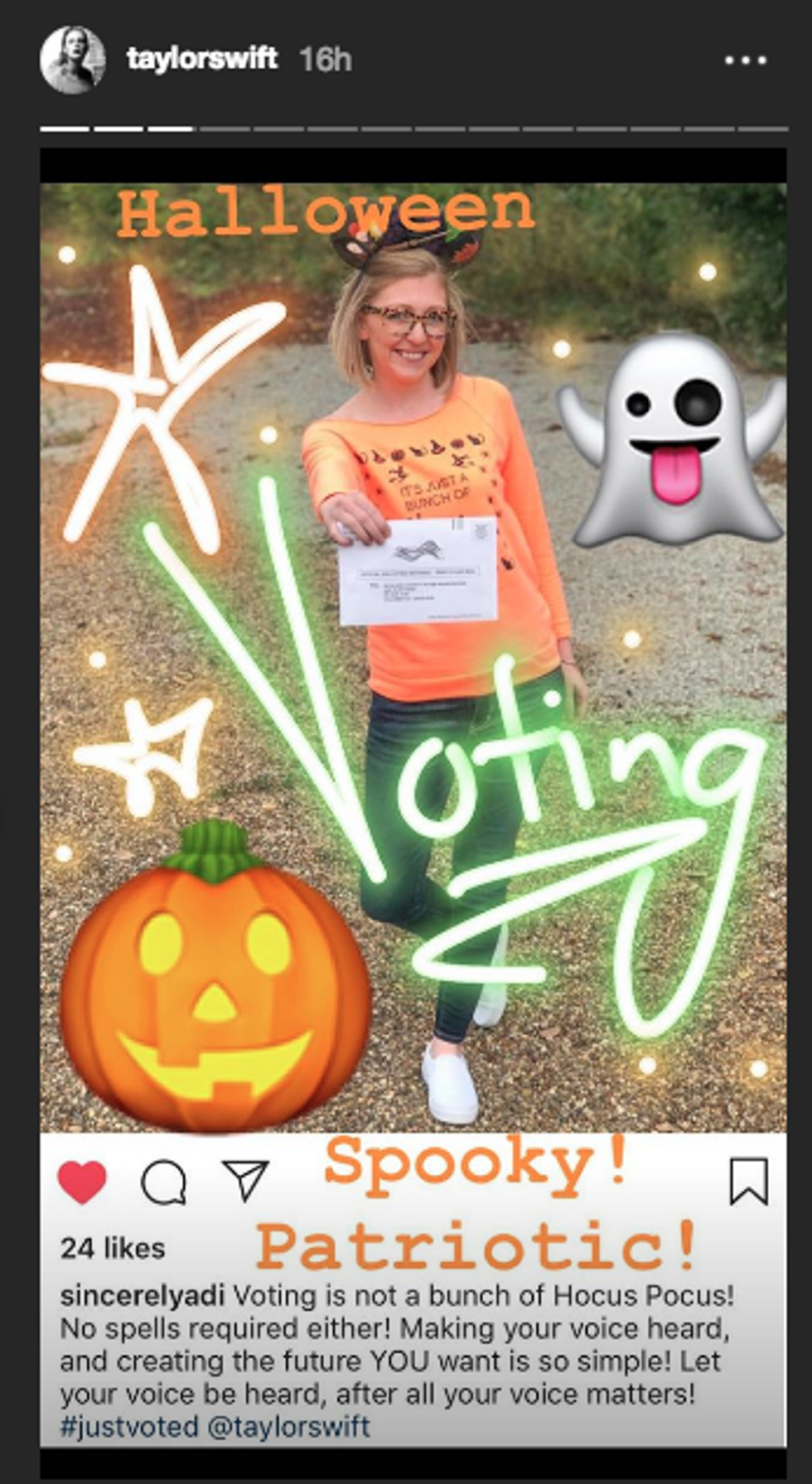 Instagram
For his part, Bredesen has expressed pleasant surprise at Taylor's newfound candor. "It came out of the blue," Bredesen told Business Insider. "I had no reason to believe she would even know I was running, let alone that she would do this."
On social media, Swift's fans were elated by their queen's latest display of political activism.

So is Taylor having an effect? It seems the answer is a firm "yes." Vote.org communications director Kamarie Guthrie told ABC News that within 48 hours of Swift's previous political post in early October, the site's voter registrations spiked by 240,000. And the state of Tennessee itself doubled its registration numbers for the entire month of September within just 24 hours.
No way of knowing who those people are voting for, of course, but getting people into the voting booth is half the battle!
H/T Daily Beast, ABC News