Swifties were absolutely heartbroken when they found out Taylor Swift and longtime boyfriend Joe Alwyn broke up after about six years together.
But it didn't take long before the "Lavender Haze" singer was reportedly dating a new beau, 1975 frontman Matty Healy.
The two previously dated in 2014 and recently reconnected, a source told The Sun.
"She and Matty are madly in love. It's super-early days, but it feels right."
"They first dated, very briefly, almost ten years ago but timings just didn't work out."
According to the source, Swift and Alwyn broke up in February so there was "absolutely no crossover."
While it seems Swift and Healy are thrilled about their rekindled romance, it would appear Swift's fans are not—mostly due to the frontman's recent questionable behavior.
In January, Healy was filmed in concert marching on stage doing the Nazi salute while saying:
"Thank you, Kanye. Very cool."
But that's not all.
There was an entire Twitter thread dedicated to Healy's "racist, islamophobic, antisemitic and sexist" behavior.
The account has since been suspended by Twitter.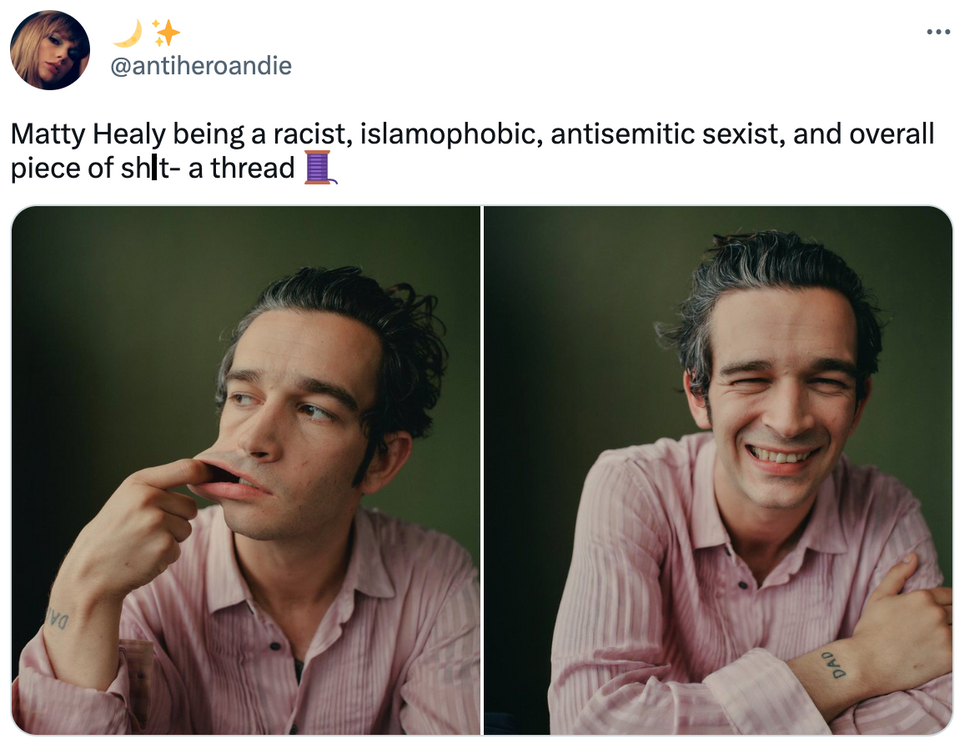 @antiheroandie/Twitter
Aside from the Nazi salute, Healy also posted a screenshot from Wikipedia of a "list of Jews" to his Instagram stories.
During an Adam Friedland Show podcast in February, Healy made several racist remarks and spoke with an offensive, mocking Asian accent while talking about American rapper Ice Spice. On the same podcast, he reportedly laughed about and encouraged impressions of Japanese men working at internment camps.
The episode was so offensive Apple and Spotify reportedly removed it.
Needless to say, Swifties are not okay with this blooming romance.
Neither Swift nor Healy have commented on their relationship status or Healy 's behavior.