A "Party Time" birthday banner bought from retailer B&M went viral after it was misspelled and celebrated "Pimty Tare" instead.
Fran Taylor, who writes parenting blog Whinge Whinge Wine, found the mistake when preparing for her son's fourth birthday.
---
She wrote on her Facebook page:
"That's right, it's Pimty Tare in this house."
"Thanks for nothing B&M Stores, you big pile of useless cheap shite."
"At least he's only four tomorrow so he won't f****** realize."
Fran, from Tonbridge in Kent, England said she had been drinking Pimm's tea in the sunshine and refused to spend time re-threading the banner.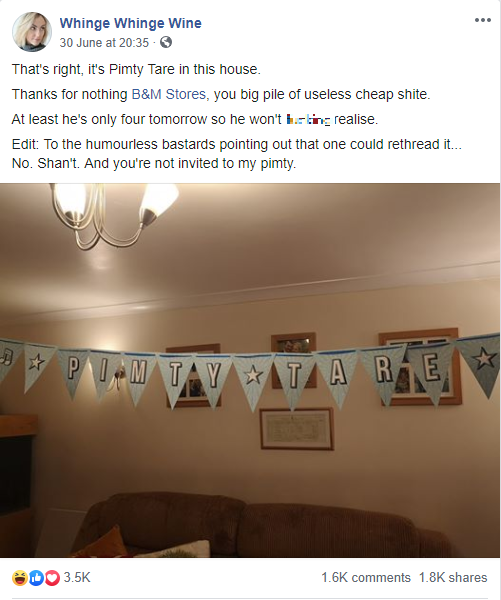 The birthday banner was bought by Fran TaylorFran Taylor/PA
Here's the banner in it's full glory.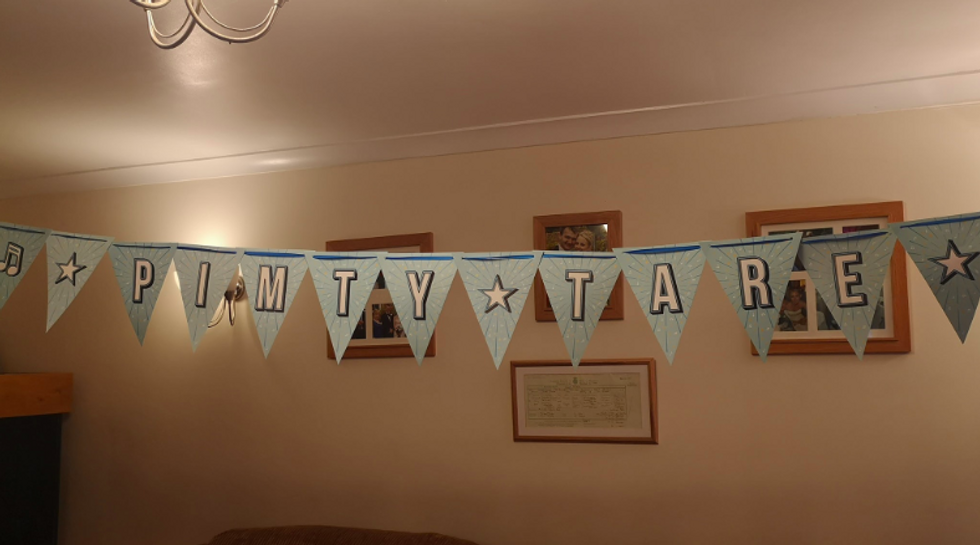 Whinge Whinge Wine/Facebook
She wrote:

"To the humorless bastards pointing out that one could rethread it … No. Shan't. And you're not invited to my pimty."
She shared her tale on Twitter as well.
***Happy 4th birthday little buddy*** That's right, it's Pimty Tare in this house. Cheers for nothing @bm_stores yo… https://t.co/L6gGn2KUuc

— Fran (@Fran) 1561966018.0
...lly spend time rethreading it, no, we don't want to. Bet you're fun at pimties.

— Fran (@Fran) 1561970988.0
But Fran teamed up with a fellow blogger to offer the viral banner after seeing the humor in it.
Get your very own PIMTY TARE banner. And it's all ethical and shit. @Thepaperconcept https://t.co/V350gThRVD

— Fran (@Fran) 1562010585.0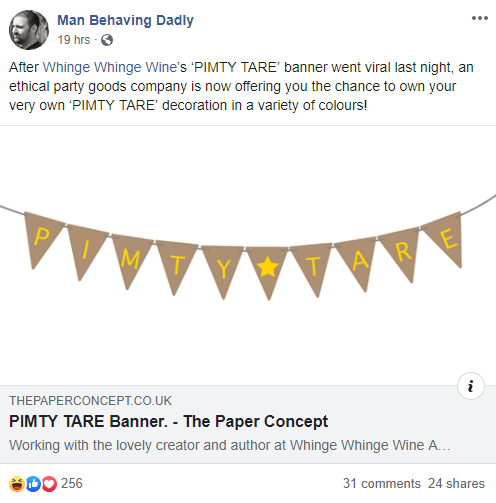 Fellow blogger Man Behaving Dadly created his own Pimty Tare banners.Man Behaving Dadly/Facebook
However, B&M quickly got in touch to apologize for the mistake.
The company said:
"First of all, we hope your son has a brilliant 4th birthday pimty – they grow up too quickly!"
"Secondly, thanks for letting us know about this. We're sorry to see this – not sure how it's happened, so we'll look into it for you!"
"We know it's too late for you, but your sacrifice may allow us to save others … it's a noble deed."
The store chain offered to send out a gift to make up for the error, before signing off:
"Thanks, the big pile of useless cheap shite, B&M."
@WhingeWine Harty Bipphday!

— Roger Williams (@Roger Williams) 1561985210.0
@WhingeWine Oh Pimty Tare! Happy 4th Birthday!!!!

— Kelly-Anne (@Kelly-Anne) 1561978846.0
@BeckysBoudoir @WhingeWine Party time. The "AR" and the "IM" got switched.

— Tylee (@Tylee) 1561981709.0
@MommyDearest611 @BeckysBoudoir Ahaha I see someone asked and you responded, sorry. I thought you were being captai… https://t.co/HWZEh7g7Fr

— Fran (@Fran) 1561987932.0
@WhingeWine @MommyDearest611 No I really couldn't work it out! 😂 Thanks!

— Becky Connolly (@Becky Connolly) 1562004455.0
Fran, who has been running her blog for more than three years, said:
"That was nice given it wasn't really a complaint as such. It just made us laugh."
"We are definitely keeping the banner – it's a new family tradition."