In a delightful plot twist, one woman went out the night before Thanksgiving, buying groceries for other people with the money she won from the lottery.

But a few people wound up recognizing her as the singer and songwriter Sia.
---
In an effort of good will, Sia went out the night before Thanksgiving without her makeup and iconic wig that covers most of her face. She went under the guise of a lottery winner who wanted to pay for others' groceries with the money.
However, some of her fans were eventually able to place where they'd seen her before.
At a Walmart in Palm Springs, Sia managed to pick up the grocery bill for multiple shoppers before being discovered. In a video that's gone viral, a fan caught Sia on camera, buying groceries for someone in the checkout line.
She appears to have an issue with her card, which is quickly remedied. Then a grateful fan appears, offering her flowers. She accepts them gracefully and finishes her transaction.
At the end of the video, Sia begins looking at other checkout lines and says:
"Ta-da! Who's next?"
You can watch the video here:
So @Sia paid for my groceries today thank you so much!! The heart and beautiful soul you have for paying for everyo… https://t.co/ySGgDWKIBg

— Adri Buckles (@Adri Buckles) 1574927784.0
The fan who filmed the video was so excited and struck by Sia's kindness, she completely blew Sia's cover by telling everyone who she was.

Countless fans and onlookers then began sharing selfies with Sia, as well as tweets about her kindness and authenticity.
Sia paid for my mom's groceries at Walmart and bought my sister gift cards and no one recognized her ??? https://t.co/cm04D67qsU

— giselle (@giselle) 1574928433.0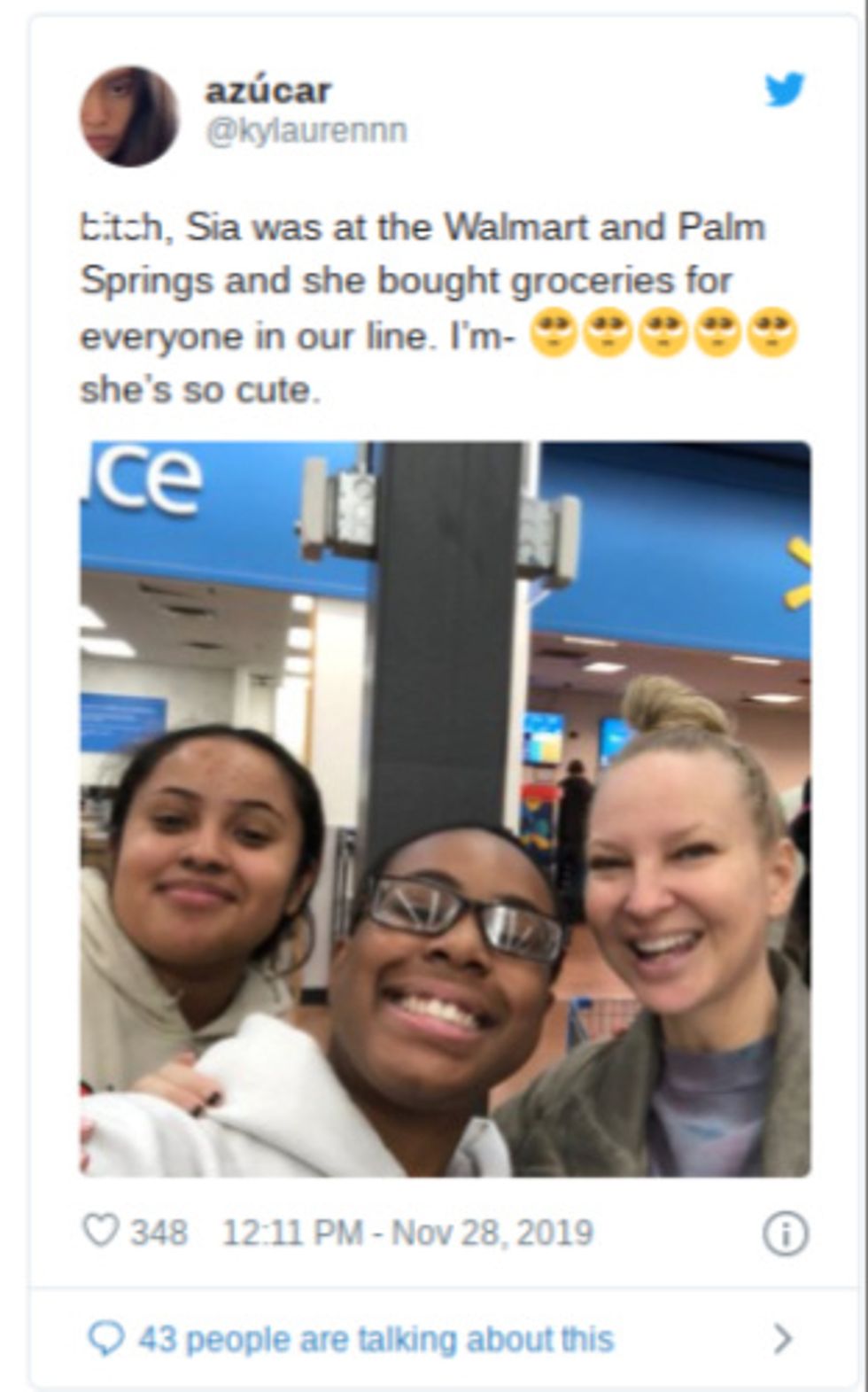 @kylaurennn / Twitter
Twitter has been overcome with feelings about how generous this was, and how lucky we are to have celebrities in the world who are willing to do such kind things.

in all seriousness, what @Sia did was incredibly kind and selfless, I know so many people were extremely grateful t… https://t.co/fjXNXtsvdb

— giselle (@giselle) 1575003975.0
@mexican_locaaa @Sia I'm thankful @sia exists.

— Frank Lowe (@Frank Lowe) 1574990273.0
@mexican_locaaa @Sia Bravo!!!! And she did it with a smile. She did it from the heart. Priceless. God bless her...

— Oma Hamou (@Oma Hamou) 1574988124.0
@mexican_locaaa What an awesome Thanksgiving surprise! 🖤🤍

— Walmart (@Walmart) 1575063380.0
We can all agree, Ceci the lottery winner is a sweet cover story. But seeing a celebrity show such unprompted and anonymous kindness is so much sweeter.

Sia's album Everyday Is Christmas is available here.