As television mogul Shonda Rhimes has built up a must-see empire on ABC over the past decade, her shows remain some of the most diverse on the air. But Rhimes isn't so keen on the term "diversity," according to Kerry Washington.
---
The Scandal star was on hand for panel with her cast at the Vulture Festival L.A. on Saturday, and she explained Rhimes' reasoning.
"Shonda really does not love the word 'diversity,'" she said. "She talks about abandoning the word 'diversity' and replacing it with 'normalizing.'"
#MermaidNews @kerrywashington during the panel at @vulture festival @vulturefestival #VultureFestival https://t.co/8RKfWaTXg3

— Mermaid's Life ✨ (@Mermaid's Life ✨) 1511052728.0
Rhimes' shows, which routinely feature people of various ethnicities, sexual orientations, ages, and races, have been so by design, Washington said. "When you're the only woman in the room, or the only person over 40, or the only LGBTQ person, you don't get to enter into conversations about what that looks like. But when we normalize that combination, then we get to explore what difference means and how it feels and how it lives in the world."
And according to Washington, that's why the shows work.
"Shonda hates the word diversify - she wants to normalize" @kerrywashington at #VultureFestival #Scandal https://t.co/9JJrjWvLmS

— David Watson (@David Watson) 1511036112.0
"You look up at this stage, and what this cast is made up of is a ton of people who society would say belong to minority or disenfranchised group, whether it's because of their age, or sexual orientation, or race, or gender, or all of the above," she stated of her fellow castmates, currently in their final season of the hit drama. "When these people are put together in situations, you're avoiding the idea that you're the only one in the room."
Now, Rhimes will be bringing her brand of normalizing to Netflix, who recently announced that they've entered into an exclusive multi-year development deal with Shondaland, along with garnering streaming rights for Scandal and Grey's Anatomy.
Rhimes seems excited about what Netflix has to offer, saying that Chief content officer Ted Sarandos "understood what I was looking for — the opportunity to build a vibrant new storytelling home for writers with the unique creative freedom and instantaneous global reach provided by Netflix's singular sense of innovation."
"The future of Shondaland at Netflix has limitless possibilities," she added.
And people are definitely appreciative of the things she has brought, and will continue to bring, to the table:
I've been waiting to see a hejabie intern on @GreysABC for 11 years. Thank you @shondarhimes for valuing representation and diversity. 👏🏼

— ياسمين عليوه (@ياسمين عليوه) 1509794467.0
@ShondaRhimes prefers the word 'normalizing' over 'diversity': "it's about giving characters from all backgrounds t… https://t.co/cpcUVF1fK5

— Everystylishgirl (@Everystylishgirl) 1511130602.0
"Anyone watching television anywhere in the world should be able to be any damn thing they want. And that is why di… https://t.co/Rc67FzmyKM

— Jordyn (@Jordyn) 1511048063.0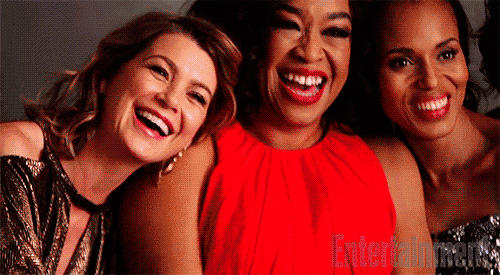 Please SHARE this with your friends and family.
H/T: Vulture, Entertainment Weekly