On Monday, six people—three children and three adults—were killed in a school shooting in Nashville.
Just after 10:00 a.m. a former student entered a private Christian elementary, The Covenant School, shooting their way through a side entrance before opening fire and taking innocent lives.
Olympic gymnast Shawn Johnson was just across the street when the tragic event took place and her own children—daughter Drew, 3, and son Jett, 18 moths—were on lockdown in a nearby school due to the shooting.
Johnson shared a series of Instagram stories expressing her disbelief, heartbreak and fear over the "horrific" incident.
In the first, she wrote:
"I haven't been able to catch my breath since reading the news and getting a call from our school that they were on lockdown as well given the news."
"Shaking. Crying. Heartbroken. Horrific."
She revealed her children were finally safe at home with her and continued:
"I feel lucky and blessed but still so incredibly sad."
"No parent or family should ever have to deal with this."
She recounted the ambulances, police cars, buses transporting students to safety and parents "flying down the street... looking for their kids."
"Today has changed me."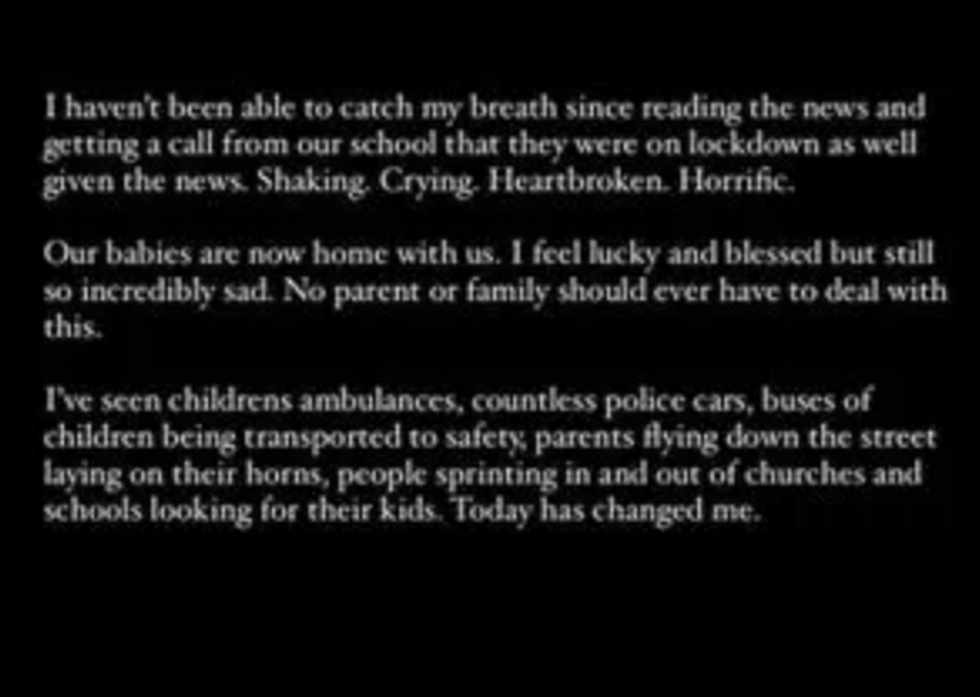 @shawnjohnson/Instagram
After learning updates, Johnson posted another story.
"So far 3 children and 2 adults have died."
"Praying for the families whose baby won't be coming home from school today and the families who have lost a piece of themselves."
"I also pray for the children and adults who may have witnessed, first hand, the heinous acts of violence inflicted today."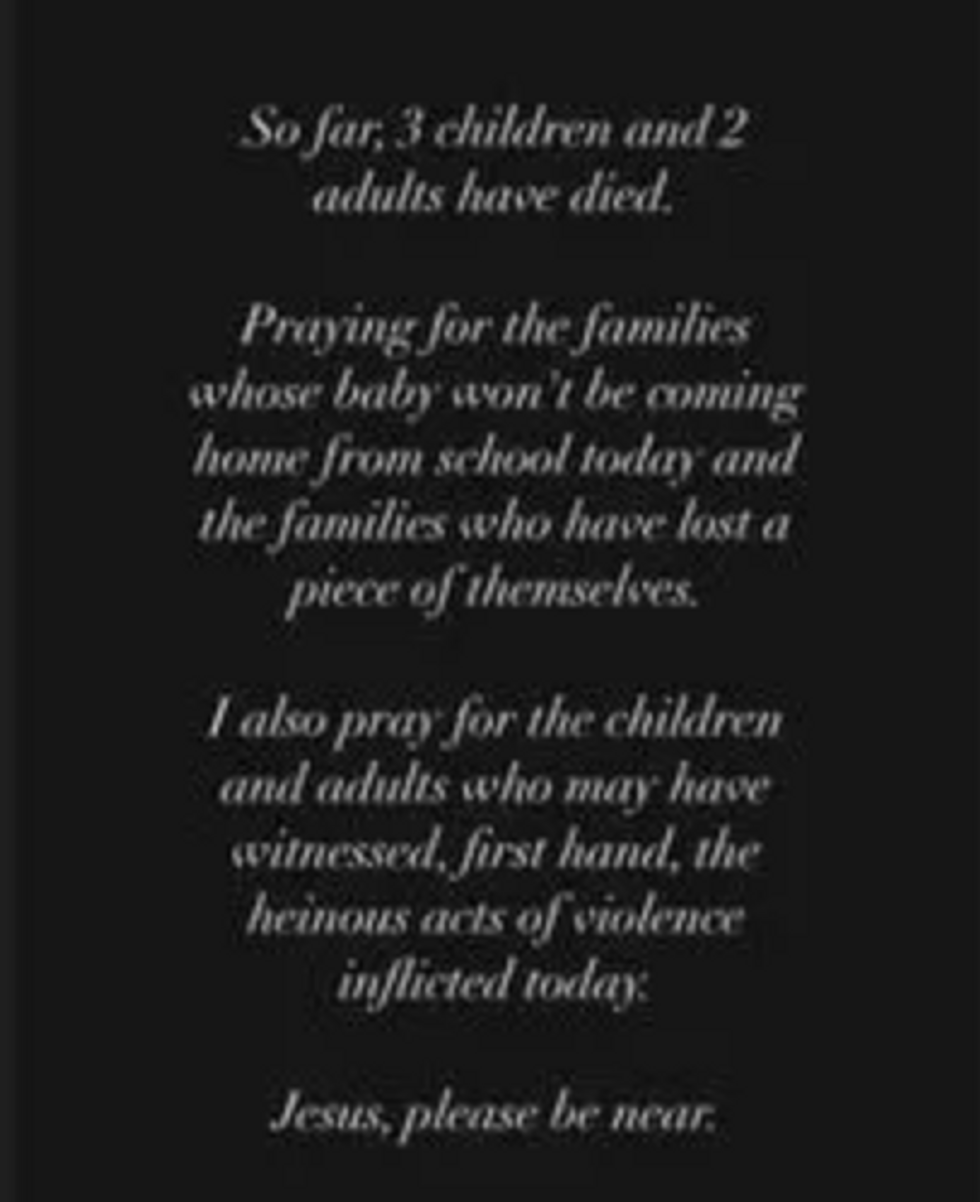 @shawnjohnson/Instagram
Johnson's husband Andrew East also captured footage of the road leading to the school on his way home from picking up their children.
Johnson shared the video with the caption:
"Andrew caught this on the way home with our babies from their lockdown."
"These are all of the babies from the shooting being taken to safety."
"My mama heart is shattered you guys. You don't ever fully recover from this."
"Thinking of these beautiful innocent babies, their families, the first responders, the teachers, everyone affected by todays heinous acts."
"Helicopters are still circling. The silence in Nashville is very loud right now."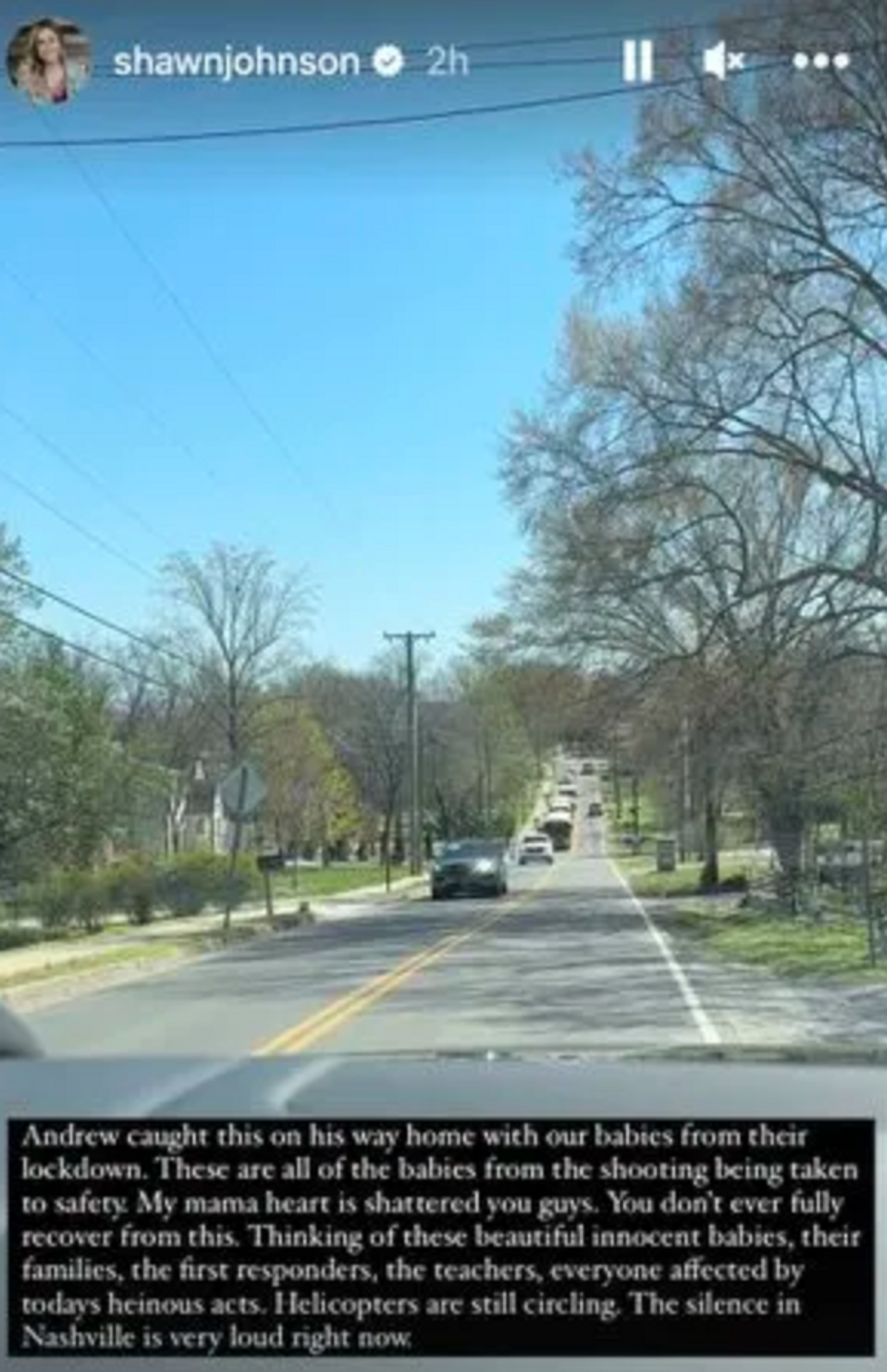 @shawnjohnson/Instagram
The four-time Olympic medalist later posted a picture of her with her babies safe and sound "when Andrew got our babies home."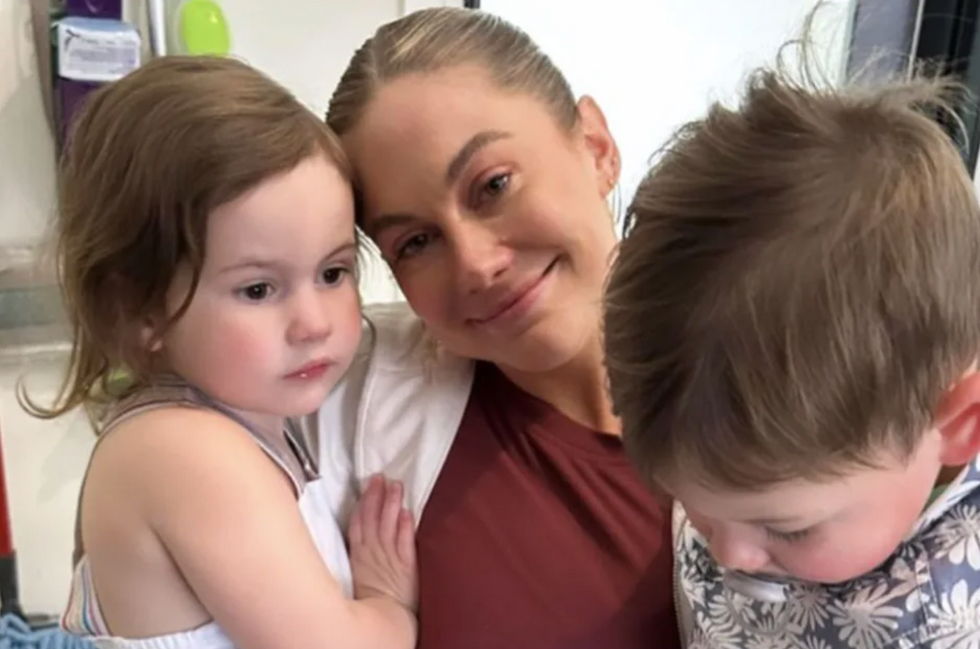 @shawnjohnson/Instagram
On Tuesday, Johnson posted the victims' names on Instagram: Evelyn, Hallie, William, Cynthia, Katherine and Mike.
She captioned her post:
"Too close. We were literally across the street filming when chaos ensued. When we started getting the calls, heard the sirens, saw the parents flying to get their babies."
"All of us calling our own schools to check in. Learning that every school was also under lockdown. Racing to pick up our own babies just to have them home and close."
"Hearing the news slowly come in about the 3 beautiful babies and the 3 staff members that were unfairly taken away from our world and their families."
"We sat in silence yesterday listening to the sirens, the helicopters, the chaos."
"Too close."
"I woke up this morning in tears feeling guilt and sadness that we are ok and some families are not. I woke up scared to take our babies back to school or anywhere for that matter. I woke up sad for everyone, for our country, our world."
"I know prayers can't take it back but I'm still going to pray like hell. I believe our God is good. It's all I can believe in right now. My faith is all I can lean on right now. God, please save us all from this evil."
Many viewers of her post shared Johnson's anguish, but they also urged her to use her platform—which reaches 3.8 million followers—to take action and to urge others to do the same.

@shawnjohnson/Instagram

@shawnjohnson/Instagram

@shawnjohnson/Instagram

@shawnjohnson/Instagram

@shawnjohnson/Instagram

@shawnjohnson/Instagram

@shawnjohnson/Instagram
The New York Times bestselling author must have been listening, because she added two more related stories addressing the criticism garnered by her post.
She stated:
"There seems to be a false need to pick a side in a tragedy."
"That you must be anti-prayer if you are so pro-action, and so on."
"We need prayer for healing. We need change for prevention."
"One does not replace the other. The two can & should coexist."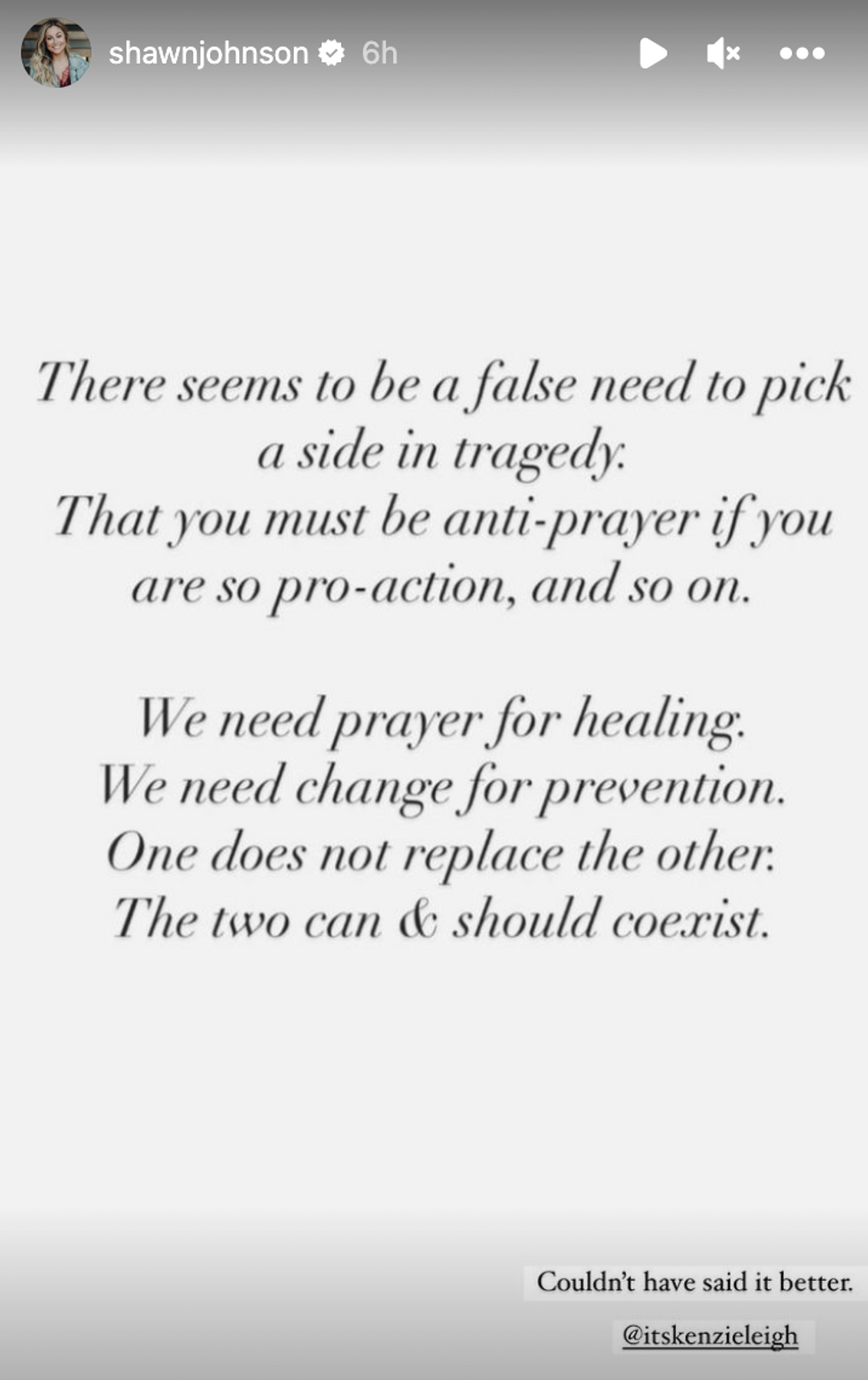 @shawnjohnson/Instagram
She then referenced stories from the Bible that portrayed prayer combined with action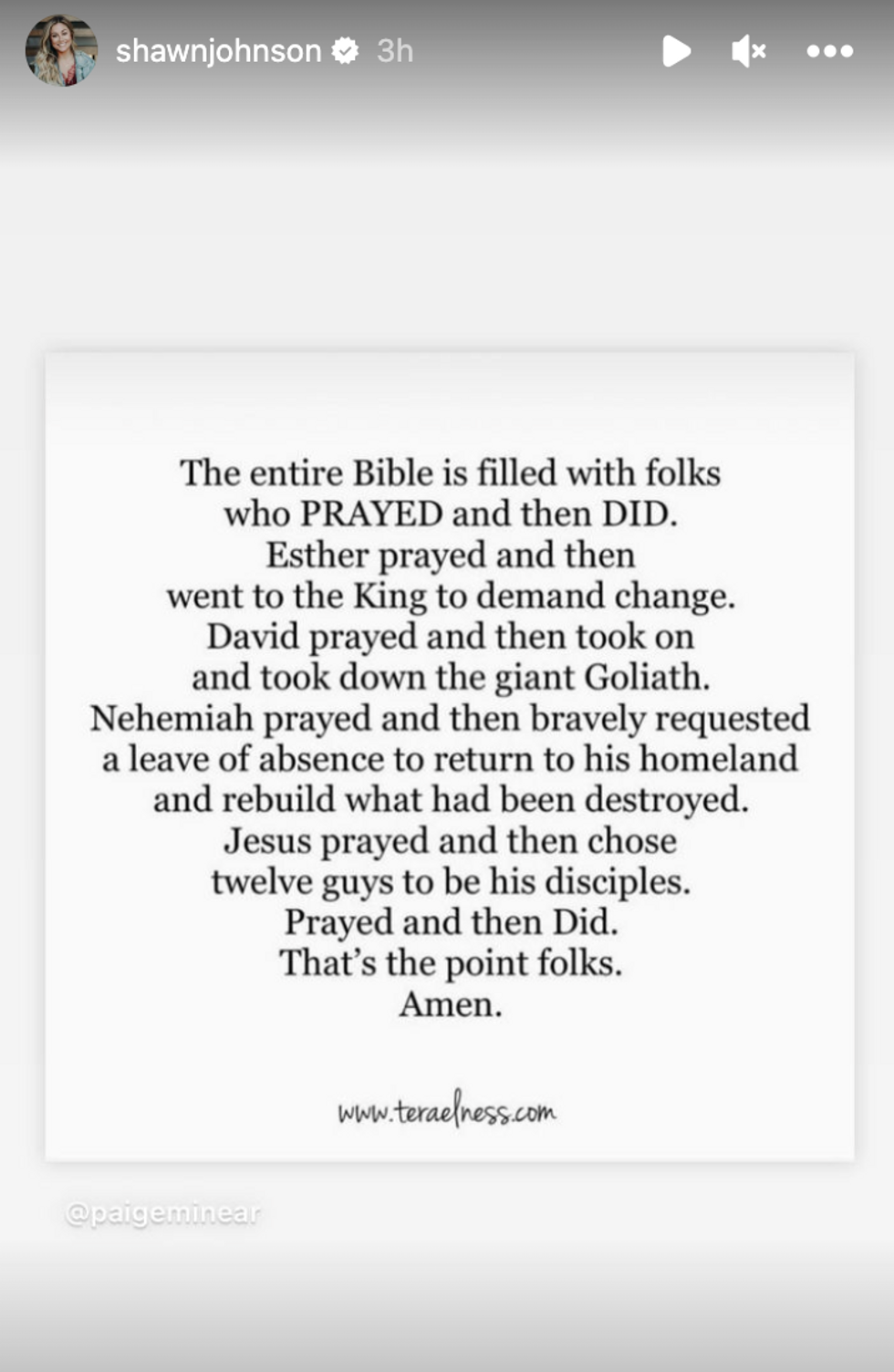 @shawnjohnson/Instagram
This was undoubtedly a terrifying situation for her.
Sadly, it's a reality students and teachers across the United States face every single day. If we want them to be safe, we have to take action.