Sean Spicer—best known for serving as White House Press Secretary under former Republican President Donald Trump—was mocked online after he seemed to confuse D-Day with the attack on Pearl Harbor.
Wednesday, December 7 marked 81 years since the attack on Pearl Harbor, which was a surprise military strike by the Imperial Japanese Navy Air Service upon United States forces at the naval base at Pearl Harbor in Honolulu, Hawaii.
At the time, Hawaii was not yet a state. The United States claimed several once independent island nations as territories partly for the purposes of refueling stops for cross Pacific air and naval missions.
The United States was a neutral country at the time and the attack on its military base in the territory of Hawaii led to its formal entry into World War II the next day.
The attack on December 7, 1941 killed 2,403 Americans and wounded 1,178 others.
But Spicer's commemoration was two years and seven months off because he confused it with D-Day—or June 6, 1944—which was the day Allied forces launched the largest amphibious invasion in the history of warfare and invaded northern France by means of beach landings in Normandy.
Spicer wrote:
"Today is Dday [sic]. It only lives in infamy if we remember and share the story of sacrifice with the next generation."
You can see his tweet—which he ultimately deleted—below.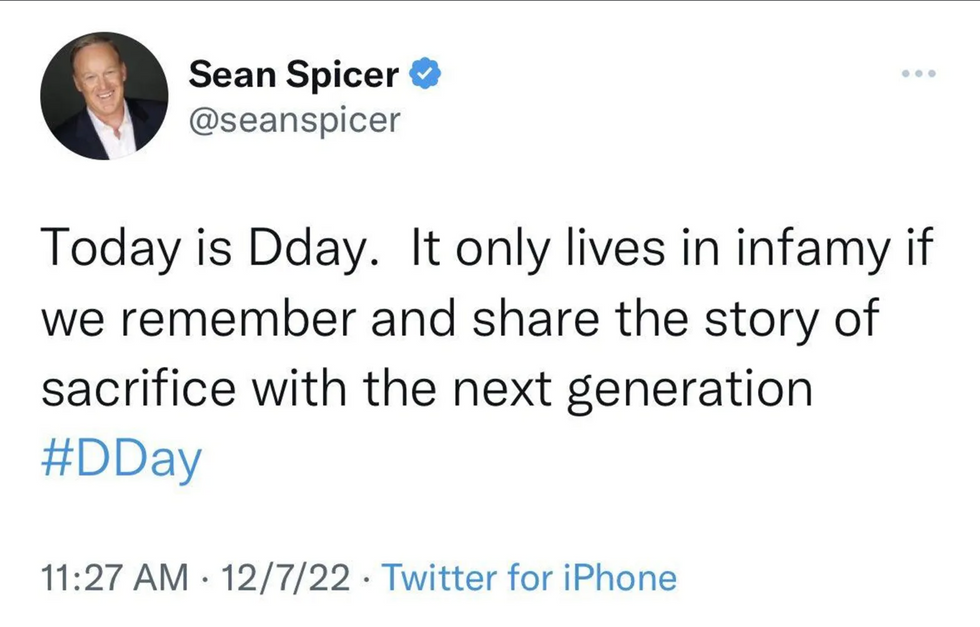 @seanspicer/Twitter
Spicer later issued a quick apology after he was called out for his error by Republican commentator Michael Reagan.

But the damage was already done and he was quickly mocked by those who noted the error was especially egregious given Spicer's previous role overseeing the communications of the executive branch.
As far as Twitter users were concerned, it was apparent Spicer didn't pay attention in history class.

Since leaving the White House, Spicer has attempted to distance himself from Trump at least somewhat, though his reputation for playing fast and loose with the facts—as he did from the start amid disputes about the size of the crowd at Trump's inauguration—has largely caught up with him.
After a mob of Trump's supporters attacked the United States Capitol on the false premise the 2020 general election was stolen, Forbeswarned corporations against hiring Spicer and other Trump "propagandists," stating that "Forbes will assume that everything your company or firm talks about is a lie."