There's a new wave of photoshop battles.
And that battle revolves around a giant batch of fried rice.
---
An image of fried rice has gone viral and has since inspired a pretty epic photoshop battle.
The image originated with Kanta of Mizutamari Bond.
Kanta decided to prank his Mizutamari Bond partner, Tommy, by surprising him with a massive wave of fried rice.
First Kanta told Tommy that he wanted to film them making fried rice for their YouTube channel, MTV Tokyo fried rice Guys.
Tommy was unenthused, but went along with it.
The pair made one small batch, then Kanta insisted on making another.
Again, after the second round of fried rice, Kanta told Tommy they needed to make another.
As Kanta is "making" the third batch of fried rice (it's really a gigantic fried rice sculpture that cost him nearly $4000), Tommy walks in on him and gets quite the shock.
本気でチャーハン作るドッキリwwwwwwyoutu.be
The image of Kanta with the giant wok of fried rice was released separately from the YouTube video and has gone viral on its own.
The epic image has inspired an incredible wave of photoshop remakes.
Here are some of the best.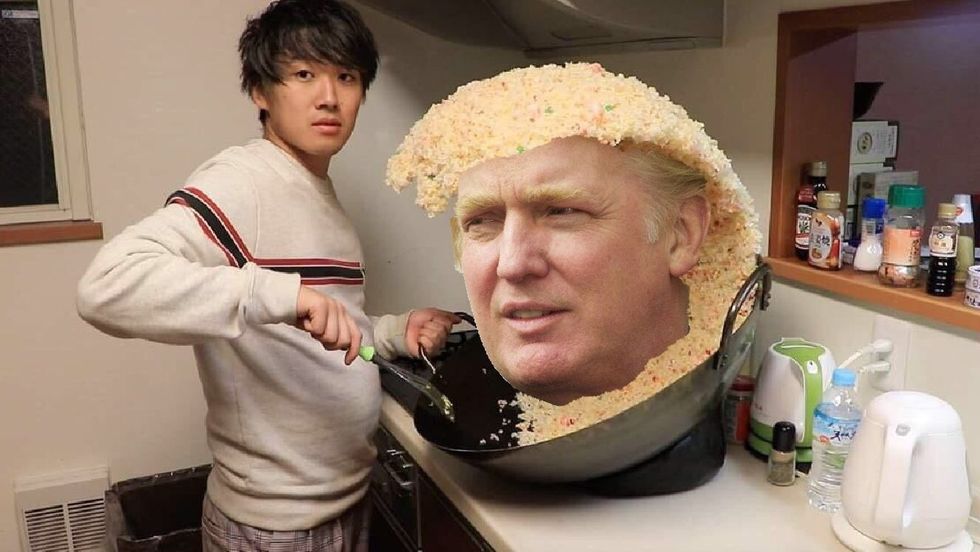 Chodeus (Reddit)
Now I'm hungry.