After being called "too skinny" one too many times, Rumer Willis recently lashed back at body-shaming Instagram trolls with a lengthy, empowering message via Instagram.
In her words, "[she knows she doesn't] need to do this but in an effort to spread some awareness and shed some light on body shaming tactics [she] felt the need to share."
It all began when the 32-year-old actor, who just so happens to be the daughter of actors Bruce Willis and Demi Moore, recently decided to post some summery pictures as she was heading out the door to catch a flight.
Multiple comments to that post, unfortunately, were not at all positive.
In fact, people told the Once Upon a Time...In Hollywood actor she "needs to eat" and that she's "too skinny."
Willis had zero patience for that, as an Instagram story with a lengthy wall of text made clear:
"After the barrage of some really inappropriate comments left on my pic I posted yesterday I was left really bummed cause I was really enjoying the silly pics I took.
"It was a weird angle that even made me feel like I looked smaller than I do in real life."

Then she called out the trolls.

"Even though you may think it's your job or even your right to leave your unfiltered thoughts or judgements about my body for me and others to read…it's not."
Willis also included a note about how destructive their comments can be to others.

"If I was really struggling with any kind of food issues (which I'm gratefully not) coming for me in my comments and telling me how I'm too skinny or I need to eat is absolutely not helpful and extremely body shaming."
"If you were actually concerned for my health and welfare or anyone you think may be actually struggling send them a dm and have a private conversation and really ask how they are doing and if they would like support instead of posting inflammatory public comments."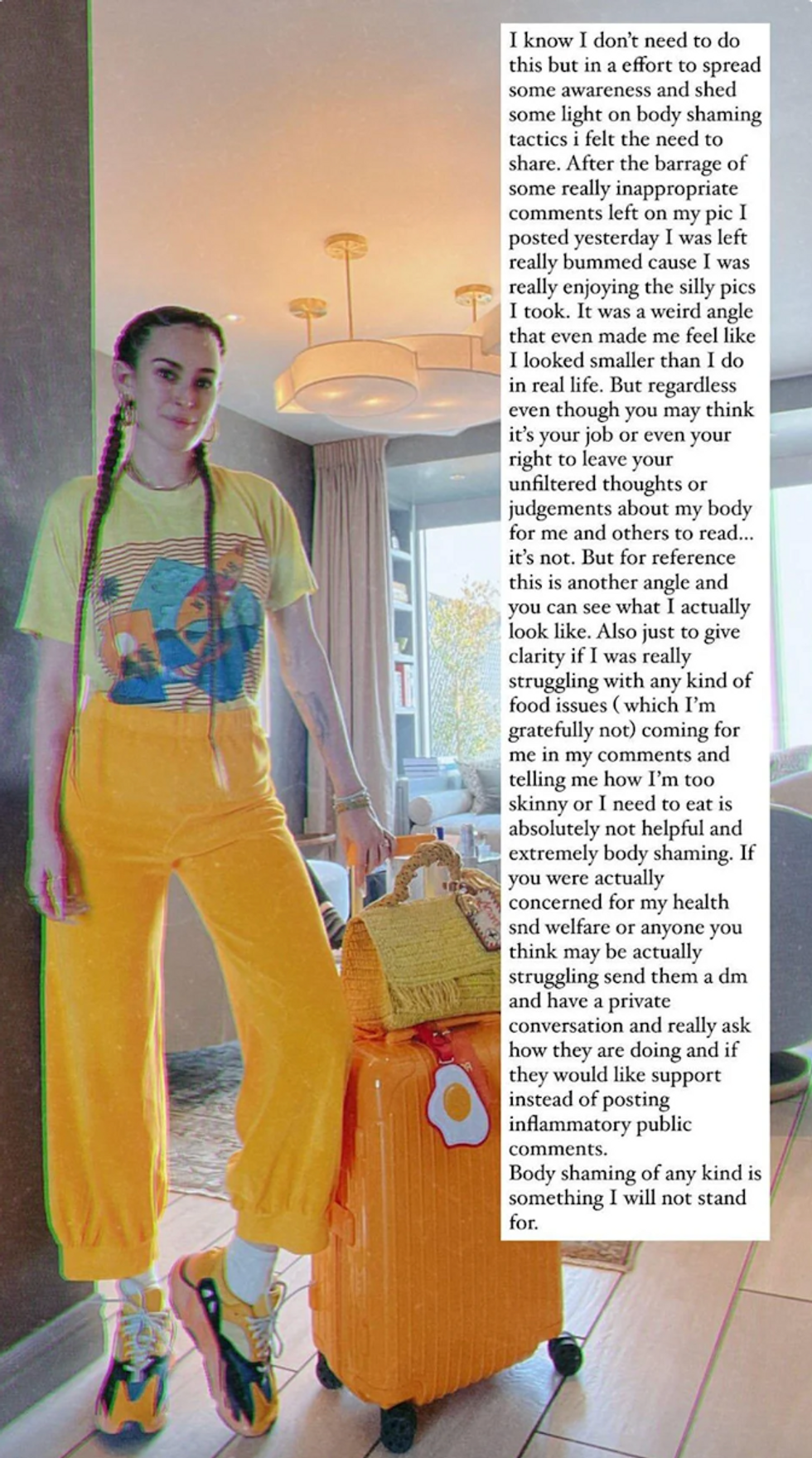 @rumerwillis/Instagram
According to Yahoo! News, in addition to the written note, Willis later added a video clip to her story showing her eating a kiwi. The caption simply read, "bye trolls."

This, unfortunately, is not the first time Willis has been forced to put up with bullying of this kind.
In an interview with Huffington Post, Willis divulged the difficulties she faced as the singled-out child of celebrities.
"They said I had a huge jaw. They said I had a ′potato head."
"When you're 14 or 15, I didn't really understand having value in myself yet. My mind went to, 'OK, so if I get skinny or if I dress the right way or present myself very hyper-sexually and dress this way, then I'll be valued.'"
Clearly, Willis has come far.

And people who heard about her anti-troll PSA were thrilled.
Here's hoping Willis can post in peace from here on out.