Forget everything Elon Musk ever said about making Twitter profitable and turning it into a dominant social media force upon his purchase of the platform for $44 million last year.
The company is now valued at $15 billion with a bleak forecast.
It's not due to lack of effort, though. Musk did cut several task forces, laid off about 75% of its workforce and continues to attempt making money off of Twitter Blue subscriptions—largely to no avail.
But forget all that.
Elon Musk didn't do it for the money, according to Elon Musk.
The acquisition of the social media giant was for the good of mankind, as Musk was concerned about its negative impact on society. At least that's what he said at a conference in Paris on Friday.
According to Business Insider, Musk revealed his true motive behind the purchase.
"If I'm so smart, why did I pay so much for Twitter then?"
"I was concerned Twitter was having a negative effect on civilization and corrosive effect on civil society, and anything that undermines civilization, I think, isn't good."
How noble.
"I felt Twitter kept moving in a negative direction and my hope and aspiration was for it to be a positive force for civilization."
Of course, users of his own platform called out his alternative facts.
Many noted the platform has become an increasingly toxic space.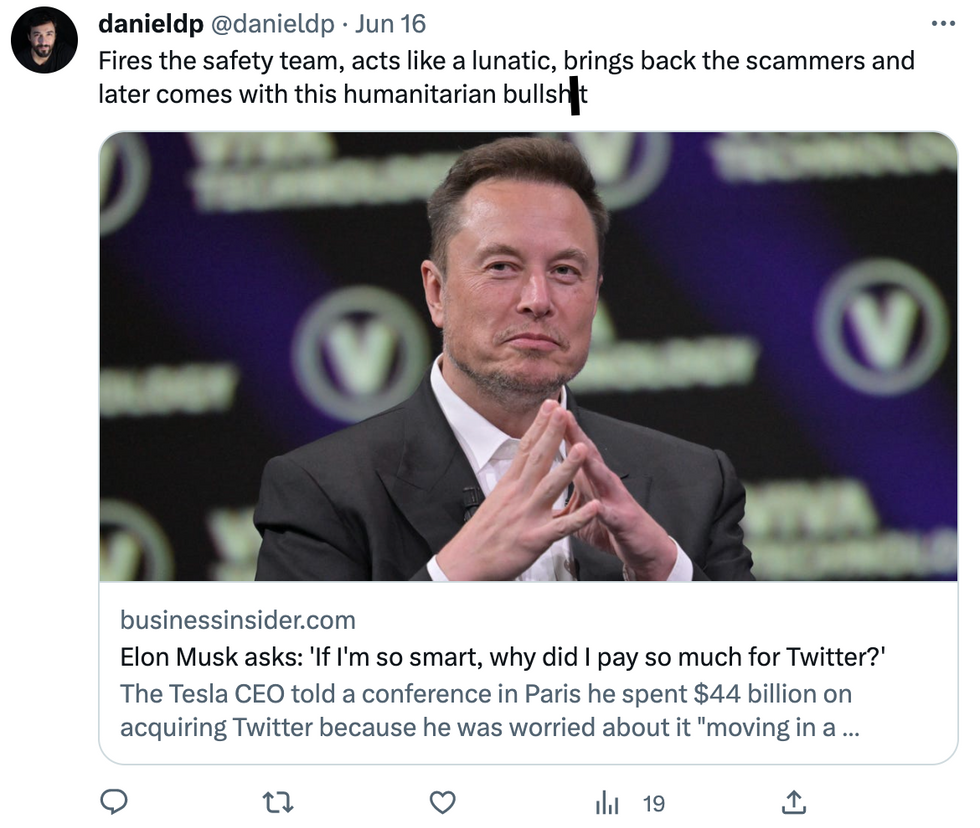 @danieldp/Twitter
And Musk truly believes he's doing a stellar job.
"I think if someone is a regular Twitter user, then most people would say their experience has improved."
"We've gotten rid of 90% of bots and scams and various bad things happening. We've gotten rid of 95% of child exploitation material on Twitter, which was a shock to see ... some of what was going on for 10 years."
That's not what we've been hearing from regular Twitter users...
... but whatever he needs to tell himself.