Paris Hilton clapped back at trolls who made fun of her baby boy, Phoenix Barron, after she posted photos of them during a recent trip to New York City.
Hilton shares Barron with her husband, Carter Reum, a longtime friend of the Hilton family. He is an author, entrepreneur, and venture capitalist who founded the angel investment firm M13.
The couple announced the birth of their son via surrogate on January 16, 2023.

Last Friday on Instagram, Hilton shared a carousel of photos of her holding her 8-month-old boy during his first trip to New York City.

It was accompanied with the following caption.
"My precious angel baby Phoenix's first time in NYC."

The post was met with some negative comments addressing the toddler's appearance—specifically, the size of his head.

Users wondered if Barron was suffering from a medical abnormality such as encephalitis, a condition involving the inflammation of the brain and spinal cord.

Another urged Hilton to have Barron "evaluated by a pediatric surgeon" and get an MRI "to rule out a blockage of spinal fluid in his brain just to be on the safe side."

One commented, "Something's not right," while another suggested he looked like "Stewie," the Family Guy cartoon toddler with a disproportionately large cranium resembling the shape of a football.

Hilton responded to the rude comments by confirming her baby's clean bill of health.

"🥺😢There are some sick people in this world.☹️My angel is perfectly healthy," she wrote.

"And yes, of course he has been to a doctor, he just has a large brain."
People who only saw a beautiful baby boy were shocked about him being bullied by strangers online.
@parishilton/Instagram
@parishilton/Instagram
@parishilton/Instagram
@parishilton/Instagram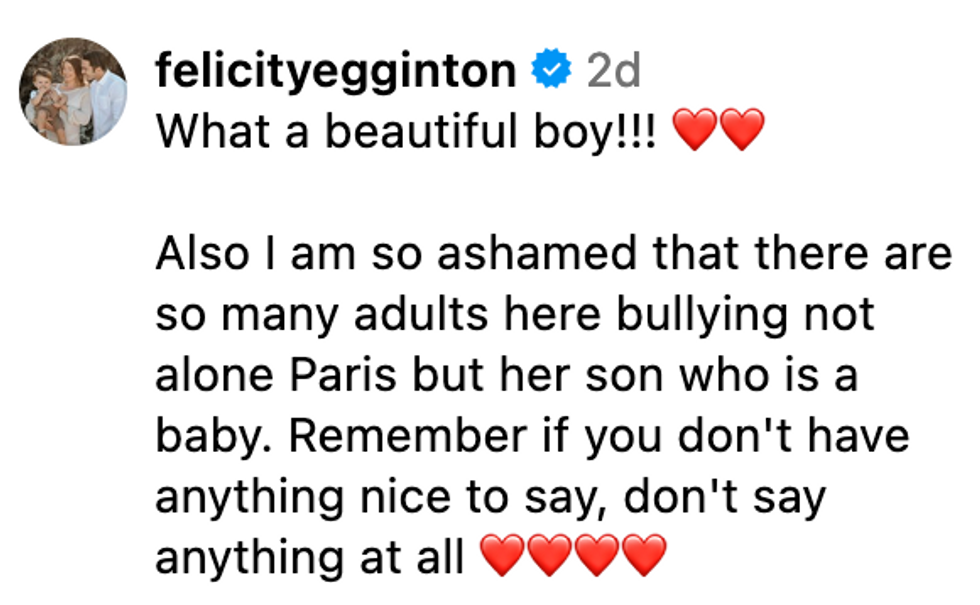 @parishilton/Instagram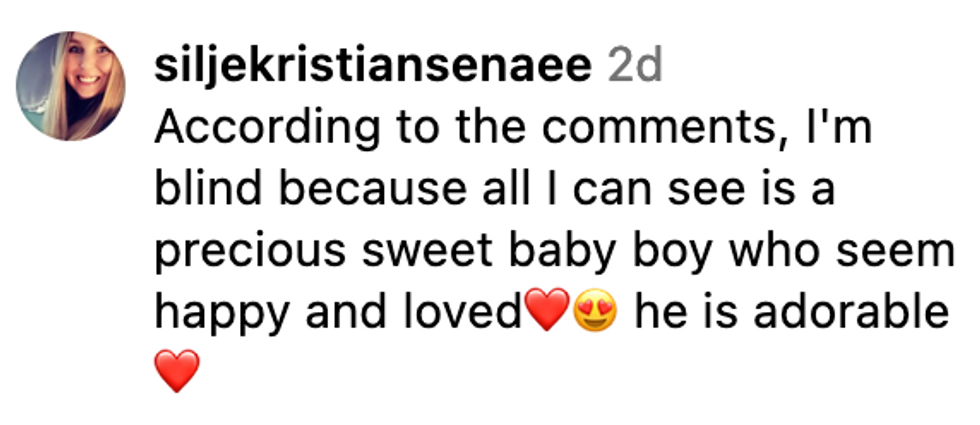 @parishilton/Instagram
TikToker Stephanie Tleiji defended Hilton and denounced the trolls giving their unsolicited opinion in a TikTok video.

"Dude if you're bullying babies you should be getting your head checked."

You can watch the video, below, in which she asked, "What is wrong with humanity?"

Tleiji concluded the video by saying:
"You know he just has a big head because he has a small body, and he's gonna grow into it."
"And I also wanna bet that he's probably a much cuter baby than most of these people in the comments were when they were babies."

Hilton and Reum kept the news of their baby boy to themselves until eight days after Barron was born. In a January 24 Instagram post, Hilton shared a photo of Barron's tiny hand grasping her thumb.
Hilton wrote:

"You are already loved beyond words 💙."
Hilton shared her enthusiasm about being a new mom in an exclusive interview with People magazine, saying:

"It's always been my dream to be a mother and I'm so happy that Carter and I found each other."
"We are so excited to start our family together and our hearts are exploding with love for our baby boy."
She also shared her and Reum's plan of starting a family after they were married in November 2021 in Los Angeles.
Hilton explained that they began the in-vitro fertilization (IVF) process at the height of the pandemic.
"We started going and doing it like a few months in because the world was shut down."
"We knew we wanted to start a family, and I was like, 'This is perfect timing. Usually, I'm on a plane 250 days out of the year, and let's just get all of the eggs stocked and ready,' and we have tons of them just waiting."