Pandemic life has brought many foibles to our lives, but none quite so sticky (heh) as this one.
A New York University student found a free bottle of "hand sanitizer" in his dorm and offered it to a bunch of his fellow students. Later he realized it was actually a bottle of lube.
Oops.

Unsurprisingly, the TikTok NYU student Andy Huang made about mistakenly pouring lube all over his classmates' hands went viral.
In Andy's defense, it's an easy enough mistake to make.
The lube's label is the same shade of purple as NYU's school color and the bottle looks like it could be a hand sanitizer bottle. Could've happened to any of us.
As Huang explained to BuzzFeed News:
"[I] thought that it was some sort of NYU-branded hand sanitizer bottle..."
So when he found it in his dorm, he tucked it away in his backpack for future use.
Later, he connected with some fellow NYU freshman he'd just met that day to get some food. They asked for some hand sanitizer.
A couple students behind them asked for some, too. Huang—who was eager to make new friends during his first weeks at college—happily obliged.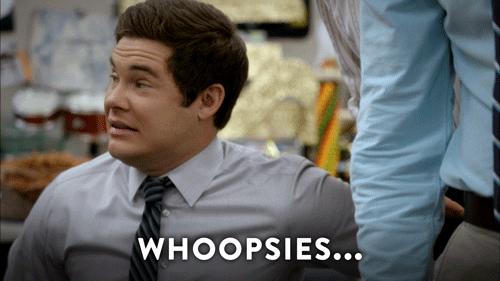 Giphy
But Huang's classmates quickly realized the oily stuff on their hands was definitely not hand sanitizer.

"I didn't realize it was lube until I poured it on everyone's hands and we all started rubbing it in. We realized that the texture was off, and then I checked the bottle to see if it was expired hand sanitizer or something ... We all realized pretty quickly that it was lube..."

Definitely an embarrassing mishap.
But thankfully it has a happy ending. Huang was struggling to make new friends at school, but after his TikTok went super viral, he's made all kinds of new connections.
Two of his "lube victims," as Huang calls them, reached out to him in his DMs and they've become fast friends.
On TikTok people enjoyed Huang's embarrassing moment.

@sweetportfolio/TikTok

@venusfairytrap/TikTok

@anna_crandall__/TikTok

@joshdale_/TikTok

@freeballoonday/TikTok

@see.en.uh/TikTok

@itsthegraceplace/TikTok

@muslimthicc/TikTok

@erika._.l/TikTok

@mylesstyle/TikTok
In the end, Huang is grateful for the slippery mishap.
"Honestly, I'm really happy that this whole incident happened... It made the process of making friends a lot easier, and the story is always a good icebreaker."