A New York City public housing employee has been suspended without pay after they sent a letter to three Vietnamese tenants and addressed it using a racial slur commonly hurled at Asian people, ABC 7 reported.
Written beneath the official NYC letterhead, the salutation did not simply list the tenants' names, but instead began in the following way:
"Ch*n Ch*ng,"
Khang Duong one of the residents who received the racist letter, shared his shock with ABC 7.
"We just don't understand how this could be on an official letter."
Duong's roommate, Duc Pham, also weighed in.
"Even if the blame lies with the inspector, this is a letter from the city, someone has to print it out. Someone has to fold it and mail it, so clearly there was no oversight there was no checking."
Duong and Pham, who originally called the housing inspector to look into a heat and hot water issue, were particularly surprised to receive the racist letter after the inspector's visit to their apartment seemed entirely unremarkable.

"Our interaction with this inspector, which is the only interaction with the city at this point was pretty normal."
That is, until the follow up confirmation letter arrived in the mail.

"He never asked any of us for our names so what we suspect happened was he put our names down in that form as a racial slur."
Pham immediately went to Facebook to document the racism he'd encountered from an official NYC employee.
People were appalled upon learning what happened to Pham and Duong.
They shared supportive outrage and logistical advise.

Quan Tuan Kiet/Facebook
Jenny Wu/Facebook

Josephine Louise/Facebook

Hung Viet Tran/Facebook

Francisco Sales/Facebook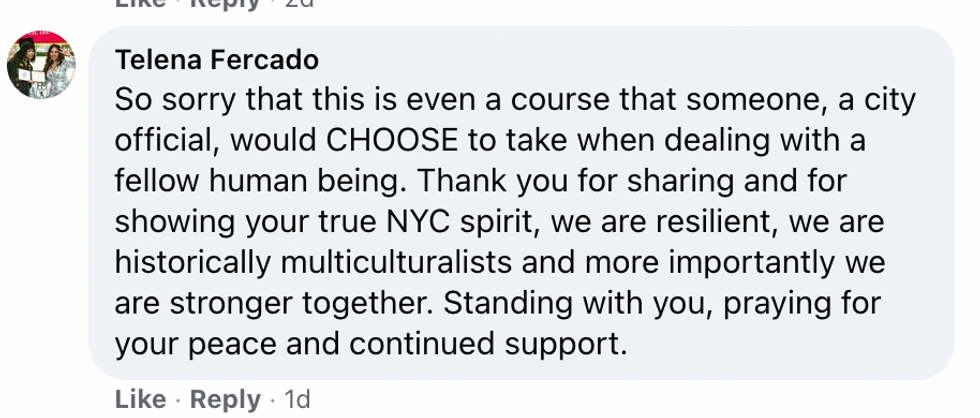 Telena Fercado/Facebook
Within hours of receiving a complaint, the New York City Department of Housing Preservation and Development issued a statement regarding the incident, and the actions they took to discipline the employee.

And while the swift response from the city was a welcomed sight, for Pham and Duong, this was a bell that can't be un-rung.
Duong summed it up.
"We saw Mayor De Blasio went to rally, spoke against Asian hate crimes and he seemed to be passionate about it. But it seems that message doesn't get to everyone."

The racist letter stands as yet another upsetting installment in a wave of increasing violent and nonviolent racist acts against Asian and Pacific Islander people in the United States.