When Madeline Eskins purchased her ticket to Travis Scott's Astroworld Festival concert, she intended to go purely as a fan.
However, Eskins ended up putting her career as an ICU nurse to good use, after overcrowding at the event left eight people dead and many more injured.
Eskins recounted her harrowing experience to Houston's Fox 26 News.

ICU Nurse assists first responders with injured fans during Astroworld tragedyyoutu.be
Eskins told Fox 26 that crowds became so congested, that it became difficult to breathe.
"I remember I was about to tell my boyfriend to tell my son that I loved him."
"Because as it went on it got to the point where I was like 'I'm going to die.'"
After fainting, Eskins was reportedly "crowd surfed" to the VIP area where she was revived.
After waking up, Eskins quickly joined in coming to the aid of other ailing and injured attendees, horrified at the conditions of what she saw.
"I woke up and, I mean, nothing could have prepared me for what I saw."
Eskins claimed that while there did seem to be a number of medics on the scene, the majority of them appeared to be teenagers who didn't seem to know proper protocols.

"There was no pulse checks going on, it was madness."
"I said, you have got to check a pulse on someone before the do CPR."
"If you have a pulse, don't do CPR, you'll break ribs."
Having attended all three Astroworld Festivals, Eskins called the scene of Travis Scott's concert, " absolutely insane".
While Eskins did acknowledge that Scott saw someone passed out in the crowds and briefly stopped the concert to bring attention to it, he then continued to perform, and no one seemed to listen.
"I'm angry about that, I'm disappointed in how everything was handled."
"I'm disappointed that the medical staff that was there was not truly medical staff."
"Some of them had little to no experience in this type of situation."
Upon learning of the deaths of eight of the festival's attendees, Eskins expressed how she felt lucky to leave that event alive.
"I could have very easily been one of those people, because I was getting suffocated."
"Suffocation can lead to cardiac arrest, and they were saying these individuals were trampled."
"Once you fell in that crowd it was almost a death sentence."
"I really hope that at least one person that I was helping made it, just at least one."
Eskins subsequently shared her experience at what turned out to be a tragic event in a detailed Instagram post, where she described the scene of the concert as "f*cking terrible."
NSFW Language

While she once again decried the lack of training and experience of the medical staff at the event in the post's caption, she also made it clear that they were not the ones at fault.
"LET ME STATE THESE MEDICS ARE NOT TO BLAME, but a few of them did not have experience in situations with people losing pulses."
Eskins went into more detail in the post of just how unprepared the medical staff were for what they found themselves dealing with.
"I ask where the ambu bag is, where the AED is, where the stretcher and ambulance is, where tf any sh*t is, and they essentially say there is none."
"There's one ambu bag, one stretcher and one AED for 3, now 4 people, who are pulseless and blue."
"For the remainder of the concert I was doing compressions, bagging and helping move people to stretchers and checking pulses on bodies as they got crowd surfed to where we were."
"People were begging the crew to stop operating the the stage lights and stuff around us to stop the concert and they wouldn't."

"Finally cops showed up with more stretchers and started getting people out, but I know at least 15 people had been pulseless for 15 minutes minimum before they got on a stretcher."
Eskins Instagram followers applauded her for stepping up to help others, even after she needed to be revived from fainting herself.

@madddeline_____/Instagram
@madddeline_____/Instagram
@madddeline_____/Instagram
@madddeline_____/Instagram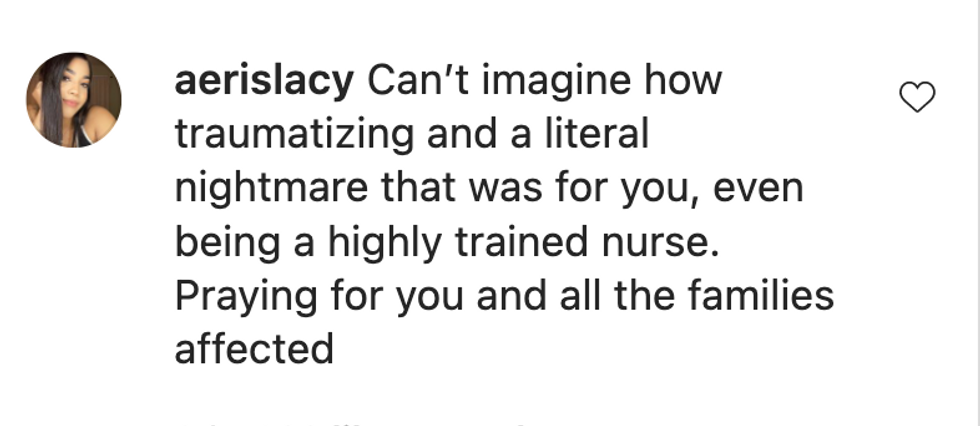 @madddeline_____/Instagram
@madddeline_____/Instagram

@madddeline_____/Instagram
Among those joining in singing Eskins' praises was one of the injured concert attendees whom she treated.

@madddeline_____/Instagram
Other's who read Eskins' post were horrified to hear all that transpired at the concert.
@madddeline_____/Instagram
@madddeline_____/Instagram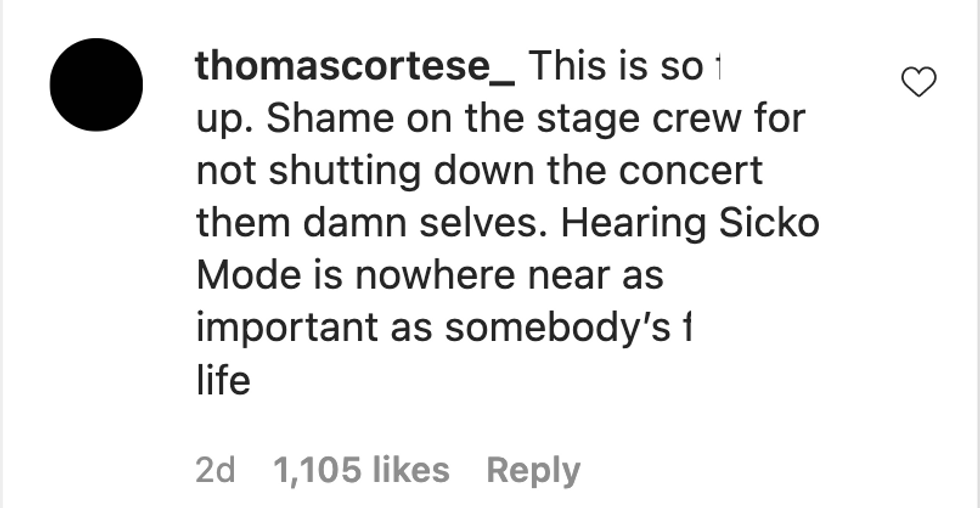 @madddeline_____/Instagram
@madddeline_____/Instagram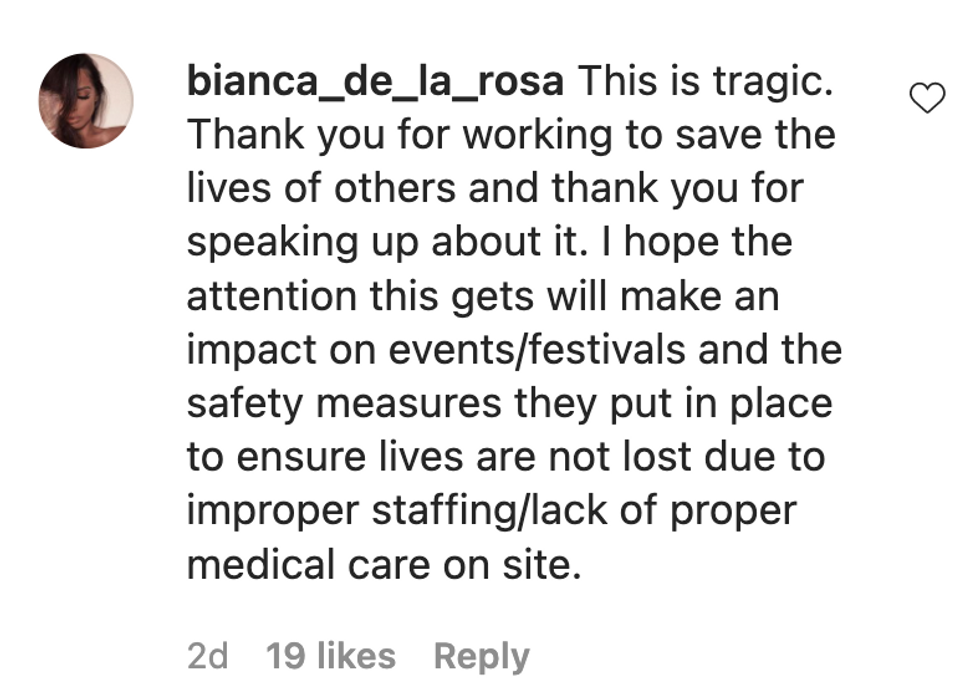 @madddeline_____/Instagram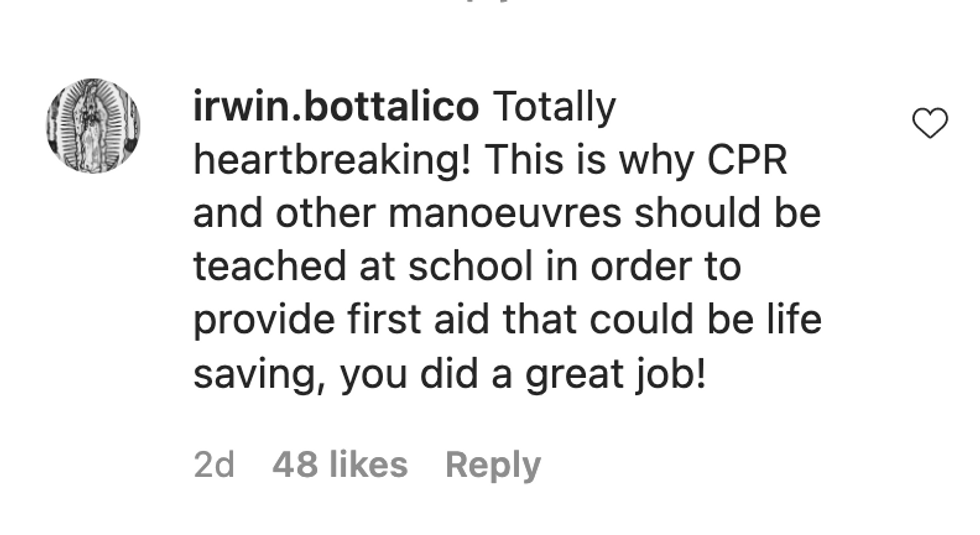 @madddeline_____/Instagram
A spokesperson for NRG Park, where the concert was held, released a statement following the incident:
"We are deeply saddened by the loss of life and pain experienced by all those impacted by this tragedy."
"We are fully cooperating and working closely with police and local authorities as they investigate how this tragedy occurred at the Astroworld Festival."
Here's hoping that going forward, there will be a larger number of experienced medical staff on the premises, rather than merely relying on the good fortune of a professional like Eskins stepping up to the plate.