Michelle Ayala was hanging out with her children, enjoying a day at the beach, when a city employee decided to call the police on her. Michelle wasn't being loud or violent. She hadn't attacked anyone or disturbed the peace. She hadn't stolen anything from other beach-goers. The city employee called the police on her for breastfeeding her child.
---
The incident began when Michelle started breastfeeding her daughter. The Franklin Borough employee, Alison McHose, approached Michelle and told her to breastfeed elsewhere. Michelle refused to leave her other children or her spot on the beach to go breastfeed somewhere else since she was doing nothing wrong.
The Franklin Borough employee was furious. She told Michelle that she needed to cover up because breastfeeding was offensive to people, and there were children on the beach who could see her. Michelle asked the employee to please keep her voice down because her child was nursing and trying to fall asleep. The employee yelled at Michelle and called the police.
Someone was being the judgiest of Judies.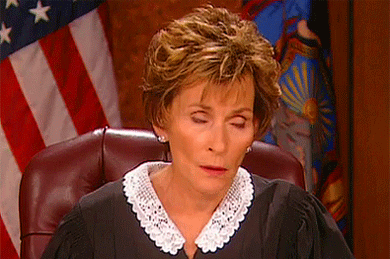 @theappeal The fact that it was a woman harassing the nursing Mom is totally horrific. God only knows what would ha… https://t.co/VVrmXcB5F6

— Cynthia joy Cooper (@Cynthia joy Cooper) 1533478585.0
The police quickly sided with Michelle since - newsflash - PUBLIC BREASTFEEDING IS FULLY LEGAL IN ALL FIFTY STATES. The two holdout states, Idaho and Utah, legalized it this year. Ironically, this incident happened during Breastfeeding Awareness Week.

Michelle gave a brief interview about the incident - but even that went sideways. Commenters on the video called her a "freak" because the nursing child is two years old. The World Health Organization recommends breastfeeding a child until 2 and the American Academy of Pediatrics recommends breastfeeding until at least 12 months and for as long as mother and child can after that. So.... yeah.

Here is her interview.
Twitter caught the story and has quite a bit to say about it.
@Alison_McHose Your ridiculous action of calling the police on a breastfeeding mom stunned and deeply saddened me.… https://t.co/X55PeHaLpe

— maey gallagherseaman (@maey gallagherseaman) 1533700746.0
@RawStory BTW, this woman should be fined for using police resources for her personal agenda against breastfeeding.

— TheTruthsayer (@TheTruthsayer) 1533582426.0
What's with people calling the cops for everything these days? A woman is breastfeeding on a beach? Call the police… https://t.co/UhdBIxFVl2

— Sarah Melv (@Sarah Melv) 1533730820.0
A woman in New Jersey recently had the police called on her for... breast feeding her baby. Which begs the questio… https://t.co/H9IZIBppPK

— The Christian Left (@The Christian Left) 1533585619.0
So a woman called the police on another woman for breast feeding in Public? I see a guy riding his bike in just his… https://t.co/XW7ZqYu8Kq

— RenzyLovesPreciousCargo (@RenzyLovesPreciousCargo) 1533328978.0
@RawStory Seriously!? When are police departments going to start billing people for this nonsense?

— B McNeal (@B McNeal) 1533567122.0
@people I don't understand why nursing moms are given the 3rd degree. In today's day and age where scantly clad in… https://t.co/Hw4P3nAku3

— ROSE D'ANGELO (@ROSE D'ANGELO) 1533679627.0
@people OMG ridiculous. I would think those cops have better things to do like, I don't know, protecting the city from bad people.

— Michele Culbertson (@Michele Culbertson) 1533667290.0
@people Why are people freaked put about a mother nursing but ok when boobs are hanging out of ill fitting swimsuit… https://t.co/Qge4AdAviS

— Foster's Mom (@Foster's Mom) 1533665186.0
@people Ridiculous. Can't we just be supportive of mothers who are trying to feed their children?

— Alyse Singh (@Alyse Singh) 1533677459.0
@theappeal People need to tend their own garden. How long a woman breastfeeds her child is a personal decision. Ju… https://t.co/Qxaogi0hHV

— CW (@CW) 1533414747.0
We're wondering the same thing @Briankmcneal. When indeed.