Sometimes when you're discussing politics, you have to lighten the mood with some kid-sized cameo appearances.
MSNBC Journalist Courtney Kube was in the middle of a live report when her son made a surprise appearance at her side.
---
Kube was in the middle of a live discussion, concerning the current situation developing between Turkey and Syria. At the time, there were airstrikes underway from Turkey to Syria, and multiple Syrian civilians have since been reported dead from the assault.
During her exploration of these developments, her son appeared at her side.
At first, it appeared Kube did not realize he was there as he peered out from behind her arm. But when he came to her side, leaning up against the desk and reaching up to touch her shoulder, Kube laughed mid live discussion.
To this, Kube said:
"Their concern is that they want to have Kurdish---excuse me, my kids are here. Live television!"
Kube said this and started to lead her son back away from her desk. MSNBC's screen quickly switched to a map of the Turkey and Syria territories, with Kube continuing her discussion via voice-over.
You can see the brief exchange here:
This incident has put smiles on many viewers' faces, particularly during a time of hard discussion and news reporting.
Many turned to Twitter to comment on the cuteness of the moment.
Others took the opportunity to reminisce about another incident that was very similar to this one.
You may remember the moment back in 2017, when Political Science professor Robert E. Kelly, aka: "BBC Dad", was interrupted by his entire family during an interview.
While discussing current-at-the-time Korean impeachment, Kelly's daughter, Marion, danced and strutted her way into the office.
Kelly could be seen trying to lead his daughter back out of the office, much like Kube with her son, when his son, James, appeared in the hallway in his baby walker, looking for his sister.
His wife, Kim, only made matters more hilarious, when she literally slid into the room to gather up the children. When Kim closed the door after the children, Kelly turned back to the camera, closed his eyes, and apologized for the interruption.
You can experience the interaction again here:
Both of these moments are great examples of the hilarious antics working parents often have to go through while trying to get things done.

It's refreshing, though, to see how supportive onlookers are of BBC Dad and MSNBC Mom, as they tackle this crazy work-life balance.
Hopefully this little family of reporters with interrupting kids will continue to grow.
Are you also a professional chaos coordinator? This shirt is available here in a variety of colors and sizes for men and women.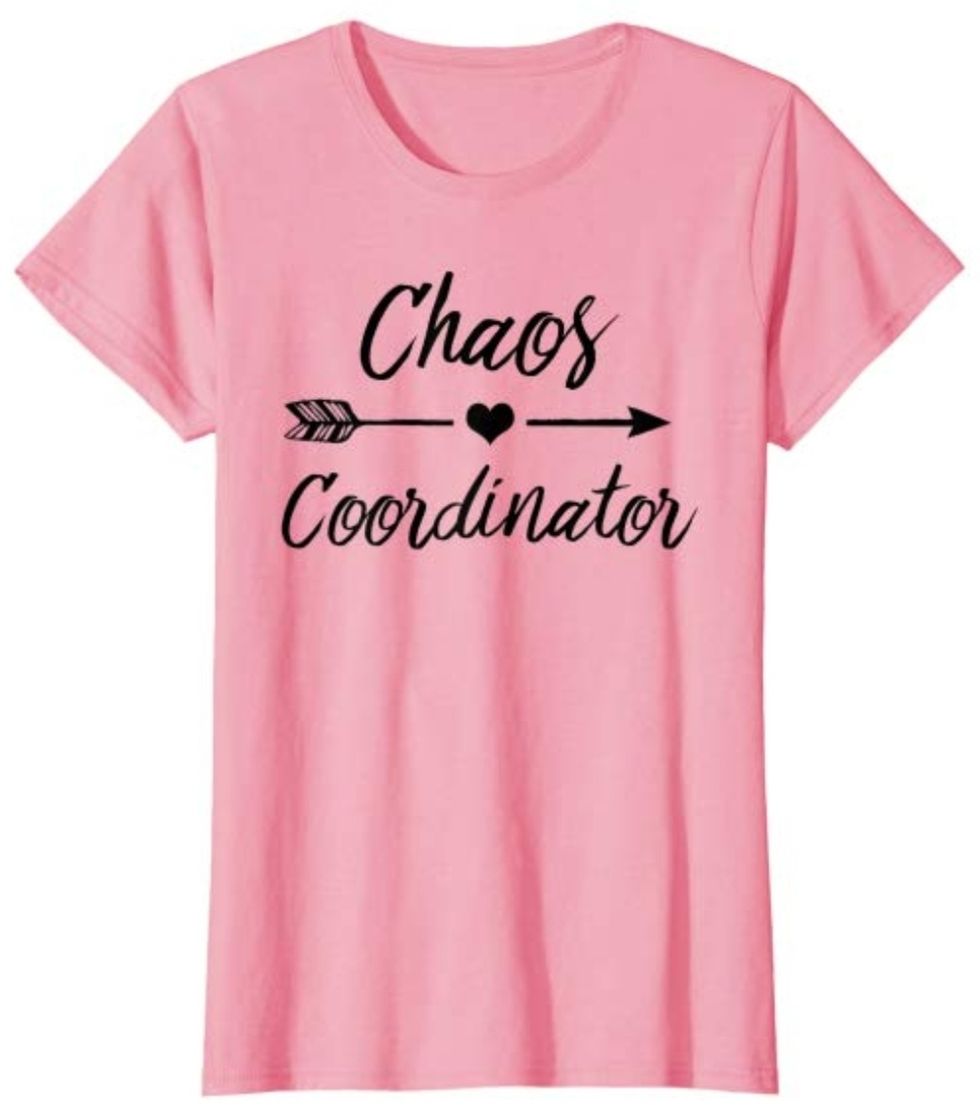 ******
Have you listened to the first season of George Takei's podcast, 'Oh Myyy Pod!'?
In season one we explored the racially charged videos that have taken the internet by storm.
We're hard at work on season two so be sure to subscribe here so you don't miss it when it goes live.
Here's one of our favorite episodes from season one. Enjoy!