Elusive artist Banksy is at it again.
This time his art graces the walls of a garage in Port Talbot, Wales. And as Banksy's work continues to increase in value, many fans feel as though protecting his street art is a must.
---
Michael Sheen, best known as Dr. William Masters in Masters of Sex, stepped up to the plate after Banksy's latest appeared on the Port Talbot wall.
According to BBC News, Sheen grew up in the area and paid for a screen to protect the piece of art. He has also given money towards the security, media, and legal costs of the mural.
The protective casing is not one large piece of plastic, but rather vertical slats of transparent protective material.
The pre-protected mural can be seen in this fan's Twitter post.
Banksy in Port Talbot. Just beautiful. So glad we managed to visit it #Banksy https://t.co/H22eQtuHqJ

— Anna Hurley (@Anna Hurley)1545513018.0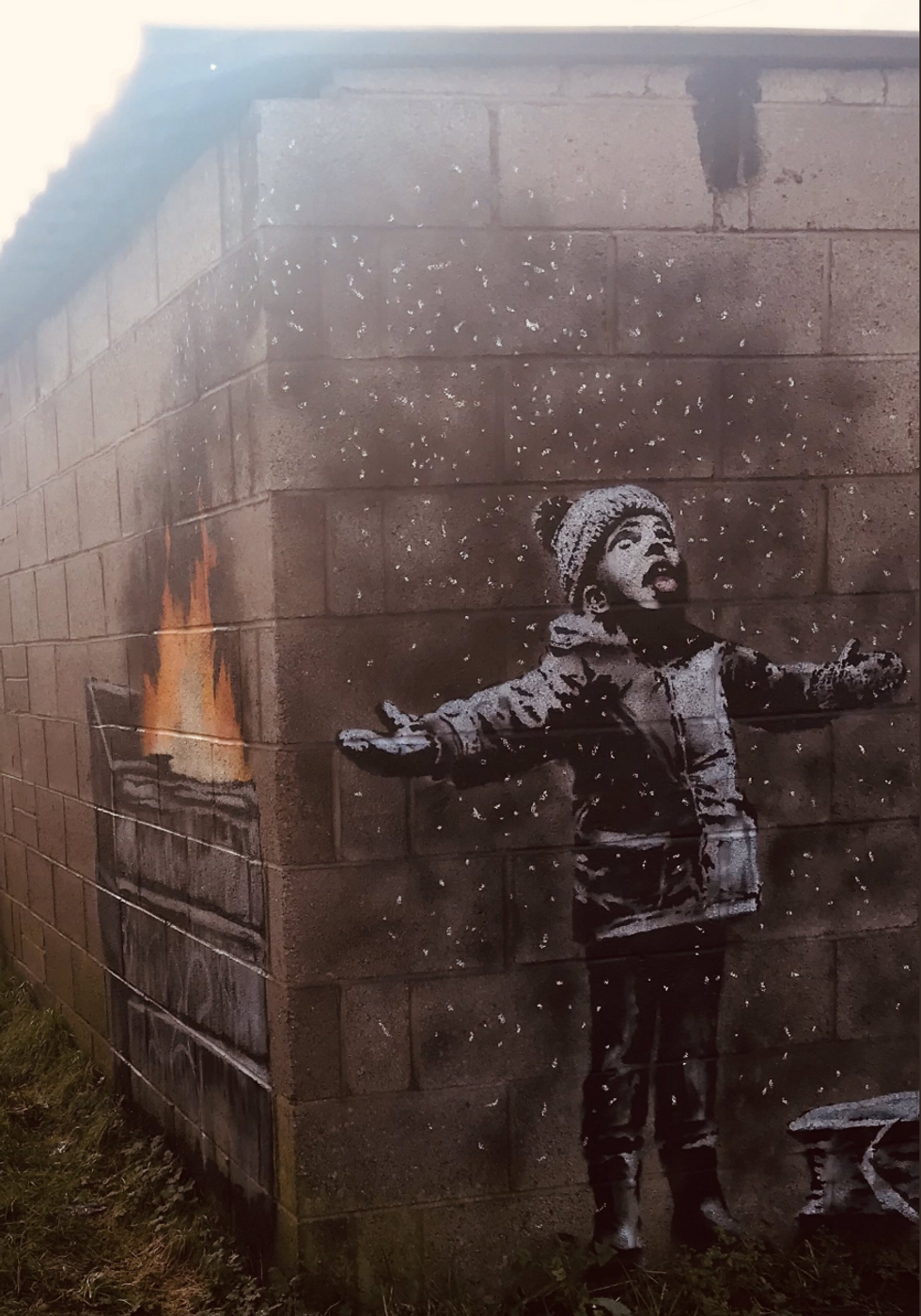 @AnnilouH (Twitter)
The mural depicts a child holding their arms and tongue out to catch what appears to be snow. Next to the child, just around the corner, is a dumpster that has caught fire. It is titled "Season's Greetings".
Images from after the protective cover was installed have also been shared.
Had to go & see the new artwork on Port Talbot , protecting it with perspex currently @originaIbanksy #Banksy https://t.co/ReDKdxO9M2

— anthony james (@anthony james)1545496580.0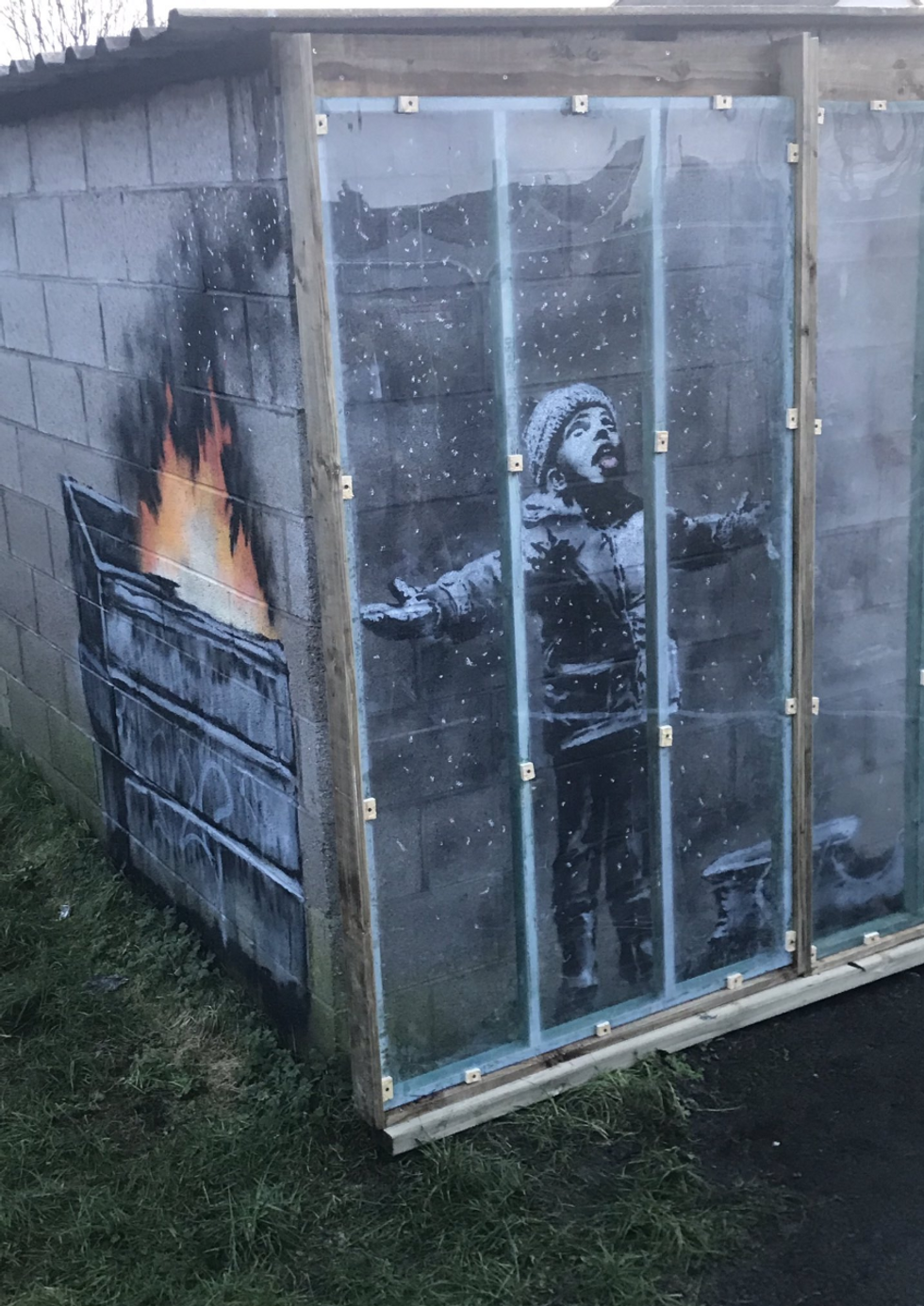 @antjam60 (Twitter)
Many people are thrilled about Banksy's latest bit of street art and are thankful for Sheen's commitment to protecting it.
@CurtJones_ @BBCWales @WalesOnline Here's a protected Banksy in LA! There was tons of construction going on near it… https://t.co/HnSAj4ujdD

— Hannah Sandyclaws Sproul (@Hannah Sandyclaws Sproul)1545595592.0
@BBCWalesNews His artwork is amazing and in a quite ironic twist due to its context and creation it should be looke… https://t.co/cnGebzSl27

— Adam James Reedman (@Adam James Reedman)1545563284.0
@antjam60 @originaIbanksy @michaelsheen thank you 🙏 for paying for the security

— JED CK JEANS (@JED CK JEANS)1545571013.0
Others are not sure this is how the artist intended his work to be seen.
@PeteHumble The covering is disappointing and distracts from the painting. I believe if Banksy wanted it covered it… https://t.co/rrAb7YihM6

— Jerica (@Jerica)1545667780.0
@AnnilouH It's so pretty. Well without the plastic ...

— L.M.Pothier 🇨🇦 (@L.M.Pothier 🇨🇦)1545635759.0
@themarkhawkins Are you kidding me? He ruined the Bansky . 😣

— Hybridstarlet (@Hybridstarlet)1545560843.0
@BBCWalesNews Dear Micheal Sheen & company, this cover idea is pretty bad. It takes away from the art piece plus I… https://t.co/etUjylvXYX

— Maria (@Maria)1545576098.0
@BBCWalesNews Looks blooming awful now, hope he rips it down ! 😪

— Abi Lyes (@Abi Lyes)1545558368.0
@CurtJones_ @BBCWales @WalesOnline could they really have not found a more flattering way to both protect and showcase this art?

— stella🍒 (@stella🍒)1545566669.0
@CurtJones_ @BBCWales @WalesOnline Man, I've always hated this kinda thing with him. The spirit of graffiti is the… https://t.co/WH2JJhKJhe

— "Gearless" Tj (@"Gearless" Tj)1545567337.0
Some feel the jail-like nature of the cover adds a fascinating bit of commentary.
It's #banksy behind bars #taibach https://t.co/cJMJy1pxsR

— Rhys Jones (@Rhys Jones)1545511367.0
@themarkhawkins The screen makes it look like the child is behind bars. An unintended metaphor for our reality, per… https://t.co/aPZPX63TEu

— Anna-marie Morgan (@Anna-marie Morgan)1545610772.0
Banksy officially claimed ownership of "Season's Greetings" on Thursday.