Once again, First Lady Melania Trump is courting controversy and some pretty serious memes for her White House holiday decorations.
---
Of course, her husband is known for having a very unique sense of style for his home decor.
Everyone remembers the solid gold toilet.
Last year, FLOTUS said she was going for a Scandinavian fairy tale feel.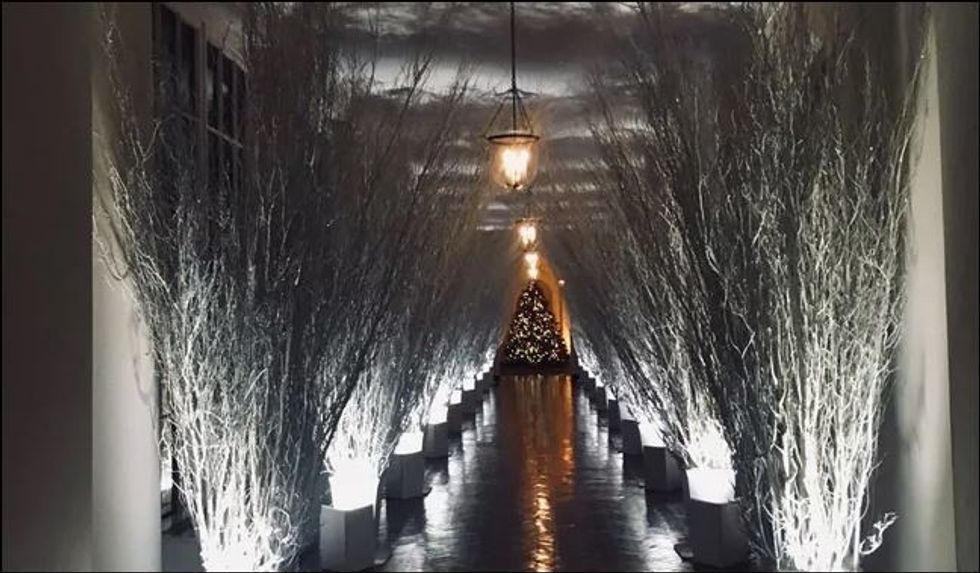 Twitter | @StephGrisham45
But it came off more like a nightmare for many people.
To be honest, I liked Melania's 2017 Christmas decorations better. https://t.co/upJ7V4HNxH

— Ragnarok Lobster (@Ragnarok Lobster) 1543617368.0
And this week, the First Lady revealed this year's decorations.
The People's House @WhiteHouse is ready to celebrate Christmas and the holiday season! https://t.co/oejKW3mC15

— Melania Trump 45 Archived (@Melania Trump 45 Archived) 1543241173.0
People were amused by the choice.
Also difficult to discount a hidden #KKK meaning behind Melania's Christmas decorations for the Whitehouse.… https://t.co/UxaAuL4DVB

— John Moffitt 🌊🌊🧢🧢 (@John Moffitt 🌊🌊🧢🧢) 1543535670.0
And once again, memes were born.




People noticed how similar the color of the trees was to the outfits in a certain dystopia...
Others went the horror movie direction again.
Or even a bit of sci-fi...
Or even a contribution from a sci-fi icon...
Oh myyy...
But the First Lady spoke out against those criticizing her decorative choices, telling reporters:

"We are in 21st century and everybody has a different taste."
"I think they look fantastic...."
"In real life, they look even more beautiful."
Well, there you have it.
We can't wait to see what she does next year!