In what is being touted as the biggest scandal in Massachusetts history, former State Senator and Democratic party member Brian Joyce was arrested and charged Friday with taking more than $1 million in bribes, including 704 pounds of free Dunkin' Donuts coffee. Joyce served nine terms, only to not run for re-election last year.
---
In the most Massachusetts scandal ever, this State Senator is charged with receiving $1 million in bribes and 500 l… https://t.co/cAwLTFAHvO

— Steve Koczela (@Steve Koczela)1512750683.0
He "violated the public's trust."
CBS Boston reports that Joyce "violated the public's trust" and "decided to take the path of greed" by using his office for personal profit. The charges include extortion, racketeering, wire fraud, money laundering, and receiving political bribes while in office, as detailed in a sweeping 113-count indictment released by the U.S. Attorney's office.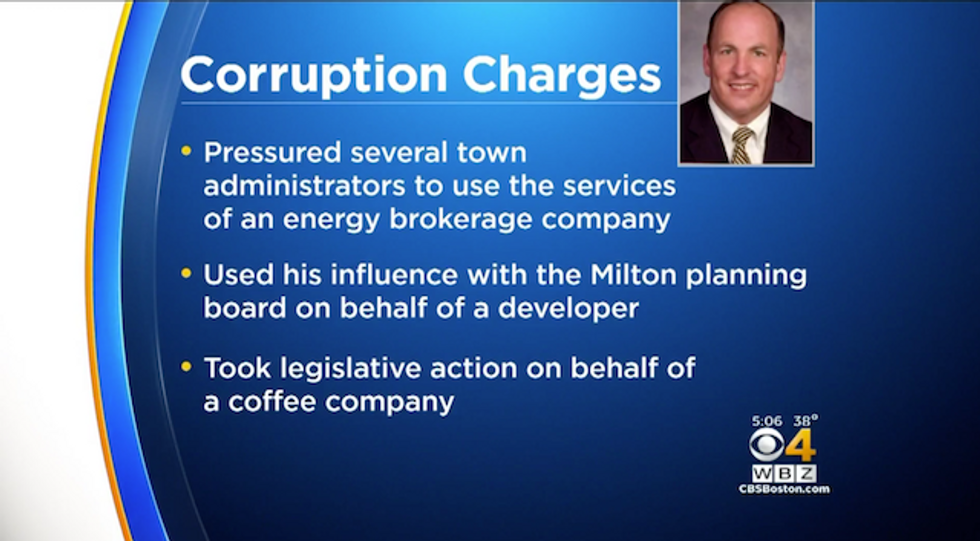 READ: The Full Indictment Against Brian Joyce
The Associated Press reports the former Democratic legislator allegedly took bribes from companies and individuals looking to trade in on his influence, then laundered the money through his law offices, intentionally making the sums look like legal fees. Joyce pleaded not guilty in Worcester's federal courthouse Friday.
"We believe Mr. Joyce was greedy, plain and simple," Harold Shaw, head of the Boston FBI office, said during a news conference Friday.
People were quick to ridicule the former State Senator.
Though Joyce rarely frequented Twitter, one user did not waste a moment to share the news of his Joyce's misfortune on the former legislator's account.
@BrianAJoyce Former state Senator Brian Joyce indicted on federal charges - The Boston Globe ☺😊😀😁😂😃😄😅😅😅😅😅😅😅😅😅😅😮 https://t.co/7z2xo7UJeO

— Sexy Pineapple 👄🍍 (@Sexy Pineapple 👄🍍)1512765918.0
Hundreds of pounds of free Dunkin' Donuts coffee.
In addition to a Jeep worth almost $35,000 and other monetary kickbacks, Joyce received over 700 pounds of coffee from a Dunkin' Donuts franchise owner.
The indictment says Joyce specifically asked in an email for "no decaf" and said, "we like k cups at my office if possible."
Many people found the coffee bribe too funny to ignore.
@skoczela Are we talking Original Roast or one of those flavored monstrosities?

— Rich Parr (@Rich Parr)1512751179.0
@skoczela That a lot of friggin dough

— Shitholes 4 America (@Shitholes 4 America)1512770862.0
While some people defending the taste of Dunkin' Donuts coffee...
@skoczela Well...they do have good coffee.

— Diane Bellard (@Diane Bellard)1512832240.0
...others did not.
@skoczela Drinking Dunkin Donuts coffee isn't punishment enough?

— Brian Mann (@Brian Mann)1512758980.0
There are so many questions left unanswered.
@SamAlannah How exactly do you measure Dunkins coffee in pounds?

— Spenser Hickey (@Spenser Hickey)1512757927.0
@SamAlannah And constitutes a bribe, allegedly. I just have so many questions - was he getting that amount in free… https://t.co/14aCp9IiQ9

— Spenser Hickey (@Spenser Hickey)1512758777.0
The people want to know!
Welcome to CoolattaGate.
@skoczela #CoolattaGate

— EagleGraphs (@EagleGraphs)1512772647.0
Please SHARE this with your friends and family.
h/t: Time, Associated Press, CBS Boston, Twitter