This past weekend, Lizzo found herself yet again the center of attention both in the news and on social media.
This time it wasn't for another award, broken record or historic magazine appearance (there are plenty of each, though) - but for what she wore to a Lakers game.
---
In case you missed it, we'll do a quick recap of the situation.
At first glance, her outfit was simple and understated - not the Lizzo we are used to seeing. She wore a mid-length black dress with boots. Her hair was styled into a simple high pony tail. Her accessories were minimal.
Initially, the outfit seemed downright demure.
Then came the big reveal. At one point in the game, dancers started doing a routine to one of Lizzo's songs. Lizzo decided to get up and dance, too. That's when the world got a glimpse of the back of her dress - which featured a cutout that revealed her thong, rump and thighs.
Twitter captured the moment, of course.
The backlash hit BIG TIME, you guys.
People immediately started calling the outfit and Lizzo's dancing inappropriate; typically citing the fact that there were children at the game.

Supporters were quick to point out that this is hardly the first time an artist has worn an open-bottom look. Prince, Janelle Monae and more have worn it. In fact, the cut is commonly called a "spanking skirt" - which is something we don't suggest you google from a company device or with a butt-sensitive audience around. There will be much booty meat across your screen.

That's, of course, not to mention the fact that the Laker Girls regularly show that much skin if not more.
The debate raged back and forth, with topics such as size discrimination, misogyny, colorism, faux-outrage, body shaming, moral policing and even Kobe Bryant's alleged criminal past coming up. It is rumored Bryant removed his children from the game after seeing Lizzo's outfit because he deemed it inappropriate and potentially harmful to them, but he has a history of being accused of violent crimes and other things that are actually harmful - so many people felt his outrage was hypocritical and flawed at best.
Lizzo has kept quiet about the incident; she's been a bit busy being named Time's Entertainer of the Year. Also gracing the cover of Entertainment Weekly.
All in a day's work...
With that done, though, she has circled back around to address the dress, the dancing and the backlash.
In an Instagram Live post she basically doubled-down with the sort of answer we have come to expect and love from her.
She started her statement:

"I just want you to know that it doesn't matter what goes on on the internet, nothing is going to break my joy... I don't ever want to censor myself because I'm suddenly famous or because everyone's looking at me now."
Long-time fans of Lizzo can attest to the fact that yes, she was out here owning her body and sexuality without apology well before she reached any major fame.

2015 Lizzo, for example...
She continued her statement, saying:

"I'm a really solid, grounded person and I know that I'm shocking because you've never seen, in a long time, a body like mine doing whatever it wants to do, and dressing the way that it dresses, and moving the way that it moves."
"I'm not gonna quiet myself. I'm not gonna shrink myself because somebody thinks that I'm not sexy to them. You really think because someone on Twitter think that I'm not cute, I'm gonna stop existing?"
All her fans: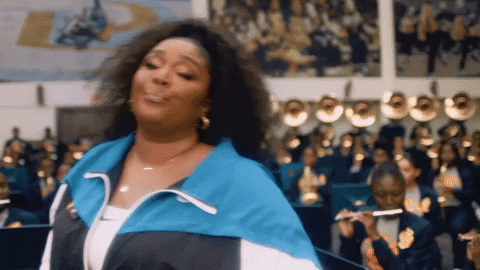 Giphy
Lizzo then went on to speak directly to her fans, asking that they just ignore the haters, attention-seekers and negativity.
She tossed out a theory that a lot of the negative comments and critiques on her body and wardrobe were, in fact, rooted in the commenters insecurity and not in anything that Lizzo, herself, has said or done.

She ended her video with a parting comment that continued from that idea and gave people a lot to think about:
"It's really sad, but I feel more bad for those people than upset. When someone is just so angry at my body or someone is so quick to just make a joke about my body that's hurtful, I'm just like, 'Wow, who didn't love you?'"
So there you have it, folks.
Lizzo knows a lot of people are upset with her for what she wore... and she's just fine with it.
Lizzo's album Cuz I Love You (Deluxe) is available here.