A 7th grade art teacher from Puterbaugh Middle School in McAlester, Oklahoma, was fed up with the dilapidated conditions her students face at school every day.
On March 28, Laurissa Kovacs took to Facebook in an effort to raise awareness of schools needing more public funding and posted a photo of a broken chair, one of many, that her students sit on in the classroom.
But she didn't foresee the massive outpouring of support when she received $44,000 in donated school supplies after her post became viral.
---
On Facebook, Kovacs wrote why she was "walking out."
This is my fourth year teaching in Oklahoma and after taxes and insurance I take home $2,311 a month, $27,732 a year. I could make about 20 grand more by moving to Texas or Arkansas, and many teachers are doing just that.
These kids deserve the opportunity of a great education but we cannot give them that if all our teachers are emergency certified or completely over worked.
Kovacs went on to describe teaching in overcrowded classrooms, where there aren't enough tables and chairs for her 32 students.
This chair, or cheek-pincher, is what my students have to sit on. Most of the chairs in my room look like this. Once they get to this point it's only a matter of time before the bottom goes completely out.
Her students often rush to the classroom to see who could get a proper chair first. Even if they manage to nab a chair with a secure seat, the tops are often jagged and can potentially harm the students.
@CNN So amazing, but it shouldn't be other people that are donating. Our government needs to place education at the forefront.

— Alexis Aarons (@Alexis Aarons) 1523200148.0
By Wednesday afternoon, her post was shared over 82,000, with comments asking how people could help.
She created a registry on Amazon asking for supplies, including markers, pencils, and new chairs.
When an Oklahoma teacher revealed what the chairs in her classroom look like, she didn't imagine it would drive peo… https://t.co/ikq8yBNcWU

— CNN (@CNN) 1523199613.0
Kovacs is one of many teachers participating in the walk out to demand more school funding in addition for increased wages that teachers deserve.
According to CNN, she's currently staying at the state Capitol during the walkout but stopped by Puterbaugh and saw there were over 600 packages in donations ranging from scissors to six refurbished Google Chromebooks.
The past five days has been totally surreal and I don't think the full effect will hit me until I'm back in my classroom with my students. I think they will be amused to see me cry when I'm explaining everything.
My plans are to share, share, share! I'm not the only one in my district who needs things, so I'll be sharing it all.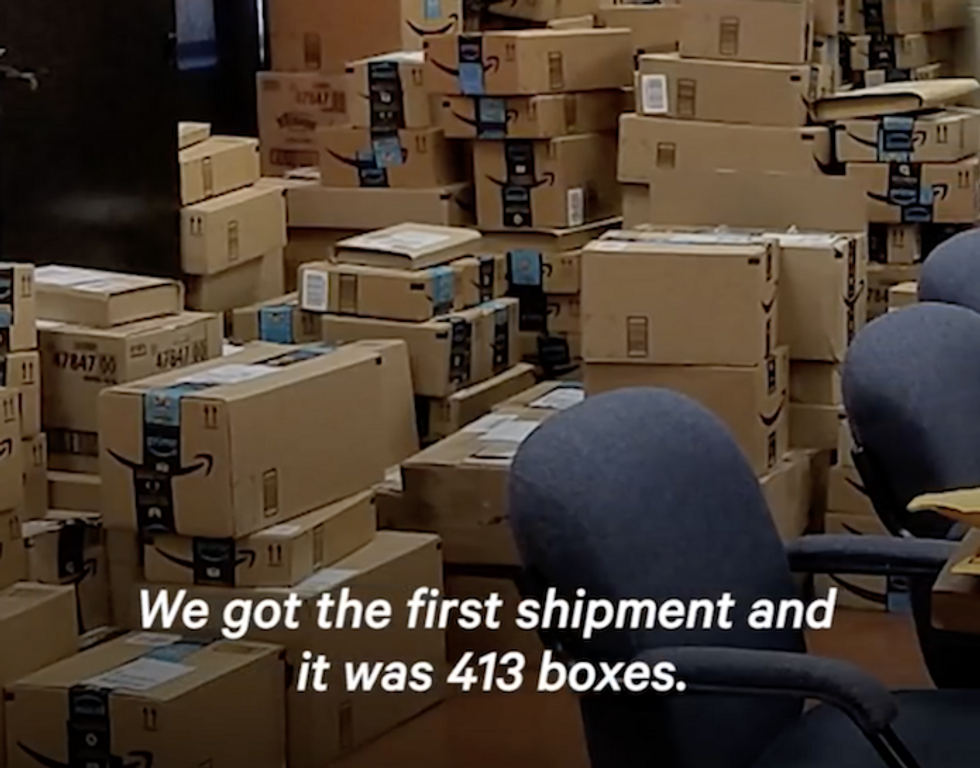 More donations filled with school supplies are expected to come in.(NowThis News/YouTube)
More donations are expected. Kovacs told NowThis News she's expecting 500 new chairs coming in, despite the roster of 400 students at her school.
Twitter commented on how priorities, regarding matters of public education, need to be seriously addressed.

@CNN The plight of many schools today in impoverished areas across the nation and in others communities that do not… https://t.co/oTy0JUEdhH

— george daniel harvey (@george daniel harvey) 1523202829.0
@CNN What a sad sad country, $700 Billion a year spent on the military and only $10 billion on education.

— Bruno Ariganello (@Bruno Ariganello) 1523200213.0
The children shouldn't suffer while obtaining an education.
@edwardbrowden @CNN America's youth are being desperately ignored (and all the while savaged by the media). Regardl… https://t.co/Km4wXn4om4

— Alec Holbeck (@Alec Holbeck) 1523202393.0