A Florida congressional candidate stepped forward to accuse a political ally of exposing himself to her, even though the ensuing controversy could cost her bid for the U.S. House of Representatives. Since then other incidents of sexual harassment have come to light. This is but the latest in an avalanche of scandals, finally voiced, in the wake of countless women's accusations exposing Hollywood producer Harvey Weinstein's not-so-secret reputation as a sexual predator.
---
Miami Beach City Commissioner Kristen Rosen Gonzalez is running as a Democrat for Florida's 27th Congressional District, a seat soon to be left vacant by a retiring Republican congresswoman. She also was campaigning on behalf of Miami Beach City Commissioner candidate Rafael Velasquez, even after the alleged incident two weeks ago, until a friend convinced her to go public about his behavior.
"I was 'Harvey Weinsteined' by Rafael Velasquez, the candidate I have been supporting and raising money for in the Miami Beach commission race," Rosen Gonzalez toldPOLITICO Florida. She went on to say he exposed himself to her while she was driving, following a dinner at which they discussed his campaign.
Velasquez expressed surprise at the allegation, questioned why a victim would wait two weeks to say something, and then countered that she might be lying to gain attention for her own campaign. "I can't believe she would say anything like that ... she's supporting my campaign," Velasquez said to POLITICO Florida after they reached out to him for comment.
"The whole Weinstein thing is in the news. Maybe she thinks she can get some traction from it," he said. "I don't want to speculate but I know that she seeks national attention as she's running for office herself." He added that he now thinks Rosen Gonzalez is supporting his opponent.
Rosen Gonzalez says she is not supporting Velasquez's opponent, that she didn't want this kind of attention, and that that she believes this could harm her campaign.
"This is actually embarrassing for me," she said. "I didn't just support Rafael. I had his sign in my yard. I told the unions to support him. I told people to contribute to him. I had him at my table at Florida Blue [a party fundraising event]. I told Stephen Bittel [state party chair] to support him."
Rosen Gonzalez explained she needed time to consider what had happened, and why she finally decided to speak up.
"I was going to stay quiet, but if he whips out his willy with a strong middle-aged woman like me, I am worried about what he will do to younger girls when he is a man of influence and power," she said. "I do not think he should be elected to any office, and this is a man I believed was an authentic soul."
Within hours of the initial report, a second accusation was made, and then the candidate admitted to a third incident.
First, a second woman stepped forward on Monday to also accuse Velasquez of sexually inappropriate behavior.
Local publicist Frances Alban disclosed that the Miami Beach candidate groped her butt four months ago while they posed for a photo together, and then he texted her after to say that she "felt good." Following this, Miami-Dade County Democratic Party Chairman Juan Cuba recommended Velasquez should end his candidacy, ahead of next week's race. The Miami-Dade Democrats had already suspended campaigning on the candidate's behalf.
"If these allegations are true, it would be appropriate for him to withdraw," Cuba told the Miami Herald.
Alban released screenshots of her text conversation with Velasquez.
Velasquez: "You looked sexy tonight"
He inserts a purple devil emoji.
Alban: "Why, thank you!"
Velasquez: "Very feminine... and waiting for your photographer to shoot ...you felt good too."
Another devil emoji.
Alban: "The devil emoji is very appropriate"
Velasquez: "You always look very sexy and classy... very intriguing"
Velasquez: "Wanna meet for lunch tomorrow?"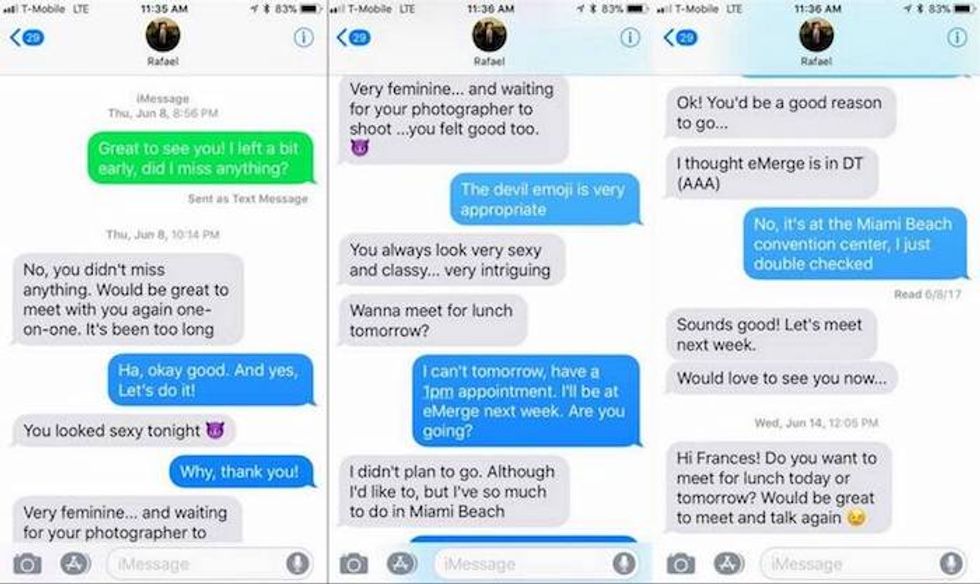 Muck like Rosen Gonzalez's processing, Alban explained to the Miami Herald why she didn't confront Velasquez, and why she chose to go pubic now.
"This is the reason I never came out before: I felt like maybe it wasn't sufficient enough to say anything. But it made me feel uncomfortable. I know it's not right. When I saw Kristen's story, I thought, OK," Alban said. "I regret my reaction, and I know that I'm in p.r. and used to being extremely accommodating. I saw him as someone of power, of influence. He seemed like a threat to me. I didn't want to muddy the waters with him."
While Velasquez, married with two children, repeatedly denies the accusations of both women, telling the Miami New Times that "nobody has confronted me ever about sexual harassment," he did admit to a third verbal incident that happened earlier this year.
"I mean, I might have been drunk once and said some things, but nothing else," he said. "There was an incident at a birthday party where I had too much to drink and made some comments, but I didn't do anything."
In 2003 Velasquez was criminally charged for voter fraud, after a campaign opponent exposed him the previous year. He was found not guilty after admitting to and being convicted for unlawfully voting before becoming a citizen. He said it was an honest mistake. He was sentenced to house arrest, probation and community service and his license to practice law was provoked.
Please SHARE this with your friends and family.