Thankfully, race consciousness and expectations of allied activism are higher than ever in the United States following last year's summer of demonstrations against the police killings of countless Black and brown people.
Bearing that in mind, it has to be one of the worst times to get cute about discussing the nation's brutal history of slavery.

But that's exactly what a kindergarten teacher in Wyoming, Delaware did recently when she taught a virtual lesson about the history of US slavery which incorporated various yoga poses along the way.
Ever since, both she and the McIlvaine Early Childhood Center, where she's employed, have faced intense scrutiny from parents and people on the internet.
As Insider reported, the 35-minute virtual lesson was recorded by a concerned parent, who shared the clip on Facebook. With glaring inaccuracies and a general trivialization of the horrors of slavery, the video didn't take long to become problematic.
At one point, the teacher misidentified Africa as a country when describing the middle passage, and then guided students to get into a "boat pose," all in the span of a few seconds.

"African people came to America on boats to become slaves,."
"So here's the great big country of Africa. They crossed the Atlantic to come over to America. So right now, I need you to get into your boat pose,"
The teacher then invoked the horrific images of slaves' brutal working conditions.
And yes, she had a pose for that too.

"Africans were treated very poorly, even though they farmed the land and plowed the fields to make America beautiful and help grow our food."
"They worked in the fields all day. If you're at home, you can try the plow pose."
Once the video was shared to Facebook, people didn't hesitate to share their outrage in the comments section, Delaware Online reported.
Blunt responses like "I'm totally speechless" and, "This can't be real" were common.
One other parent took an extra moment to expressed their disappointment.

"It's 2021, you'd think this stuff would have ended a long time ago."
"But it hasn't because of ignorance. And this is an educator who's supposed to be teaching our kids."
When the story made its way to Twitter, the backlash only grew.
Caesar Rodney School District, which encompasses McIlvaine Early Childhood Center, eventually was forced to apologize for the teacher's conduct.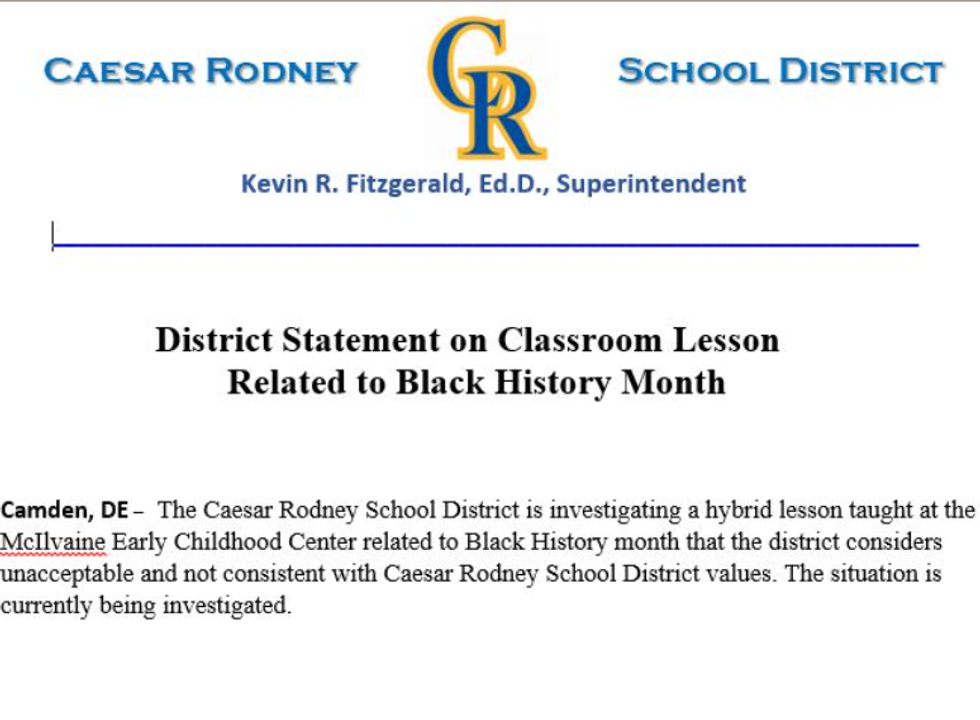 @CaesarRodneySD/Twitter
Just when you thought the US might have been making some headway in the fight for consciousness raising and improved understanding of allyship.