Reality TV star and businesswoman Kim Kardashian denied accusations of Photoshopping a recent picture taken with her mom and sisters at their Christmas Eve party.
The photo the 42-year-old socialite posted as part of an Instagram slideshow included herself with Kris Jenner, Khloé Kardashian, Kourtney Kardashian, Kylie Jenner and Kendall Jenner posing in front of a pair of bright red Christmas trees.
Many social media users were skeptical the photo was authentic and they doubted all of the Keeping Up With the Kardashians siblings joined their mother for the photoshoot.
A follower commented:
"Why though? It's so hard to take a picture together?"
"Isn't it harder to photoshop each and every one in? This family is baffling."
One user quipped:

"Everyone was cropped together for this picture."
Another wrote of the holiday snap:
"Y'all look photoshopped in. Especially u kim. From another picture."
Do you see what they see?
Kim responded to all the fuss by re-posting a video to her Instagram Story showing the family members posing as a number of photographers snapped away.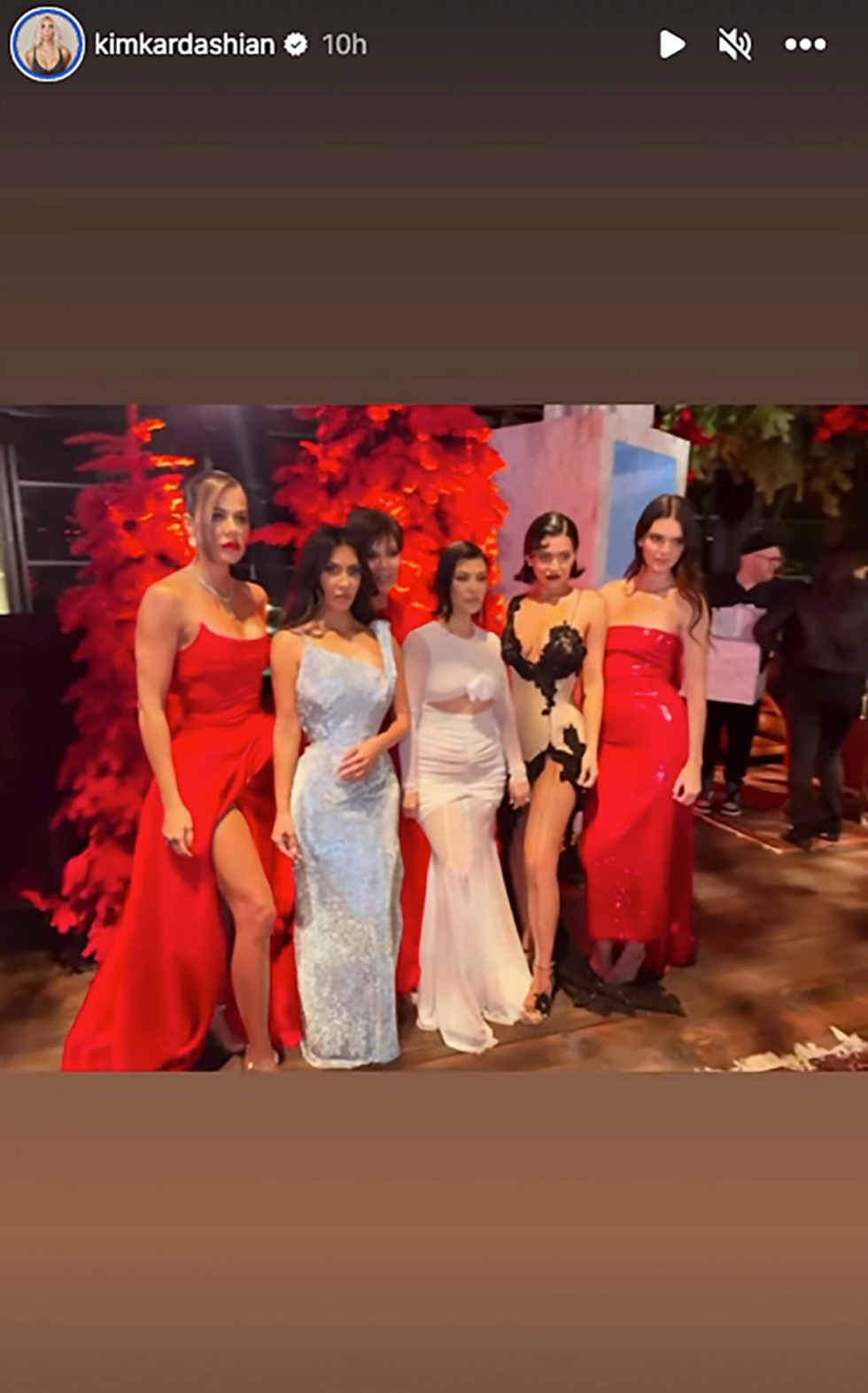 @kimkardashian/Instagram
The co-founder of the shapewear company Skims did not directly address allegations of Photoshopping herself or any of her sisters into the photo.

However, her attempt at setting the record straight didn't prevent users from continuing to make snarky comments.
@kimkardashian/Instagram

@kimkardashian/Instagram

@kimkardashian/Instagram

@kimkardashian/Instagram

@kimkardashian/Instagram
The Kardashian siblings have been repeatedly accused of digitally altering their social media photos.

And while they don't always respond to the backlash in the comments, Kardashian clapped back at one of those allegations.
In April, she posted a photo of herself standing at a poolside wearing her Fits Everybody scoop neck bra and panties underneath sweatpants.
Some followers noted how her navel appeared to have been airbrushed out.
One user asked:
"Where on earth is your belly button, yo??"
Another wrote:
"You forgot to leave in your bellybutton!"
Khloé Kardashian, on the other hand, confirmed followers' suspicions she edited her daughter True's face onto the body of her niece, Stormi, for a photo taken at an outing to Disneyland.

When she was called out after accidentally revealing she just took her four-year-old to Disneyland for the first time, the 37-year-old wrote:
"Welllppp I f–ked this one up. Anyways….. let's focus on something else 😂."
After coming clean, she never explained why she thought it necessary to superimpose True's face into the photos.