Jeremy Renner updated fans revealing the extent of his injuries following a snow plow accident that left him hospitalized on New Year's Day.
Based on the suffering he endured, we're just glad he's alive and on a path to healing.
In a social media post, the Avengers actor wrote about how his fitness regimen suddenly changed in 2023 after he broke "30 plus" bones.
A photo of a physical therapist working with the bed-ridden actor was accompanied by the following caption where Renner wrote:

"Morning workouts, resolutions all changed this particular new years …. Spawned from tragedy for my entire family, and quickly focused into uniting actionable love ❤️"
"I want to thank EVERYONE for their messages and thoughtfulness for my family and I …. Much love and appreciation to you all."
"These 30 plus broken bones will mend , grow stronger, just like the love and bond with family and friends deepens."
"Love and blessings to you all 🙏❤️🙏."
His entertainment industry friends and colleagues sent their well wishes.

@jeremyrenner/Instagram

@jeremyrenner/Instagram

@jeremyrenner/Instagram

@jeremyrenner/Instagram

@jeremyrenner/Instagram

@jeremyrenner/Instagram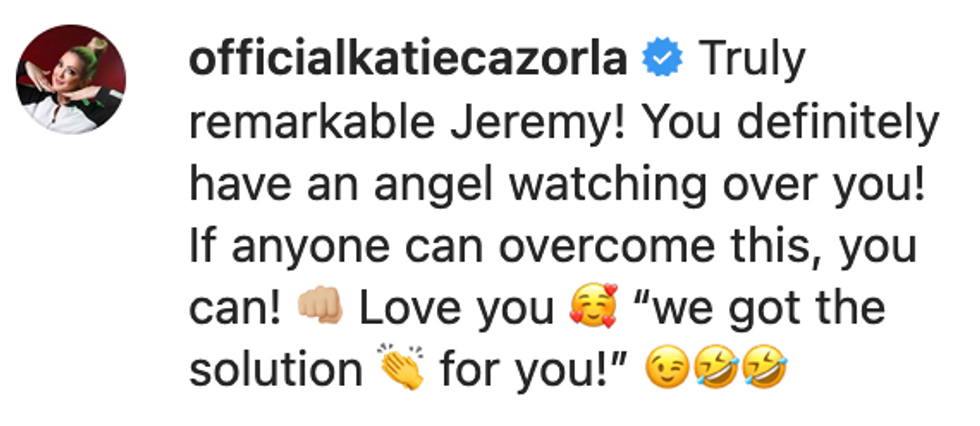 @jeremyrenner/Instagram
Fans continued showing him their love and support.


@jeremyrenner/Instagram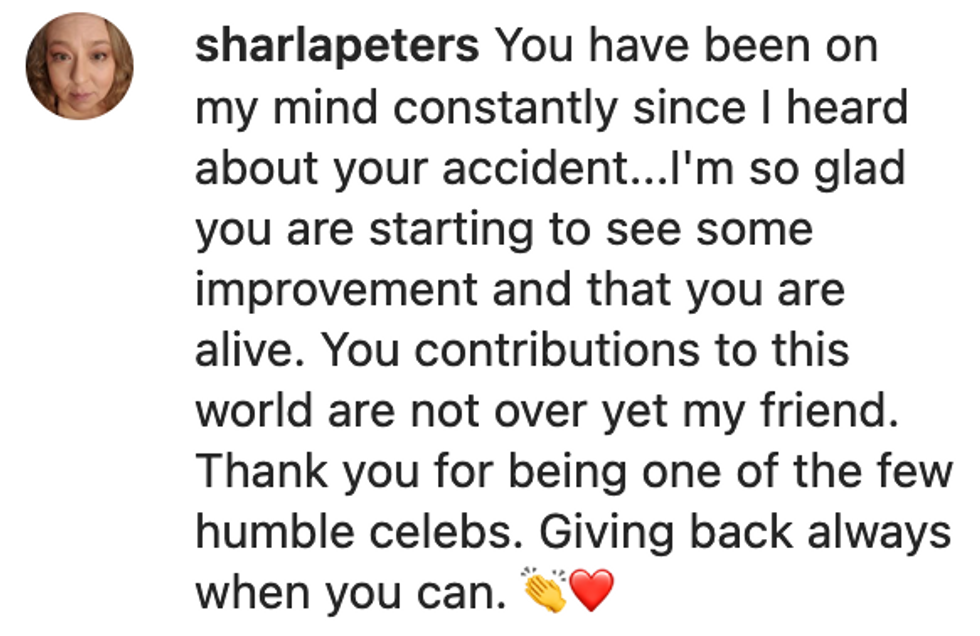 @jeremyrenner/Instagram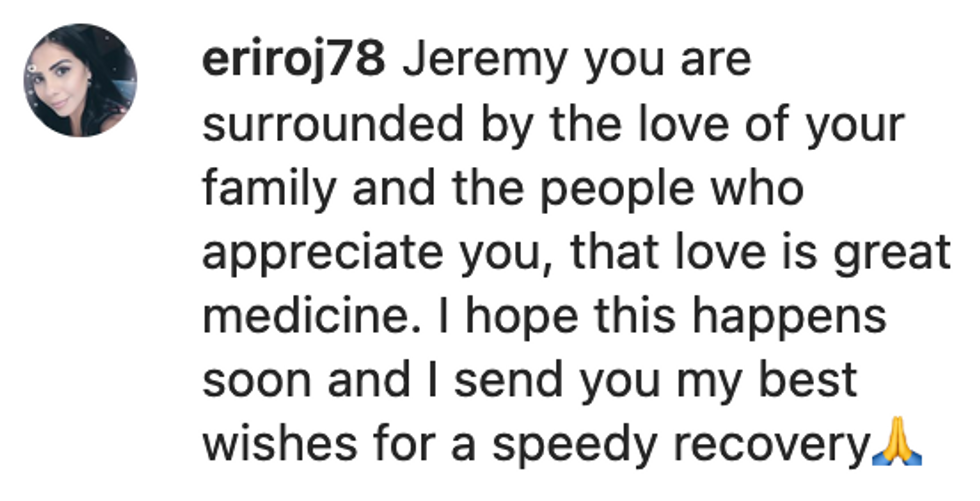 @jeremyrenner/Instagram
The 52-year-old Oscar nominated actor was airlifted to a hospital after he was seriously injured near his Reno, Nevada property on January 1, 2023.

He was rolled over by the "at least 14,330-pound"snow plow after while helping family members and neighbors dig out their vehicles.
His representative told People Magazine Renner suffered "blunt chest trauma and orthopedic injuries" and underwent surgery the following day.
A news release reported:
"At approximately 9:00am on January 1, 2023, the Washoe County Sheriff's Office responded to a traumatic injury in the area of Mt. Rose Highway in Reno, Nevada."
"Upon arrival, Deputies coordinated with Truckee Meadows Fire Protection District and REMSA Health to arrange for medical transport of Mr. Jeremy Renner via care flight to a local area hospital."
On January 16, Renner tweeted he returned home and said started watching the second season of his latest project, The Mayor of Kingstown, with his family.
He wrote in response to the show's Twitter page announcing the premiere of the new season:

"Outside my brain fog in recovery, I was very excited to watch episode 201 with my family at home."
Renner is known for playing Clint Barton/Hawkeye in a number of films from the Marvel Cinematic Universe (MCU)–including The Avengers—which spawned his own character's miniseries on Disney+ titled Hawkeye.

His critically-acclaimed performance in 2008's Hurt Locker earned him an Academy Award nomination for Best Actor and he earned another for Best Supporting Actor for his work in 2010's The Town.