Donald Trump pulling out of the Trans-Pacific Partnership he called a "disaster" is one example of Japan's frustrations with U.S. economic policies.
---
Japan is now looking to strike a trade deal with other countries instead of continuing one which might, however implicitly, endorse Trump's America first" rhetoric.
The 12-nation deal was negotiated during Obama's tenure in the Oval Office. The TPP intended to slash tariffs on American imported and exported goods with countries including Canada, Mexico, Japan, Australia, New Zealand, Chile, Peru, Malaysia, Singapore, Vietnam, and Brunei.
But with Trump's signature earlier this year, the U.S. is no longer involved.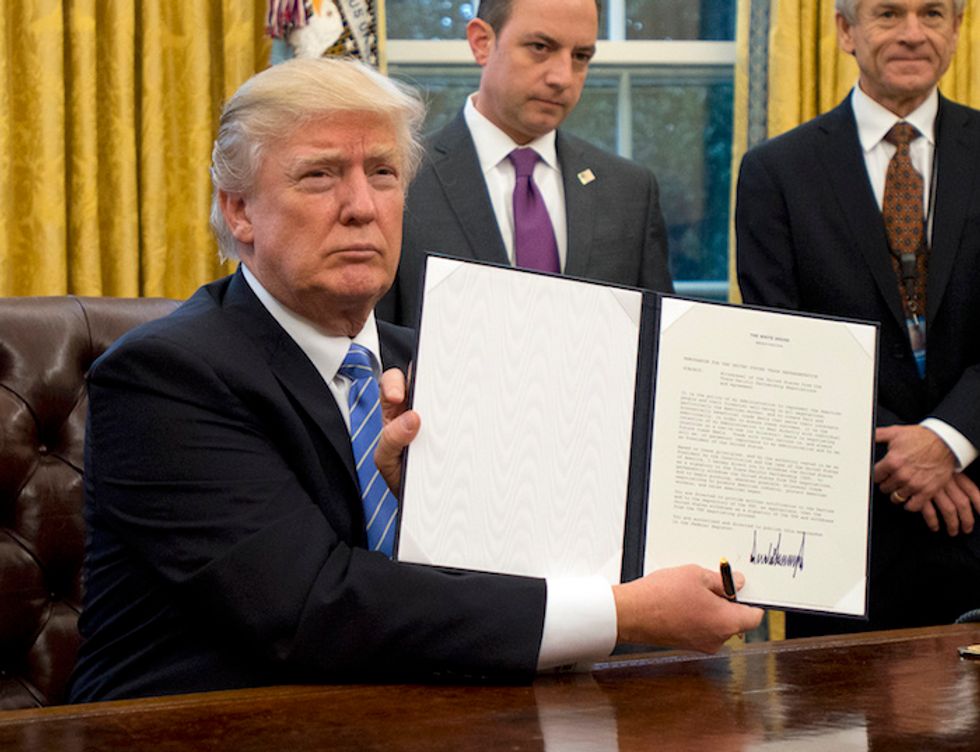 WASHINGTON, DC - JANUARY 23: (AFP OUT) U.S. President Donald Trump shows the Executive Order withdrawing the US from the Trans-Pacific Partnership (TPP) after signing it in the Oval Office of the White House in Washington, DC on Monday, January 23, 2017. The other two Executive Orders concerned a US Government hiring freeze for all departments but the military, and "Mexico City" which bans federal funding of abortions overseas. (Photo by Ron Sachs - Pool/Getty Images) 
"Great thing for the American worker, what we just did," Trump told reporters when he signed the order withdrawing the U.S. from the deal early in January.
By August, rural America would suffer the consequences of the move.
According to a Politico report, the impact of the TPP withdrawal affected the formerly leading market of U.S. pork exports to Japan, which dropped by 9 percent, perplexing the farmers who expected to see an increase in sales from the TPP's lower tariffs.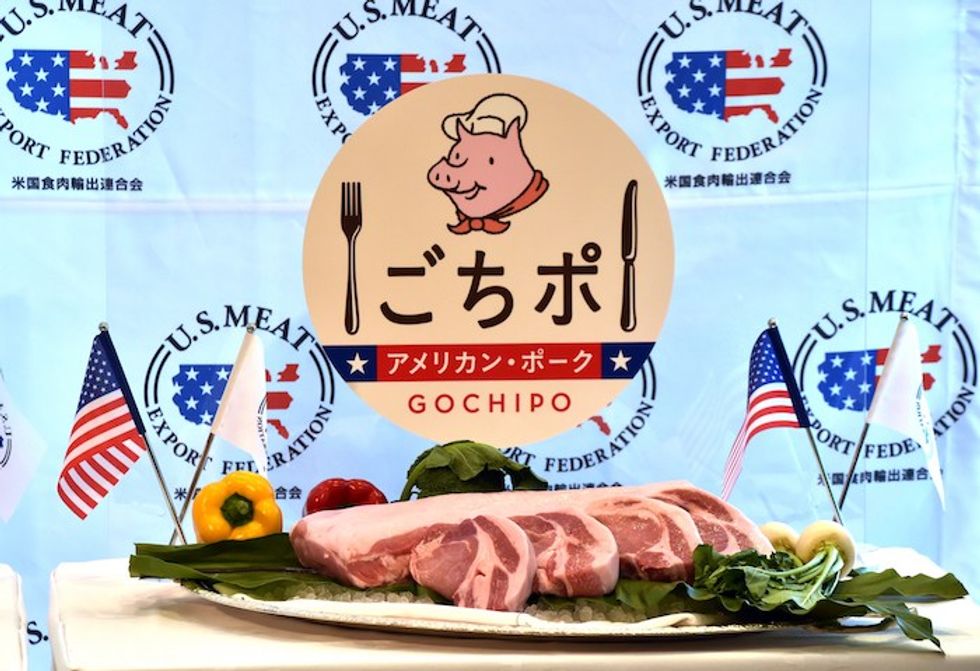 US pork is displayed under a newly designed brand mark at a press conference in Tokyo on March 2, 2015. US Meat Export Federation (USMEF) president Philip Seng is now here to promote more US meat consumption in the Japanese market. Japan and US governments are now in talks to lower tariffs on imported US beef and pork under the Trans Pacific Partnership (TPP). AFP PHOTO / Yoshikazu TSUNO (Photo credit should read YOSHIKAZU TSUNO/AFP/Getty Images) 
But it seems an alternative to the TPP is being planned.
Vice President Mike Pence will meet with Japanese officials on Monday to negotiate a two-nation trade deal to solidify an economic relationship with Japan.
But Politico's interviews with over half a dozen Japanese officials indicate that the Japanese are not convinced they could participate in a bilateral deal as a TPP replacement:
They said they are dismayed by Trump's seeming inability to understand the importance of a multinational pact to establish U.S. leadership in the region and set the trade rules for nations on both sides of the Pacific Ocean as a counterweight to China's rising influence.
Just because the Japanese respects the U.S. decision to pull out of the TPP doesn't mean they agree.
One senior official said, "Our prime minister has made it quite clear that we respect the U.S. decision. ... That is our official position, but I think withdrawal from TPP is very wrong."
While Japan has made efforts at clinching deals with other American trade competitors and finalizing landmark free-trade agreement with the European Union back in July, the eventual endgame is to bring America back on board with the TPP.
A former senior Japanese Cabinet official said, "In order for us to convince the U.S., we need to have our own leverage, and our own leverage needs to be free-trade agreements [with U.S. competitors]."
Japanese Prime Minister Shinzō Abe is intent on persuading Trump to rejoin the TPP.
"Our prime minister in fact discussed the strategic meaning of the TPP many times with President Trump. Although there was no agreement between the leaders, our prime minister has tried, and I think he will continue," a Japanese senior official said.
Please SHARE this with your friends and family.