Things got a little tense earlier this week when singer and actor Janelle Monáe went from joking about a tweet to commenting on the ridiculous beauty standards placed on women and nonbinary people.
After the entertainer was photographed at a pre-Grammy gala wearing a low-cut fitted gown and leather gloves, a tweet by @gldnraes that compared them to the Monopoly mascot Mr. Money Bags went viral.
The tweet read:
"Janelle Monáe finally showing off how fine she is instead of dressing like the monopoly man."
Monáe responded to the traction of the tweet, first quipping:
"Oh, y'all n**gas liked this 26.8 times?? No new music just for this."
But they finished with the kissing emoji.
As the tweet gained traction, Monáe once again threatened:
"35.7 likes?? No new tour. Hope it was worth it beloved."
After the tweet reached over 40k likes, Monáe changed her tune.
They commented on the ways people continue to criticize their appearance no matter what they wear, how much skin they show, or how feminine or masculine their apparel is, finishing with an altered line from her and Jidenna's song "Yoga."
"Get the f**k off my areola."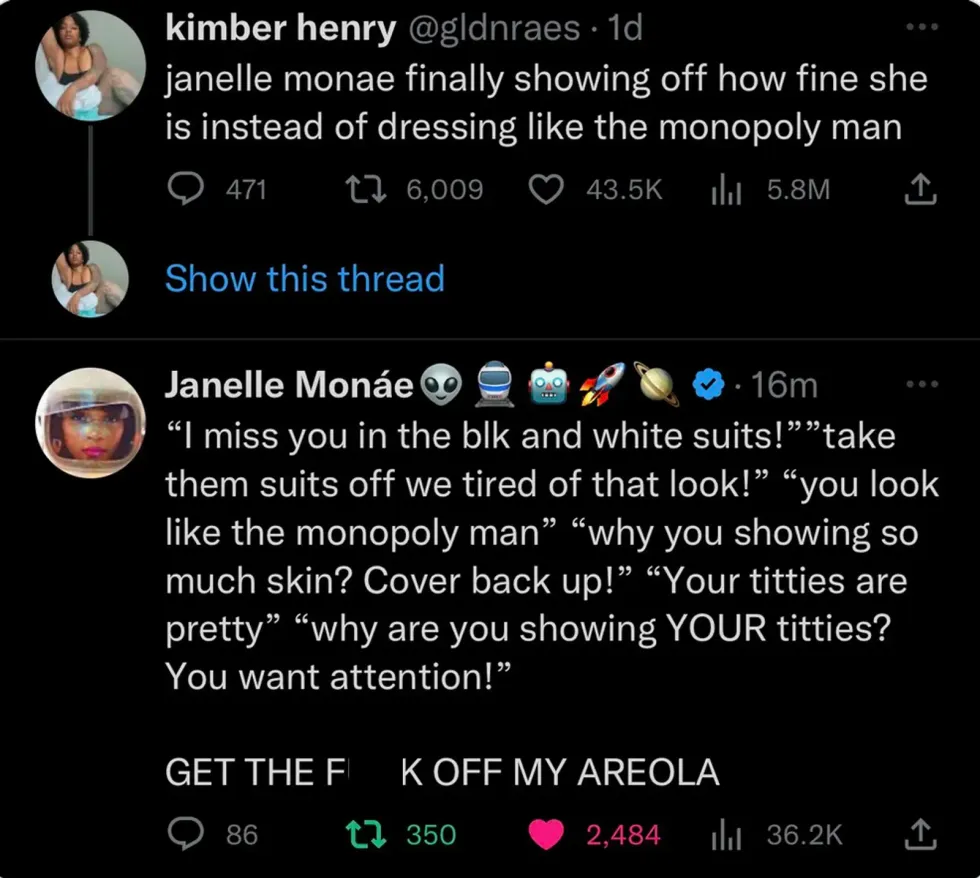 @gldnraes/Twitter
While Monáe hasn't released an album since 2018, they had been teasing fans with a new song "Float."
So needless to say, fans got a little nervous about Monáe's threats.
But, alas, not only did the Glass Onion star come through for the die hards, but they also showed a sense of humor about it all.
Monáe tweeted yet another teaser of "Float" but this time they trolled viewers with choreography featuring Mr. Money Bags.
The monocle-wearing character danced along to the lyrics:
"No, I'm not the same."
"I think I done changed."
"See, somethin' not the same."
"I used to walk into the room, head down."
"I don't walk, now I - Float."
Fans flooded Twitter with their approval of Monáe's comedic genius.
In an earlier tweet Monáe claimed her fans won, regardless of the amount of likes garnered by the Monopoly man tweet.
She announced "Float" would drop on February 16.
The day following the drop, Monáe will participate in the 2023 Ruffles NBA All-Star Celebrity Game.
You can enjoy more of "Float" below as it was featured in a Sports Center ad congratulating Lebron James on breaking the NBA all-time scoring record.