Jacob Anthony Chansley stormed the United States Capitol in his self-described neo Viking garb armed with a spear. Arizona resident Chansley—who calls himself Jake Angeli the QAnon Shaman—aided in an insurrection where some people disclosed plans to murder members of Congress and chanted "hang Mike Pence."
Five people—including a Capitol police officer—died at or as a result of the attack on the Capitol and a second officer's death was attributed to the violent insurrection. After breaking windows and doors at the Capitol, rioters wandered around inside committing acts of theft and vandalism while livestreaming and posing for photos then walked out the doors and rejoined more rioters outside.
Most of the Capitol rioters acted in the name of preposterous conspiracy theories and disproven claims about the 2020 election. The level of privilege and entitlement were noted by many online.
So perhaps it shouldn't be surprising Chansley would feel entitled to demand organic food in jail.
Nevertheless, people all over the internet are slack-jawed the "QAnon Shaman" has been refusing to eat while in custody until he is given the all organic food his mother claims he needs.
If you pitched this as an SNL sketch, you'd be kicked out of the writer's room.

Under court order, authorities agreed to feed Chansley only organic food in accordance with his so-called "Shamanic diet."
Jacob's mother Martha—with whom the 33-year-old Chansley lives—told Phoenix, Arizona's ABC 15 her son is physically unable to eat non-organic food.
"He hasn't eaten since Friday and he gets very sick if he doesn't eat organic food—literally, will get physically sick."
That is, of course, not a thing.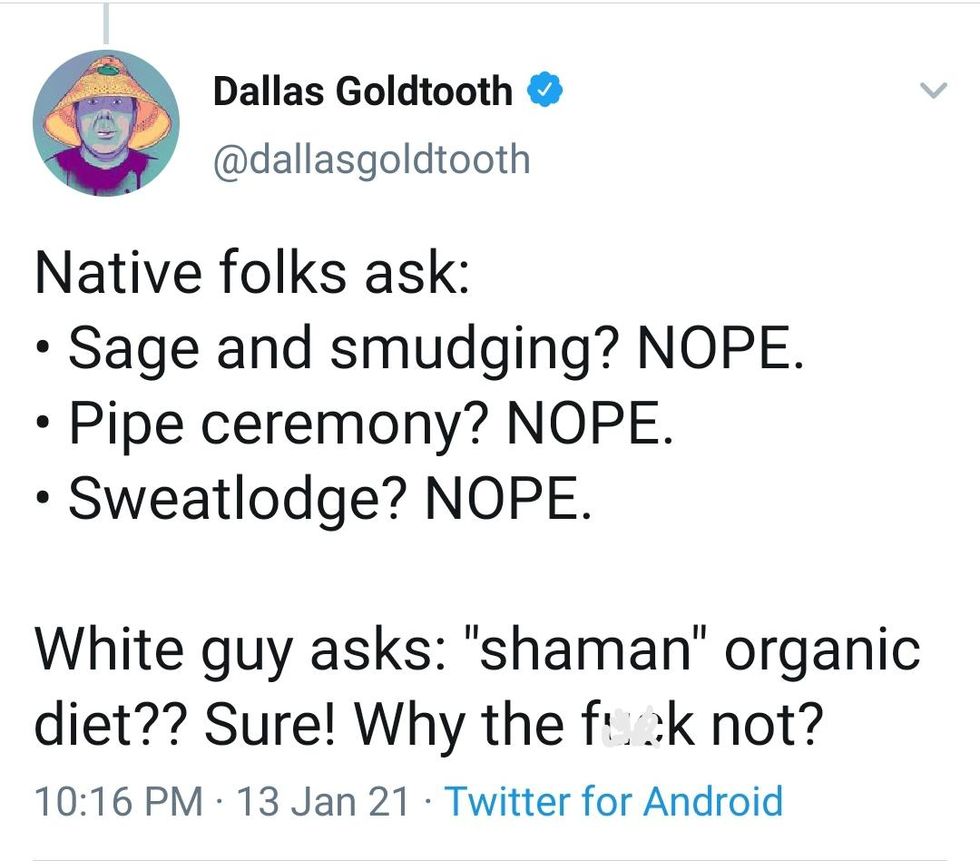 @dallasgoldtooth/Twitter
Most of Chansley's life, it seems, is not a real thing.
He is a well-known figure in the QAnon movement, a debunked conspiracy theory which posits the entire world is run by a nefarious cabal of Satan-worshipping child molesters that includes everyone from Bill Gates and Madonna to Tom Hanks and President-elect Joe Biden.

Adherents of the QAnon conspiracy believe Donald Trump is part of an undercover effort to rid the world of this nefarious group of world leaders once and for all and these deep state leaders stole the November election in order to stop Trump from revealing their crimes.
A large number of the insurrectionists who stormed the Capitol last week are followers of this bizarre theory. Many also believe in White supremacy and White nationalism, claiming the United States is meant to be a White Christian theocracy.
Chansley was among the rioters last week and was filmed and photographed running amok through the Capitol shirtless with red, white and blue face paint and a pair of Viking horns and fur on his head. At one point he made it all the way to the dais of the Senate chamber where Vice President Pence had been earlier in the day to oversee the certification of Joe Biden's election win.

Chansley—whose occupation is listed as voice actor—was charged with knowingly entering or remaining in any restricted building or grounds without lawful authority, and with violent entry and disorderly conduct on Capitol grounds. His mother told the press he was a good boy and did nothing wrong.
On Twitter, people could not believe the absurdity of Chansley's demands.
Despite the charges against him, Chansley also maintains he has done nothing wrong. He has not yet entered a plea.