Martha Kennedy Morales just ran for class president and lost to a boy. One woman knows that feeling all too well, and she reached out to Martha with some words of encouragement.
---
The 8-year-old third grader is part of a third and fourth grade combination class at Friends Community School in College Park, Maryland.
Martha's class is studying U.S. government and to demonstrate democracy, they held a class-wide election for Congress and president.
Martha ran against a popular fourth-grade boy for the job of president.
After the election, 6 ballots were deemed invalid because they were improperly filled out. After the next vote, Martha lost the election by one vote.
Martha was passionate about her campaign, and her father, Albert Morales, frequently updated friends and family on her election efforts on Facebook.
When Martha lost the election, people were so upset that news traveled to another woman whose election story is all too similar — Hillary Clinton.
Clinton decided to seize the opportunity to write a letter of encouragement to her fellow female politician.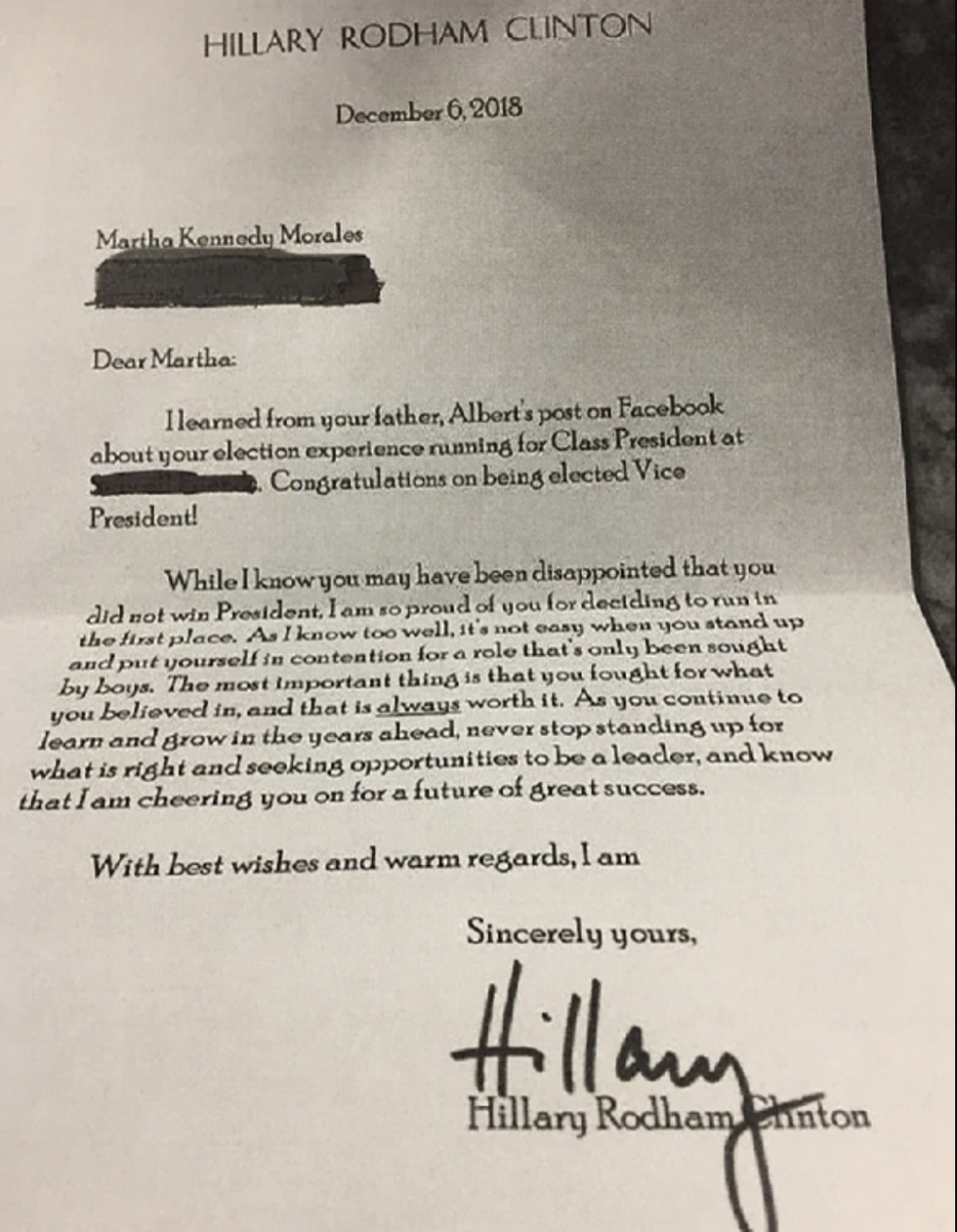 Albert Morales
The letter, which has since been shared by the Morales family, reads,
Dear Martha:

I learned from your father, Albert's post on Facebook about your election experience running for Class President at . . . . Congratulations on being elected Vice President!

While I know you may have been disappointed that you did not win President, I am so proud of you for deciding to run in the first place. As I know too well, it's not easy when you stand up and put yourself in contention for a role that's only been sought by boys. The most important thing is that you fought for what you believed in, and that is always worth it. As you continue to learn and grow in the years ahead, never stop standing up for what is right and seeking opportunities to be a leader, and know that I am cheering you on for a future of great success.

With best wishes and warm regards, I am

Sincerely yours,

Hillary Rodham Clinton

Clinton's spokesman, Nick Merrill, confirmed the letter's authenticity.
Martha described the moment that she opened the letter.
"My mom was just picking me up from school, and she pulled the letter out of her purse. I opened it up, and it was a letter from Hillary Clinton. I was very surprised."

She also told CNN,
"It was really touching to know that Hillary Clinton herself sent me a letter. That doesn't happen every day."
She also spoke about her feelings on the election results.

"It's disappointing to figure out that you lost something that you fought for really hard and you put a lot of effort into it."
As the presidential runner-up, Martha will have the opportunity to serve as vice president.
"I'm happy I get to be the tie-breaker when the House and the Senate can't agree on something."
People are in love with the former presidential candidate's gesture.
Martha is currently working on writing a thank-you letter.