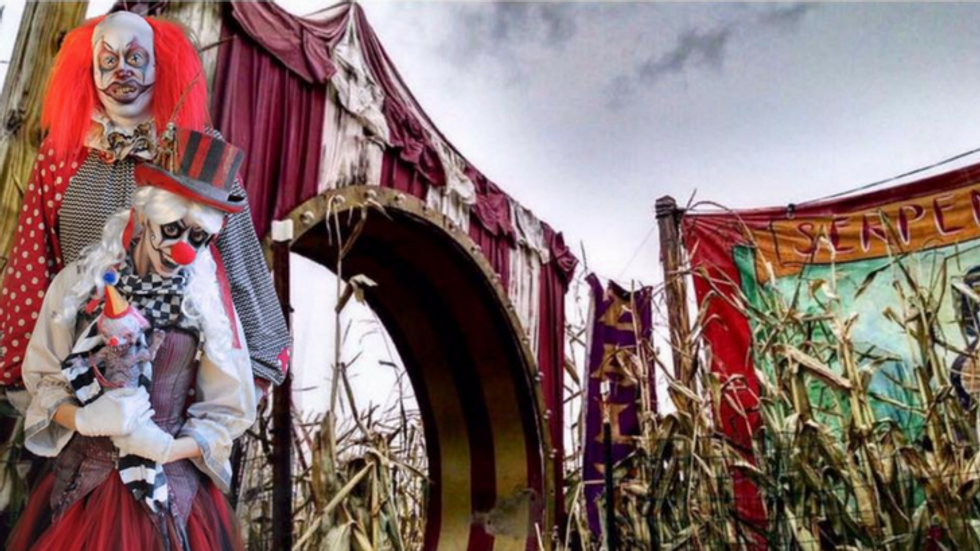 Source: HeadlessHorseman.comEven though it may seem like a frightening year so far, this month is the best time to practice SCREAM therapy. Every day we find scary movies and news at on screens everywhere, but something about walking INTO a scary scene and place, knowing it is all fake horrors, can be invigorating, hilarious and cathartic.
---
How do I find one near me?
There's tons of places everywhere, so you can do a little digging to find what's close to you or worth traveling to this whole month. Check out these sites to search by location and categories. Don't forget to check out the scary outdoor spots like corn mazes, hiking trails and forests.
If you live in areas in the peak of autumn weather, those outings in chilly, rainy, foggy weather will add to the insane fun. Be prepared to spend a few hours as many have added hayrides, escape rooms, mazes, and obstacle courses to challenge the weak-kneed. This site really breaks it down into different experiences, whichever your heart and screamer can handle.
Get lost in this search site which includes REAL haunted houses and homes in your hood, where the owners go all out to freak out their neighbors. The video stories and history of real haunted locations are fascinating. We all recall that creepy place from childhood that we ran past to avoid the heebie-jeebies.
But where are the super freaky ones?
Take a peek at this Top 10 listaccording to Popular Mechanics, with tips on how to beat the crowds and complete an optimal scream experience. These are the most terrifying in my mind, as they require their visitors to sign waivers, know safe words and head to the basement or secret rooms. If you aren't close to any, look at their websites on a big screen. Each site is loaded with videos to give a good reason to scream at laptop screens and mobile phones.
Another site asks online voters to set their list of the Very Scariest. All have videos that will give you a few seconds of hair-raising thrills.
Where are the standouts with preview videos to induce nightmares tonight?
Scream like a little girl in this amusement park. And not because of the rollercoasters or costumed characters usually greeting the kiddies.
Halloween Horror Nights: UNIVERSAL ORLANDO RESORT™
This park/company owns rights to many of the scariest horror flicks and shows, so visitors walk right into the scene where they have creatures that ain't made by CGI. This year highlights include American Horror Story, The Shining plus rides to make you hurl and pee your pants all day long.
Please SHARE this with your friends and family.
Source: Universal Orlando Resorts
Horror movie fans will flock to this spot in Baton Rouge, Louisiana called The 13th Gate. Another place created as a Hollywood set and using real props in the snake pit near the New Orleans-style cemetery. They added an escape experience to get out of the catacombs. Bring your own diapers.
Please SHARE this with your friends and family.
Source: 13th Gate
Wander the halls of the Dent Schoolhouse, an old Cincinnati schoolhouse from the 1894 and beware of the ghost of the murderous Charlie, the Janitor. Hear the true tale of his collecting missing schoolkids in the basement during the 40's and 50's. You'll also see creepy clowns mixing in with the teacher ghosts.
Please SHARE this with your friends and family.
Source: Dent Schoolhouse
And finally, history buffs can get spooked in the Hudson Valley area. Headless Horseman, a 250 year-old farm has mastered the creepiness of the longstanding woods, murky ponds, and haunted orchards nestled on 65 acres in New York. Visitors are followed by dead and living villains as they take a hayride and try to escape a huge corn maze.
Please SHARE this with your friends and family.
Source: Headless Horseman