A store called HatWRKS in Nashville, Tennessee apologized for selling 'Not Vaccinated' patches designed to look like the yellow Star of David Jewish people were forced to wear during the Holocaust.
The patches were used by the Nazi Party to identify Jews both before and after being sent to concentration camps.
The hat shop owner, Gigi Gaskins, was first seen promoting her anti-vaccine patch on Instagram for $5 each. The post was deleted from the @hatwrksnashville Instagram, but what is once on the internet is on the internet forever.
The image and outrage spread like wildfire.
Since being called out for the product, Gaskins continued to defend her choice.
In another Instagram post, Gaskins said:
"People are so outraged by my post? But are you outraged with the tyranny the world is experience?"
"If you don't understand what is happening, that is on you, not me."
"I pay much more respect to history by standing up with the fallen than offering silence and compliance. That is the worst crime."
She posted another photo of text about the government asking for papers to show proof of vaccination that ended with:
"There is a historical parallel to fascism to be drawn."
"We can only fight back to not relive history."
Gaskins is apparently unaware public schools, colleges and universities have long required proof of vaccination for things like measles, whooping cough and diptheria. The comments were turned off on the HatWRKS posts since the backlash began so no one can clue Gaskins in.
The image of Gaskins proudly sporting her Not Vaccinated yellow Star of David had already spread from Instagram to the rest of social media.
Ivo Daadler—a former US Ambassador to NATO—tweeted about his mother being forced to wear a yellow star by Nazis.
Deadwood actor W. Earl Brown tweeted a response as a former customer:
"I am ashamed to know that I've given these people business in the past; I've sent people there."
"This is vile and repulsive. They trumpet that they're proud to 'Stand Up Against Tyranny.'"
"Well, I am proud to say GO F*CK YOURSELF. I'll purchase my chapeaus elsewhere."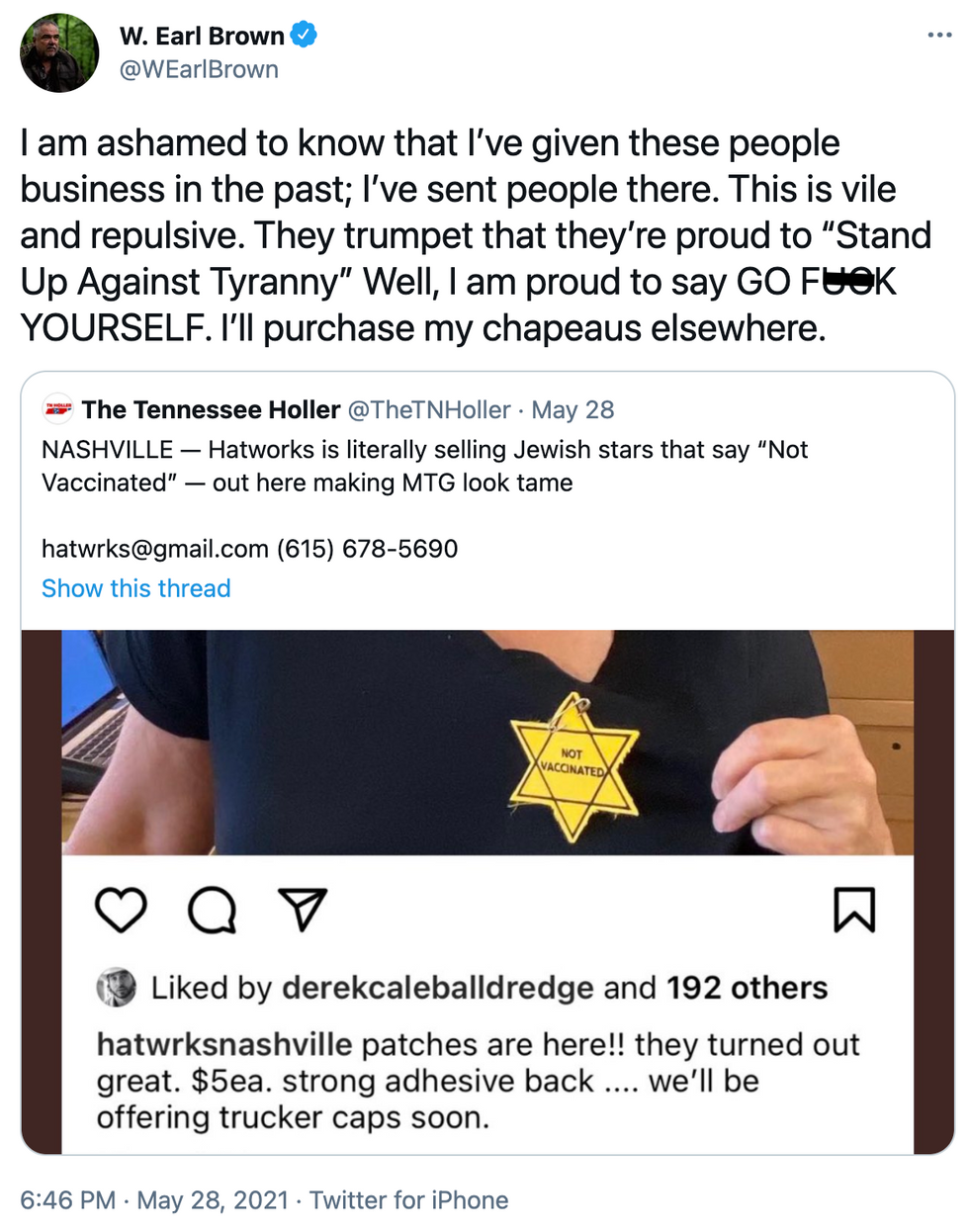 @WEarlBrown/Twitter
Many people started digging into the recent actions of Gaskins on social media and in real life.

Some drew parallels to Republican House Representative Marjorie Taylor Greene of Georgia who also compared pandemic protocols with the horrors people faced during the Holocaust.
Greene told Christian Broadcasting Network:

"You know, we can look back at a time in history when people were told to wear a gold star, and they were definitely treated like second-class citizens, so much so that they were put in trains and taken to gas chambers in Nazi Germany."
"And this is exactly the type of abuse that [House Speaker] Nancy Pelosi is talking about."
People wondered if the brands Gaskins sells would speak out about her actions.
Two different companies that do business with HatWRKS announced their disapproval and ended their affiliation with the hat store.
John B Stetson Company posted on Twitter:
"As a result of the offensive content and opinions shared by HatWRKS in Nashville, Stetson and our distribution partners will cease the sale of all Stetson products."
Goorin Bros also chimed in with their announcement on Instagram to end all distribution to HatWRKS:
"Goorin Bros is horrified by the display and selling of the Jewish badge by HatWRKS, a store in Nashville Tennessee, that sells some of our hats."
"To make a mockery of the Holocaust in any form is unacceptable and completely insensitive."
"We are looking at all options to fix and address this unfortunate circumstance."
They updated the post to say they also ended all affiliation with Gaskins' business.
Not only did Gaskins' receive backlash from the internet and her suppliers, she also had a sizable crowd protest outside her store.
The signs read things like "Sell Hats Not Hate," and "No Nazis in Nashville."
One protestor said:

"She's comparing her plight to genocide of six million Jews and 11 million total people, which is frankly disgusting."
"She's using Holocaust imagery not only to promote hate, promote conspiracy theories, but also to promote her own business."
"She's using hate to sell products."
On the HatWRKS Instagram, an apology was finally added.
The apology post read:
"in NO WAY did i intend to trivialize the Star of David or disrespect what happened to millions of people."
"that is not who i am & what i stand for. my intent was not to exploit or make a profit."
"my hope was to share my genuine concern & fear, and to do all that i can to make sure that nothing like that ever happens again."
"i sincerely apologize for any insensitivity."
Though, the apologetic attitude didn't last long.
Gaskins followed up with a defensive post saying this doesn't make her a Nazi and she is completely aware of the "totalitarian march and power grab." She claimed that's what she is "fighting against."
It's unclear if any other repercussions will come from the protests or backlash, but for now the HatWRKS Instagram continues to post claims of being the victim and justifications without remorse.