British gym chain PureGym, which boasts nearly 300 gyms across the UK, was forced to issue a public apology after a trainer at its Luton and Dunstable location advertised a tone-deaf special workout titled "12YearsOfSlave" in an effort to "honor" Black History Month.
Black History Month is celebrated in February in the United States and Canada. Ireland, the Netherlands, and the United Kingdom observe it in October.
The workout took its name from the Academy Award-winning 2013 film and 1853 memoir 12 Years A Slave according to the promotional materials. The film and book tell the harrowing tale of Solomon Northup, a Black man from New York who was born free but later kidnapped and sold into slavery in the south where he lived for 12 years as a slave until his escape.
The original Facebook post for the training circuit was removed after five hours, though not before screenshots were taken and it was spread across the internet.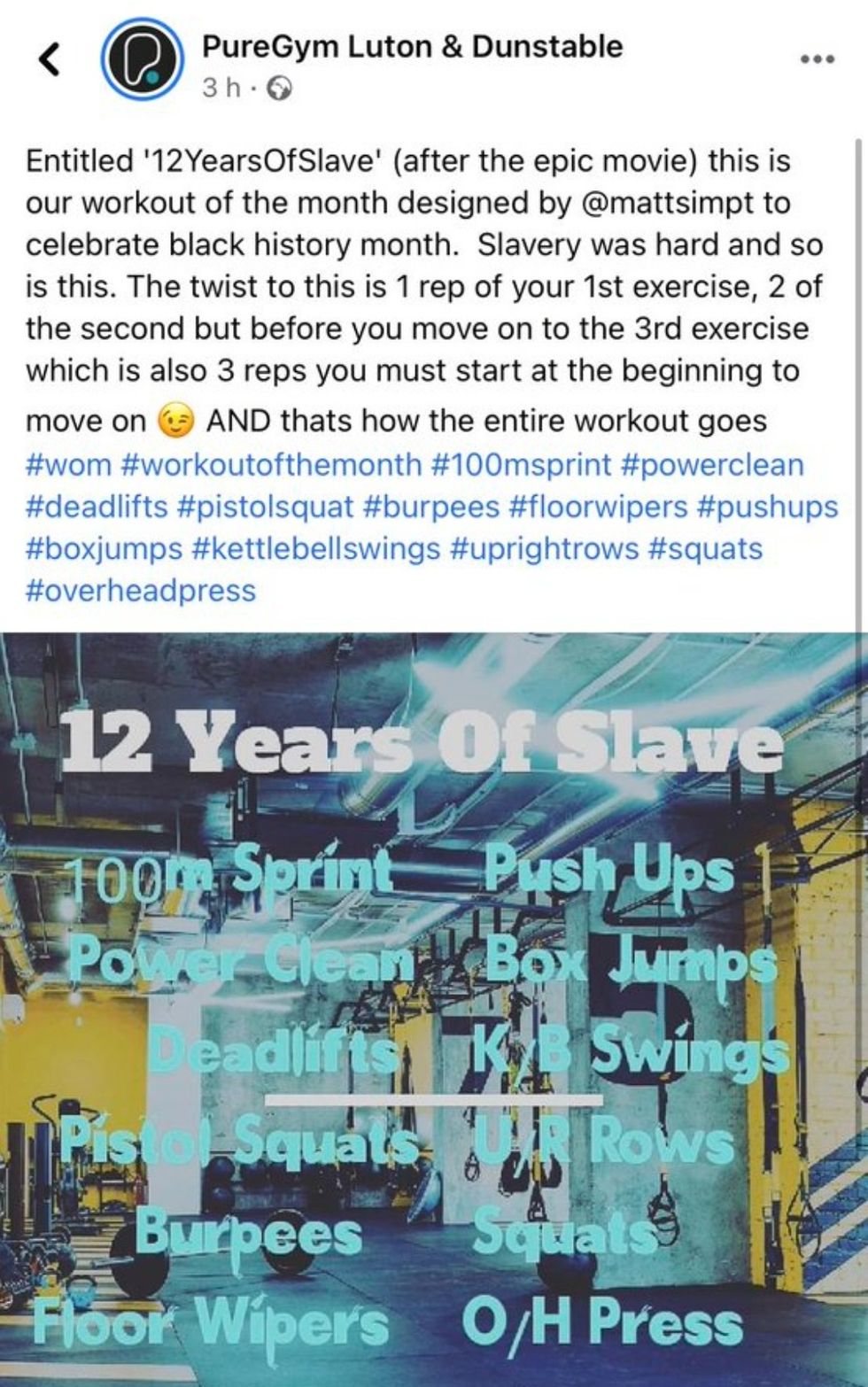 PureGym Luton & Dunstable/Facebook
The caption gave a nod to the "epic movie" and glossed over the brutality of the experience of slavery, simply stating that "slavery was hard and so is this."

It did not take long for harsh criticisms to resound from what seemed like every direction.
Not surprisingly, PureGym shifted into damage control mode.
The company issued an apology .
"The post was wholly unacceptable, was not approved or endorsed by the company and was removed when it was brought to our attention."
"We take this matter extremely seriously and are urgently investigating how and why this post was made."
"Thank you to those people who commented on this post and for raising this with us."
In response to the company's apology, people on Twitter called for additional, more meaningful next steps.
Beyond the written apology promising an investigation, there has been no indication of any further action that PureGym plans to take. Only time will tell how the ill-conceived promotion impacts patronage at the gym chain.