Guy Pearce clarified there were no hard feelings between him and two-time Academy Award winner Cate Blanchett after fans wondered if the two had any beef with each other.
Pearce set the record straight after a pair of now-deleted tweets indicated he was disappointed Blanchett received the Critics Choice Award for her performance in Tár.
Pearce—known for his roles in The Adventures of Priscilla, Queen of the Desert, Iron Man 3 and Memento—publicly rooted for Latina actress, Ana De Armas–who was nominated in the same category for her portrayal as Marilyn Monroe in Blonde.

Prior to the award results, Pearce tweeted:

"Please be Ana De Armas!!!! Incredible performance!"
While there was nothing intrinsically egregious with him championing Blanchett's rival in the category, what Pearce did next after Blanchett won for her performance as the fictional female composer Lydia Tár was interpreted as a shady move.
According to the Daily Mail, Pearce allegedly tweeted in response to her victory:
"Fascinating choice..."
His perceived gripe over the outcome continued when he allegedly retweeted a photo from a Blanchett fan account of her in a bondage-inspired photo shoot.

He wrote in the caption:
"Ah, no thanks."
His tweets have since been deleted, but the internet doesn't forget.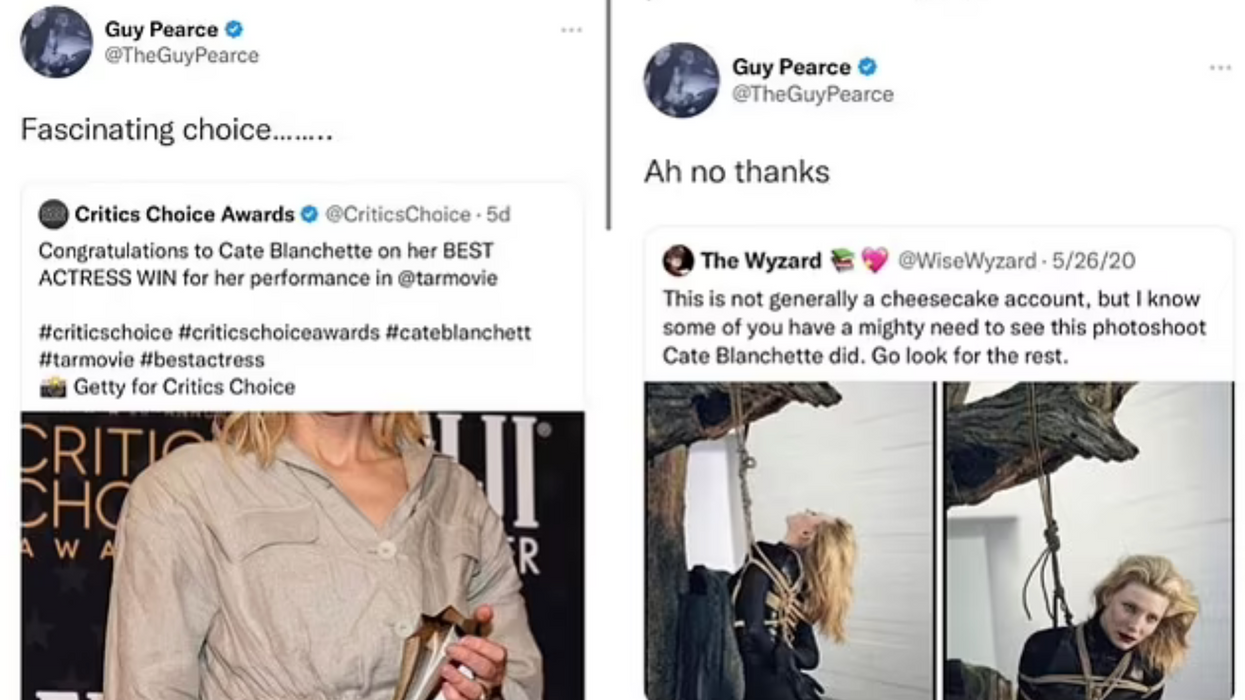 The Daily Mail
While his social media activity raised some eyebrows, some fans speculated his resentment towards his fellow Aussie colleague stemmed from his bitterness over a pay dispute.

In 2008, fresh after his success with Memento and L.A. Confidential, the Sydney Theatre Company (STC) hoped to bank on Pearce's star power by asking him to join the world premiere for their production of the musical Poor Boy in Melbourne as part of the 2009 lineup for the STC–which Blanchett was a co-artistic director for at the time.
In an interview with The Age, Pearce discussed being conflicted about his commitment to working with the STC's 2009 season.

"I'd certainly do it if I didn't have any other projects coming forward but it's way too early to tell. If I'm not at home I might as well be doing something like a movie that pays a decent amount."
"I mean it would be hard to say: 'Sorry, I don't want to do your movie because I want to work for nothing in Sydney for another three months.'
He went on to mention Blanchett and said his participation in the production of Poor Boy was conditional.

"Ms Blanchett's fantastic, absolutely, but I've got to make a living. Unless she wants to pay me what she earns."
"If she does it'll be the most the STC ever paid an actor, I guarantee."
In response to the recently rumored quarrel with Blanchett, Pearce responded to a Twitter user who asked why he had beef with her.

Pearce replied:

"Fear not. No beef at all. I was merely being sarcastic."
"I adore Miss CB. She's incredible.....One of our best!"
Fans weighed in.
Blanchett has not responded to inquiries about their rumored feud.