We're nearing the end of 2017. And what better way to remember this dumpster fire of a year than with an official 2018 calendar starring Trump.
---
On Monday, the GOP's Twitter account shared a video advertisement for the new calendars with a caption reading: "#MAGA all year long," and encouraging Republicans to get their calendar "before they're gone."
#MAGA all year long. Get the Official 2018 calendar before they're gone. https://t.co/DGmv6MwjuK https://t.co/g9RaVcrnrf

— GOP (@GOP)1513034948.0
The video cycles through each month, teasing photos of Trump's inauguration, as well as various festivities from 2017 featuring the Trump family, and ending with a "Merry Christmas" photo featuring the president, of course.
But it seems like such a missed opportunity, as there seemed to be a plethora of moments that the calendar didn't capitalize on, like all of Trump's awkward handshakes, that he time he looked directly at the eclipse without his special glasses on, or the stare-down he gave that kid wearing the giant T-Rex costume on Halloween.
And Twitter wasn't about to let some of 2017's most iconic moments be forgotten:
@GOP January? https://t.co/G0FxXj2blk

— CTMIam (@CTMIam)1513038081.0
@GOP Does it include the #Trump tree lighting photo? Or the accurate one his inaugural crowd size? Asking for a cou… https://t.co/gUOZLCGyo8

— Proud Liberal (@Proud Liberal)1513049178.0
@GOP https://t.co/Ww2lLeqBqy

— Proud Liberal (@Proud Liberal)1513049216.0
@GOP Here's November https://t.co/wuZpQ8A9wr

— Bonnie (@Bonnie)1513059976.0
@GOP Which month features Mueller?

— Medium Rick (@Medium Rick)1513038619.0
People also had some fitting alternatives for "MAGA":
@GOP I like this cover https://t.co/jwXGZaxpMt

— avis townsend (@avis townsend)1513045453.0
@GOP https://t.co/nJrmpCLBoS

— Straight Forward!! (@Straight Forward!!)1513040208.0
@GOP https://t.co/Y64D9dLKSk

— Amy Tidd (@Amy Tidd)1513035189.0
For many, the thought of a 2018 calendar featuring Trump was not exactly appealing:
@GOP https://t.co/gXvgeJblJo

— The Thrifty Yinzer (@The Thrifty Yinzer)1512761707.0
@GOP Ewwww. 🤢 https://t.co/PeyMRom1RJ

— Robin In Flint (@Robin In Flint)1512695722.0
And they gave it a hard pass:
Hey @gop - I don't know how "Melania" got my email address, but this is a hard pass. Maybe next year, try a calenda… https://t.co/zplJQS3INT

— Kimberly D. (@Kimberly D.)1512746397.0
Because who knows what 2018 holds:
@GOP LMFAO considering he will be in prison in 2018...make sure you save one for him juinor son in law and daughter… https://t.co/s9jHlHI1Zr

— cynthia cindy (@cynthia cindy)1512698685.0
@GOP There is little I want less than anything trump related...except for his impeachment and/or indictment. But thanks!

— Lori Ginsberg (@Lori Ginsberg)1512691699.0
Really, the possibilities are endless.
But if you are so inclined to purchase a GOP calendar, whether as a mean gift for your Democratic granddaughter, or as a heartfelt gift for your Republican grandfather, you can head on over to the GOP's website. All it costs is a minimum donation to the Republican Party of $15, according to an email sent out by Melania Trump. But of course you can donate up to $2,700 if you'd like. Whatever the calendar is worth to you.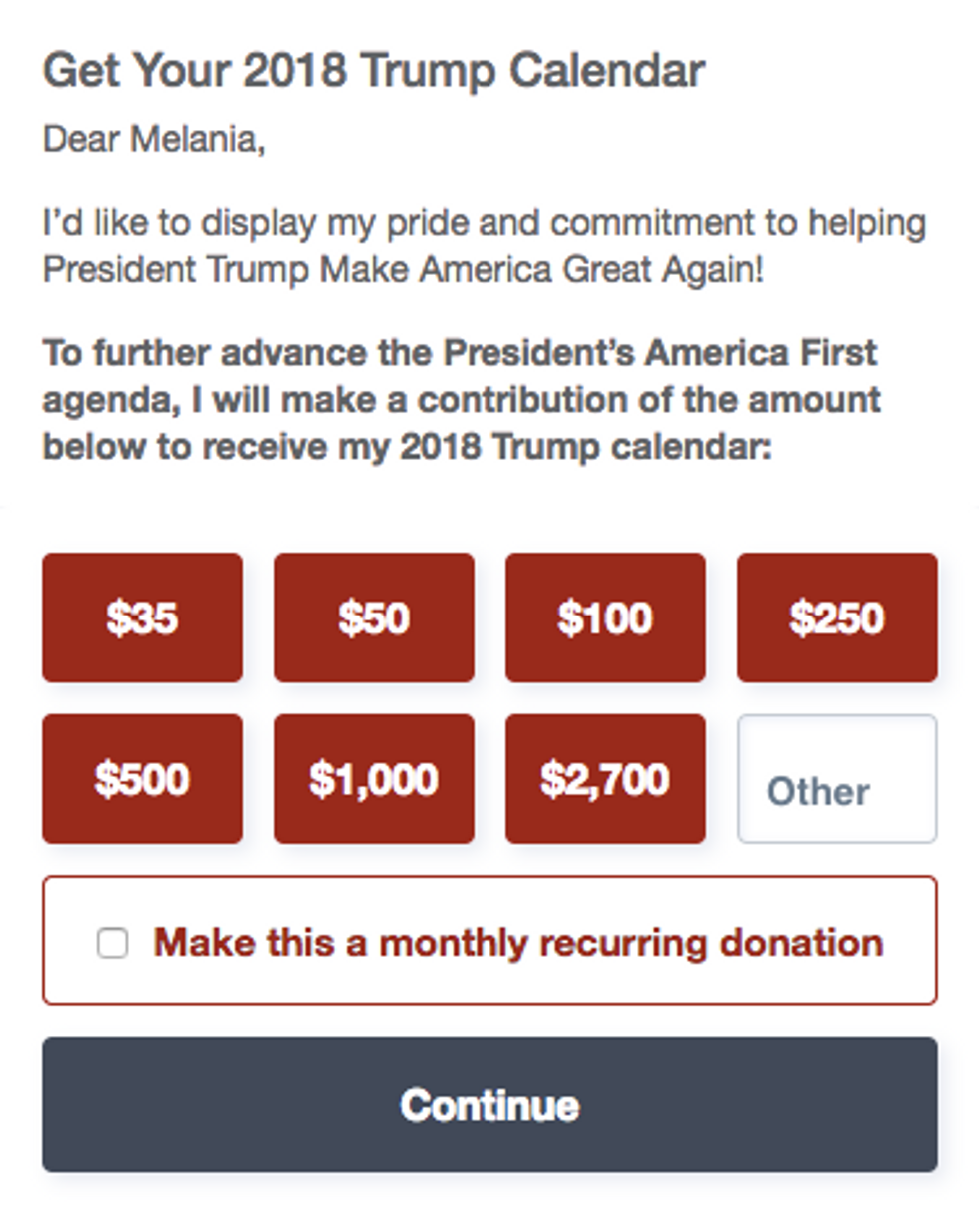 You wouldn't want to let Melania down, now would you? After all, according to the Washington Examiner, she "hand-selected" each image in an effort to remind the country how "important the 2018 elections are to the future of our country."
Oh, don't worry, Melania. We're well aware.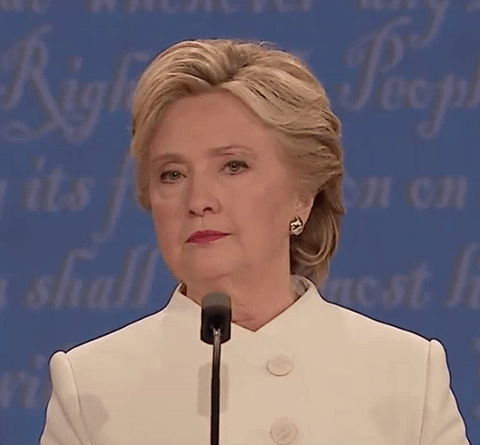 Please SHARE this with your friends and family.
H/T: Mashable, GOP.com, Washington Examiner